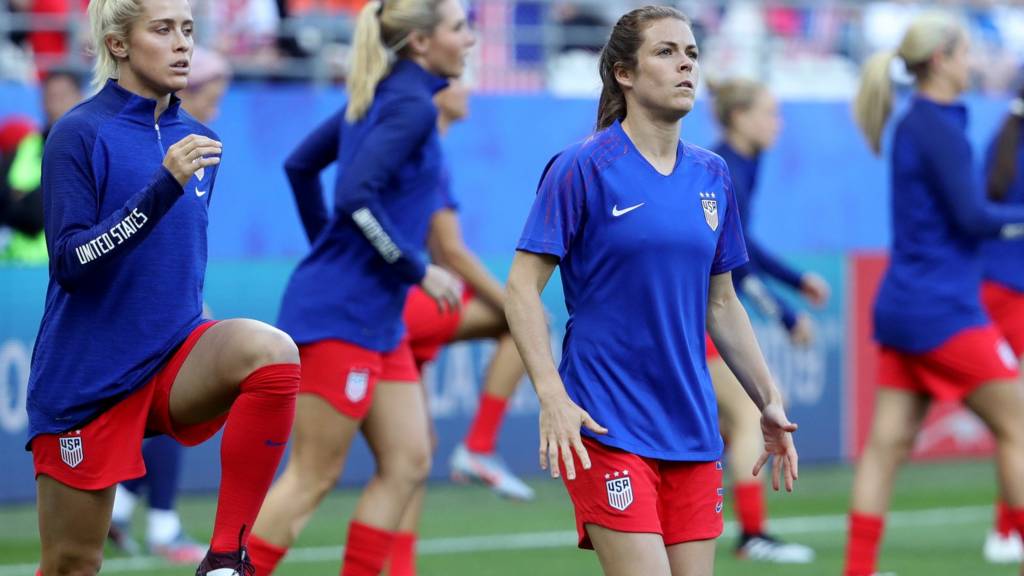 USA v ThailandBBC Sport
11,98111,981
viewing this page
Got a TV Licence?
You need one to watch live TV on any channel or device, and BBC programmes on iPlayer. It's the law.
Find out more
Summary
Fifa Women's World Cup Group F
Watch live on BBC Four and online from 19:45 BST
USA are reigning champions following victory in Canada in 2015
Morgan header for USA ruled out for offside in sixth minute
Live Reporting
By Shamoon Hafez
All times stated are UK
Send a text to

81111 (charged at your standard message rate)

Twitter:

Use the hashtag

#bbcfootball

Facebook:

BBC Sport
Head here to see her profile
DISALLOWED GOAL
USA 0-0 Thailand
USA have the ball in the back of the net through Alex Morgan's tap-in…
…but it is ruled out for offside.
Sukanya Chor-Charoenying had come for a cross and not got to it, a lucky escape.
Post update
USA 0-0 Thailand
Thailand goalkeeper Sukanya Chor-Charoenying is going to see a lot of action today…
Post update
USA 0-0 Thailand

Sue Smith
Former England forward on BBC Four
The USA have got so much experience and they are winners. If they don't get to the latter stages of competitions they see that as a failure.
USA already peppering the Thailand goal.
Samantha Mewis' long ranger is parried by goalkeeper Sukanya Chor-Charoenying but gathered at the second attempt.
Post update
USA 0-0 Thailand

Tom Garry
BBC Sport at Stade Auguste-Delaune, Reims
Well Sham [19:53], put it this way, we didn't have anytoday…
Meanwhile, the USA fans gave a hugely respectful cheer for the Thailand players at the end of their national anthem. A good gesture.
Post update
USA 0-0 Thailand
Expecting a quick start from USA. An early goal for them we could see a big score…
'Different type of pressure on America'
USA 0-0 Thailand

Alex Scott
Ex-England international on BBC Four
There is a different type of pressure on America because the
gap is narrowing.
They have drawn against England and Japan but nothing else is
good enough for this team unless they are winning.
Getty ImagesCopyright: Getty Images
Read the full piece
The Americans are in town
USA v Thailand (20:00 BST)

Tom Garry
BBC Sport at Stade Auguste-Delaune, Reims
BBC SportCopyright: BBC Sport
To say that the majority of this crowd are supporting the USA tonight would be a real understatement. Rivers of people wearing red, white, blue and stars are flowing in to the stadium.
Question is though Tom, have you been on the Champers too…?
Welcome to the Champagne region
USA v Thailand (20:00 BST)

Tom Garry
BBC Sport at Stade Auguste-Delaune, Reims
BBC SportCopyright: BBC Sport
We're expecting a sold-out crowd of around 20,000 here in Reims, which sits in the heart of France's Champagne region, around an hour east of Paris by train.
They used to coronate French monarchs here – before the rise of the republic – so the city is popular with tourists even when there isn't a World Cup going on, and many fans have been enjoying tasting sessions in the Champagne cellars through the day.
Yet, while the USA are the holders, there'll be no crowning them as champions-elect even if they win in style today. They'll face much, much tougher tests than Thailand later in this tournament.
BBC SportCopyright: BBC Sport
Last time out
USA v Thailand (20:00 BST)
Getty ImagesCopyright: Getty Images
The only previous meeting between the sides was a
9-0 friendly win for USA in Colombus in September 2016.
Legendary skipper Carli Lloyd bagged a hat-trick that day.
BBC 5 live on Friday that Ellis "cracked under pressured" at 2016's Olympics and wanted to "brush mistakes under the carpet" rather than reviewing footage.

In response, Ellis told BBC Sport: "Comments are comments. I feel, over the past five years, I've made a lot of important decisions. I have processes to make those decisions and own those processes.

"At this point, everything and every focus is about this group of players that are here and now.

"Pundits out there, that's part of it. Part of the message is to always make sure that the focus is on the internal part of the game and that's where we are."
Rain stops play
Chile 0-2 Sweden
It was absolutely teeming it down and the game in Rennes has just finished.
Sweden's win over Chile was interrupted due to severe adverse weather but the Duckworth Lewis-Stern method did not have to come into play.
The covers were on for 40 minute before Kosovare Asllani and Madelen Janogy netted in the second innings.