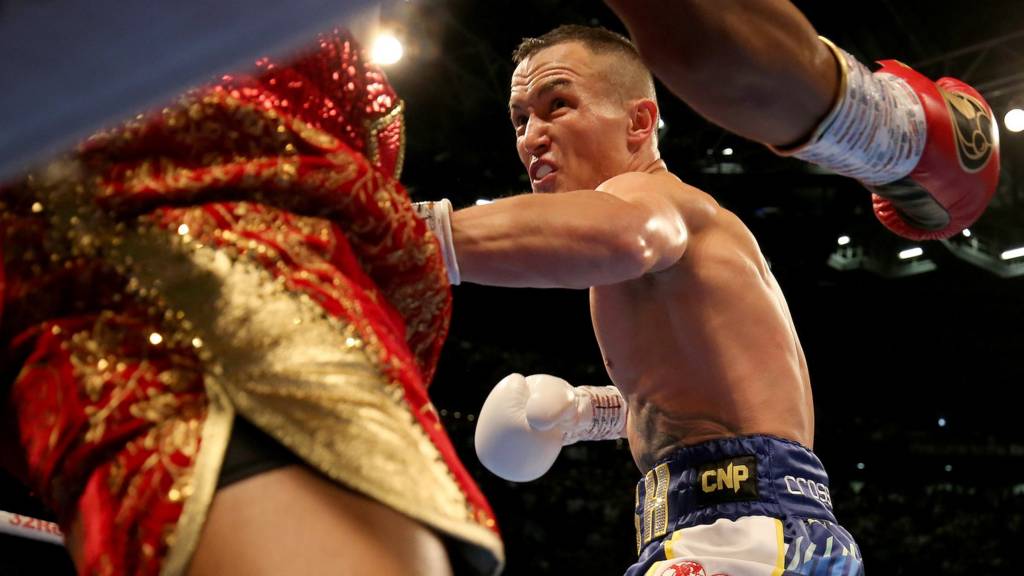 Got a TV Licence?
You need one to watch live TV on any channel or device, and BBC programmes on iPlayer. It's the law.
Find out more
Live Reporting
By Luke Reddy
All times stated are UK
If not, read more here.

So what we want to know is, which wrestler would have been the greatest in the boxing ring?

Tweet us on #bbcboxing.

P.S I'll go for The Undertaker. Strikes me as a bit extreme and that kind of helps.
One more hurdle…
Warrington v Takoucht
Getty ImagesCopyright: Getty Images
So what's the narrative?
Well Josh Warrington was pretty much the fighter of 2018. Not only did he beat Lee Selby to win a world title at Elland Road, he then went on to beat Carl Frampton in an epic. In 2019 he's seen off Kid Galahad no less.
He hoped Las Vegas would be next and with a vocal Leeds support behind him, it's fair to say that could be a pretty lively trip.
So imagine you've been denied that as the fighters you're chasing don't want to know just yet.
Then imagine you get presented with a durable opponent who has never been stopped inside the distance and in theory, can wipe out your dream to go to Vegas next.
It's like Warrington is leading going into the last jump of the Grand National. Don't fall, don't even think about it.
Warrington's tricky night…
Warrington v Takoucht
ReutersCopyright: Reuters
So you're with me then? You're down for a bit of Saturday night boxing? I thought so.
Josh Warrington, a fit, durable, relentless force, with 29 wins in a row.
Sofiane Takoucht, a Frenchman with just three losses in 39 career outings and a man on a unbeaten run since 2014.
Takoucht also brings that ever tricky southpaw stance. There's no such thing as a walkover at this level, 2019 has taught us that for sure.
So welcome, let's enjoy this shall we.
It's Leeds, not Las Vegas…
Warrington v Takoucht
Getty ImagesCopyright: Getty Images
This isn't Las Vegas, where Josh Warrington hoped the 30th fight of a stellar career would be.
It is instead Leeds Arena and a tricky a world-title defence, so dreams of what might have been need to be shelved for 12 rounds.
One more win and surely he gets his day in Sin City.
Welcome to another big fight live text. Let's do this.
Getty ImagesCopyright: Getty Images