Waiter kidnaps boss' grandson
A waiter in a restaurant has been arrested by Police operatives in Lagos State alongside his younger brother for kidnapping his boss' grandson.
However, the suspect, Onyekachi Meshack Felix, who claimed he carried out the kidnapping to raise money to buy equipment for his welding work, exonerated his younger brother of complicity in the crime.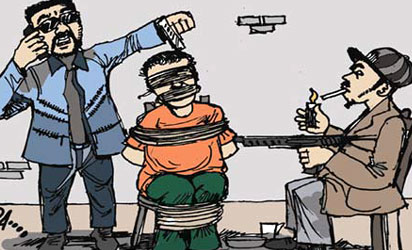 Kidnap
The younger brother allegedly provided the bank account for the ransom to be paid into.
Lagos State Commissioner of Police, Imohimi Edgal, while parading the suspects at the state command Ikeja, yesterday, said the command received a complaint from one Mary Chidi of Dog Kennel Railway Compound Ebute Meta, Lagos, that she suspected that one Onyekachi Meshack Felix, who worked as a waiter in her restaurant abducted her three-year-old son and took him to unknown destination and later sent a bank account for ransom to be paid into.
Edgal said he directed the Officer in Charge of the Anti-Kidnapping Squad to investigate the case.
According to him, "the squad went into action immediately and covertly located the suspects at Lokpanta Autonomous Community of Umu-Nneochi LGA in Abia State, where the two suspects were arrested.
"The Police rescued the boy unhurt and he has since been reunited with his family" On his part, Onyekachi blamed himself for the kidnapping, saying "my brother, Chinecherem, does not know anything about the kidnapping.
"I kidnapped the boy alone and demanded for the ransom so that I can get money to buy equipment for my welding job."