The Secret Is Out! Panic In Buhari's Camp As Buba Galadinma Reveals Shocking Secrets About 2019 Presidential Election That May Lead To Atiku's Victory At The Tribunal.
One of the most active  spokesmen of the Atiku Abubakar Presidential Campaign in the 2019 general election. He is was the National chairman of the defunct Reformed All Progressives Congress (R-APC). In an exclusive interview on  Channels Television's Sunrise Daily. He disclosed that the Peoples Democratic Party (PDP), was the winner of the 2019 presidential poll and that the process at the tribunal proves it all. excerpts from the interview can be viewed below.
There were reports that you were arrested but the security agents denied that they had no reason to arrest you and then later on, we heard that you had written to your family members to say you were in a safe place. Were you actually arrested or just a gimmick?
It was not a gimmick. It was a reality and I just elected not to talk about it.
So, were you arrested?
I have elected not to speak about it.
You don't want to speak about the "arrest" but you did write that letter to your family.
Of course, I did from where I was and assured them of my safety; to say that I was in safe hands so that there will be no anxiety.
The allegation was that you had tried to publish fake results of the election.
That is the lies the All Progressives Congress (APC) have tried to say. Were there any results announced by me or purported to have been released by me? All that they were afraid of is that if I'm free, I could have checkmated their rigging machine and I want to leave it at that?
You think there was rigging in the 2019 elections?
Of course, everybody across the world who followed the contemporary Nigerian election of 2019 knew that there was massive rigging and massive intimidation of voters. In fact, there was robbery by the APC, using the security agencies, especially the military, to rig the elections.
These allegations that you make…
If it is an allegation then go and ask the people from Bonima, from Bonny, from Asari Toru, from Degema and a host of other places in Benue, Plateau, Borno, Yobe and Zamfara states. Ask them whether there was military takeover during the elections, which the Supreme Court of Nigeria had clearly said in 2003, 2007 and 2011 that soldiers have no business in, even appearing during elections. They have no business and, of course, we all know that the terms of military engagement in security within the territorial integrity of Nigeria has to follow certain procedures.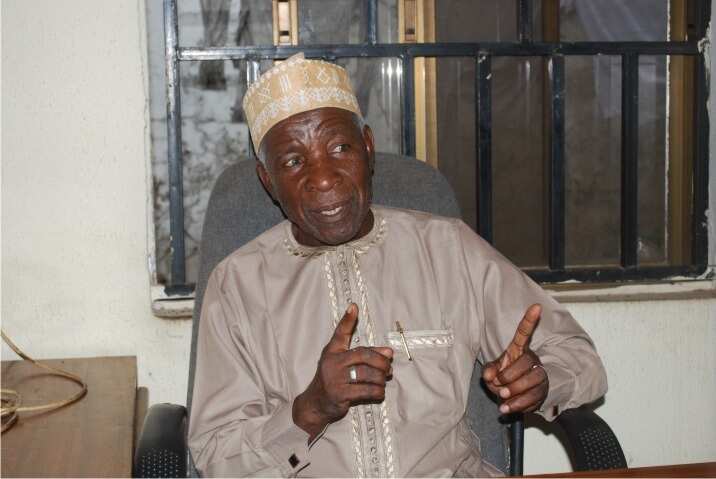 You mentioned a number of states where you cite military presence as being the reason you think the results were rigged…
We are all Nigerians. You've been living here. You know, as of fact, that one month to the election, the military had declared what you call the Python Dance across the 36 states of the federation. That is preparatory to their engagement during the elections and they said not only before, but during and after the elections, this exercise will go on and it did go on and they used it effectively to intimidate voters, to harass voters, to kill voters and then write results for the APC.
You made these allegations…
Is that an allegation? You had not seen what had happened in Rivers?
We heard…
Oh you heard! You have not seen. I thought it was on the television that I saw where the military were entering houses and killing people.
Well, I didn't see visuals of them killing people. What I saw….
The newspapers were awash with the number of people killed in several states. In fact, these military are good candidates for the International Criminal Court of Justice (ICC).
What we saw were military men clad in military uniforms taking over a collation centre. But when you say that you saw them writing results….
When you intimidate other people and you chase them away, you are giving those in authority the chance and the privilege to write results for themselves.
Aren't you just looking for excuses to justify why your candidate lost in the election?
My candidate did not lose. Records available to us show that our candidate had won this election and that is why we have gone to court. This is why the APC has sponsored some highly-placed Nigerians and paid them handsomely to appeal to Atiku not to go to court. What is their business? Didn't their candidate, in 2003, 2007 and 2011, go to court to challenge verdicts of elections? Did General Muhammadu Buhari, after the Supreme Court ruling that elections were fair and conducted satisfactorily, ever congratulate those that were declared to have won the elections? Why is it Atiku? Have you ever heard that a petitioner went to court and asked for permission to inspect election materials and the respondent himself now goes to court, because he's not sure that what his agent did was right, to also ask for the same privilege to inspect electoral materials? They said they won and they want to inspect election materials. That has clearly showed you that the election was rigged and this election was not conducted according to the rules.
Some people would say we should speak with respect to what we know.
I'm speaking with respect to what I know. Maybe you don't know, but I'm saying it to you.
Your allegation that some people were paid handsomely has not been substantiated by anyone.
Let them take me to court, I will substantiate it because those who came to persuade Atiku not to go to court were housed in hotels and guest houses that were paid with monies from…
Wait till they go to court.
They believed that for the sake of peace and for the safety of all Nigerians, it would have been better for him not to go to court so that violence doesn't break out in some ways?
So, you mean that going to court and seeking for somebody's right will trigger violence?
You know Nigeria better than I do. You have lived here longer than I have. From what you have seen and from your experience in the 2015 elections, if President Goodluck Jonathan had said he was going to court, what do you think would have been the reaction on the street then?
There wouldn't have been any reaction. We had gone to court before. General Buhari was in court in 2003, in 2007 and 2011. The heavens didn't fall. They wouldn't have fallen if Jonathan had decided to go to court and he could have thrived because of what had happened eventually from the rulings of the Supreme Court in Rivers and Akwa Ibom. In fact, with the benefit of hindsight, I think Jonathan shot himself in the foot.
Some people say he (Jonathan) is a hero…
Of course, that was by choice. That is the democracy.
Do you agree with them?
I am a democrat. Everybody is entitled to his opinion. I don't need to or not agree with them because they are entitled to their own opinion and we should respect their opinion.
I just wanted to know your opinion.
Don't bother with my own opinion. I had expressed it at that time.
I believe you are here to express your opinion.
Of course, I do and you know that I speak my mind straight.
We spoke to Mr Segun Sowunmi and asked him what happened in his own polling unit. Were the elections rigged also in his own polling unit?
You mean one polling unit out of 129,000 polling units will determine what is right or what is wrong or what had happened or not happened across Nigeria? Are you fair to the system?
I'm only asking you a question, was it rigged as well?
If I tell you my polling unit is okay and there was no rigging, does that suggest that there wasn't such in other polling units across the country.
You have alleged that the election was daylight robbery and totally fraudulent. The picture is that there is no polling unit in this country where free and fair elections conducted and your candidate could not have lost in any polling unit across the country.
Elections are not really what happen during queuing and voting alone. Elections could be rigged even before the Election Day and elections could be rigged even after votes were counted at the polling units. Between the polling units and the ward collation centre, elections could be rigged. The elections could be rigged between the ward collation centre and the local government collation centre; between the local government collation centre and state collation centre, and also between the state collation centre and the federal collation centre.
Let me give you an example; in Gama Ward, Kano, there was a successful election. Collations were made at the polling booth level. Collations were made at ward level. At the local government level, hoodlums led by the deputy governor of that state, came to the collation centre and tore the results. But because it suited the Independent National Electoral Commission (INEC) to declare the election in Kano inconclusive, they now awarded medal to the deputy governor for the brigandage and the thuggery he had done.
If you allege connivance between the Resident Electoral Commissioner and the state government, I think the onus is on you to prove that?
Do you mean the REC does not know the rules of INEC? He deliberately refuses to adhere to the rules of INEC that made him REC. What did he do?
We've seen that these allegations come as they affect each political party. Was the election also rigged in Atiku Abubakar's polling unit?
I don't know what you are trying to get to. Allow us to tender our evidence in court. I don't want to pre-empt what the court will say. But I can say boldly that if there are courageous, just and Godjfearing Justices in this country, this election will be upturned and Atiku Abubakar will be declared the president of the Federal Republic of Nigeria, as it had happened in Kenya.
I will give you an example of what had happened in Kenya. Election was conducted, Roila Odinga's lawyer, the opposition candidate who was purported to have lost the election, went to court and approached the court to get certain documents from their electoral body in Kenya and the electoral body started playing hanky-panky and refused to release those documents to him. Unknown to them, we are living in a technological world; they had captured everything that was transmitted electronically. Foolishly, when they refused him access to the documents, even though granted by the courts, he now approached the courts and told the court that he had been refused….
The Supreme Court eventually ruled in favour of the opposition which was a courageous thing to do. But there were consequences in Kenya. Violence did break out, up to the Supreme Court judgment upturning the elections.
It was induced by those whose elections were annulled.
Did you think we will be able to take whatever consequence, be it good or bad, if the court rule in his favour?
Peace anywhere in the world is premeditated by justice and if the courts do justice, it doesn't matter what happens after all. It is a price we have to pay.