Speaking on Sunday in Machina, Yobe, during the annual Machina Cultural Festivals, the governor said the development was a looming disaster that should call for concern. He stressed the need for urgent steps to be taken to redress the ugly trend, adding that preservation of culture and traditions were key elements for the development of any society. He recommended the checking of the influx of foreign culture and tradition, which he observed was the main cause of the present situation.
In his remarks, the Emir of Machina, Alhaji Bashir Machinama, commended Gaidam for addressing the problems of his emirate, just as he conferred on the governor, the traditional title of 'Shettima Fatihuma'. He said the prestigious title could be conferred only on personalities who distinguished themselves in executing important capital projects that impacted on the lives of people. "In humble reference to the government of Yobe, it is the sincere judgement of the people of Machina emirate and Machina local government that the tenure of Gaidam's administration, has been the most significant.
"The most serious problems of Machina had been that of the scarcity of water for human and animal consumption, as well as lack of tarred roads. Governor Ibrahim Gaidam, being dynamic, visionary, focused, committed and dedicated leader, has been able to solve the problems. For that reason, we the entire people of Machina are testifying that he has fulfilled most, if not all, the promises he made to the people of the emirate," said the Emir.
Ibrahim Gaidam was born on 15 September 1956 in Bukarti village, Yunusari local government area in the old Borno, now Yobe state. He attended the Borno Teachers' College (BTC), Maiduguri from 1974 to 1979, where he obtained a Teachers' Certificate. He attended Ahmadu Bello University, Zaria from 1981 and 1983, earning a Diploma in Accountancy. Later he returned to Ahmadu Bello University, earned a BSc in Accountancy Degree in 1990 and became a member of the Certified Public Accountants of Nigeria.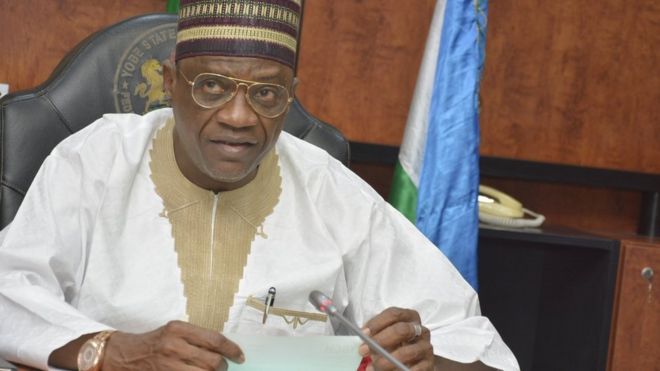 He became well known in Nigeria on April 2007, Ibrahim Gaidam when he was elected Deputy Governor of Yobe State on the All Nigeria Peoples Party (ANPP) platform and was sworn into office on May 29, 2007. He was sworn in as Executive Governor on January 27, 2009, following the death of Governor Mamman Bello Ali in Florida of a liver problem. Alhaji Abubakar Ali, brother of Mamman Ali, was named as the new deputy governor.