Nigerian Govt Must Produce Our Leader–IPOB Writes UN, Britain US, Others
IPOB Writes UN, Britain, USA, To Warn Nigerian Army To Release Leader, Nnamdi Kanu Or Get Ready For Anarchy.
The Indigenous People of Biafra(IPOB) has written the United Nations, Britain, USA and other civilised nations to compel the  Nigerian Federal Government to produce its leader Nnamdi Kanu.
Kanu was allegedly abducted by Nigerian Army on September 14, 2017 , when soldiers invaded his home town at Isiama Afaraukwu in Umuahia, Abia State
The group further urged the same Nigerian Army that allegedly abducted him (Kanu) to charge him to court or release him to the British Government.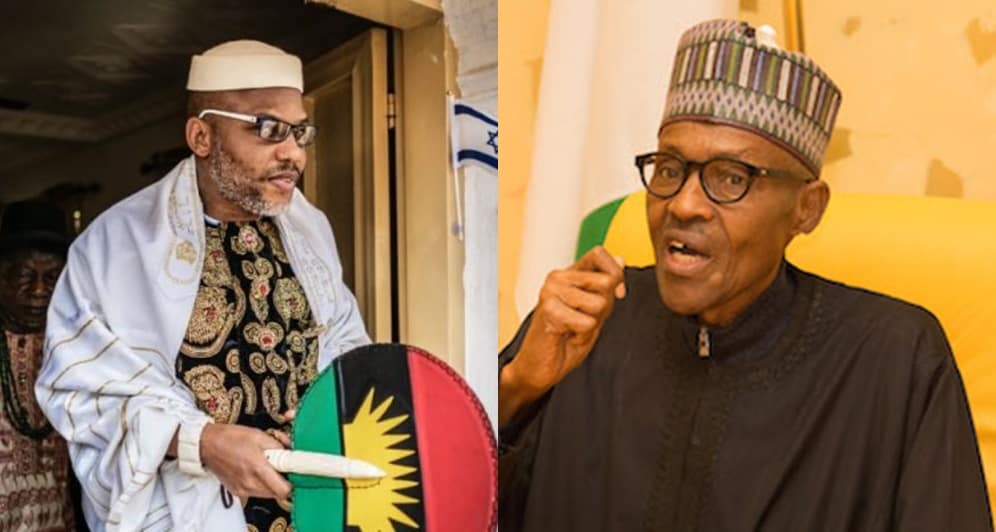 In a statement by the Media and Publicity Secretary of IPOB, Emma Powerful, said that failure to release its leader was an invitation to anarchy because, according to him, the leadership of IPOB could not guarantee how long the simmering rage of the masses could be contained.
Powerful said that Federal Government headed by President Muhammadu Buhari  and the Nigerian Army must release Kanu and others abducted alongside him last year during the invasion of his compound, without further delay, or they can await the catastrophic consequences their extra-judicial killing spree will cause in the near future.
The statement partly read,
"With recent leaked intelligence on the whereabouts of our leader, widely reported on all major news platforms, exposing where the Nigerian Government kept our leader Mazi Nnamdi Kanu, we expect the same Nigerian Army that abducted him to charge him to court or release him to the British government."
"It is now clear to all and sundry that orchestrated sightings of our leader in Cameroon, Ghana, Niger Delta creeks, Malaysia, London and other weird and wonderful places were lies concocted and planted in mainstream Nigeria media to fool and confuse the public.
The IPOB secretary who accused the Nigerian army of Kidnap, notes that there is no law in Nigeria, ECOWAS, AU or United Nations that empowers the Nigerian armed forces to kidnap and detain people at will without recourse to a court of law."
"The periodic harassment of those that stood surety for our leader through Justice Binta Nyako's court is a clever ploy to drum the false narrative into the brains of Nigerians that our leader jumped bail, when in actual fact it was the army that invaded his home and killed 28 people in the process.
"What the government may have succeeded in doing is convincing some gullible people that deadly invasion of Kanu's home by Nigerian soldiers that led to many being shot dead and injured, doesn't matter and should be forgotten."
"Those in the habit of condoning the excessive human rights abuses of this APC government must know, in the words of one Sir Arthur "Bomber" Harris, 'that he who sows the wind, will reap the whirlwind'.
Powerful said "Nigerian Government and her security operatives must produce our leader Mazi Nnamdi Kanu and others abducted with him last year.
Adding that "A near derelict naval vessel stationed in the high sea is not a court of law where guilt and innocence are determined, that remains the exclusive preserve of a court of law.