Match Report: Messi masters Chelsea as FC Barcelona wins, 3–0 (4–1 agg.), and moves on to the Champions League quarterfinals
The Argentinian scores his 99th and 100th Champions League goals as Barça goes through to the last eight for a record-extending 11th straight season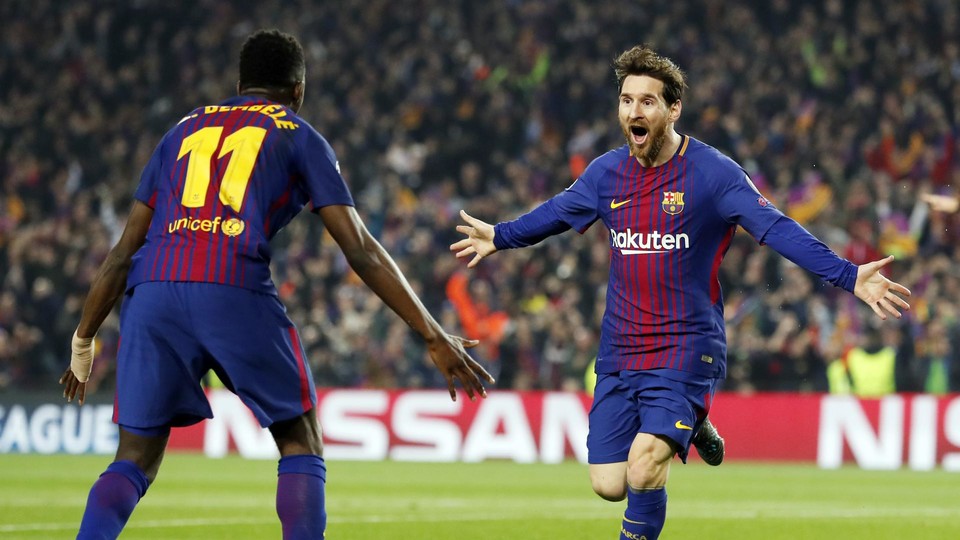 Lionel Messi found the net twice and Ousmane Dembélé scored once in between as FC Barcelona summarily vanquished visiting Chelsea, 3-0, to move on to the Champions League quarterfinals for a record-extending 11th season in a row, 4–1 on aggregate.
Messi, who had never scored in eight career games against Chelsea before his game-tying goal in the 75th minute of the first leg on February 20 at Stamford Bridge, now has three goals in his last two games against the London-based side.
"Having Messi at this club is a true blessing," said midfielder Andrés Iniesta, who was inserted back into the starting XI by manager Ernesto Valverde after winning a race against the clock to overcome a hamstring injury suffered in a league match just ten days earlier.
Messi's goals—his 99th and 100th career goals in the Champions League—were almost mirror opposites. The first goal came in minute three, when Messi culminated a passing combination with Dembélé and Luis Suárez by nutmegging Chelsea goalkeeper Thibaut Courtois with a right-footed shot from a tight angle to the keeper's left. Messi's second goal came in minute 63 and was a left-footed shot — also a nutmeg — that came from another acute angle to the keeper's right.
"Demblélé did what he was asked," Valverde said. It was Dembélé's first goal for Barça, and his third Champions League goal overall. The Frenchman had already scored twice in the Champions League when he played for Borussia Dortmund.
Chelsea went to great lengths to purposefully avoid a direct assault on Barça's central defenders Gerard Piqué and Samuel Umtiti, instead opting to search for space on the wings. Chelsea's top threats — Eden Hazard and Willian — however, seldom made it far enough into Barça territory to be of any serious threat and, when they did, Barça's fullbacks, Jordi Alba and Sergi Roberto, were more than up to the task.
The former Barça players Cesc Fàbregas and Pedro Rodríguez, who were making their first appearances at Camp Nou since swapping Barcelona for London, were non-factors. Pedro received an ovation after the final whistle.
Barça's quarterfinal opponents will be revealed this Friday, when UEFA holds their draw for the next round at 1.00pm CET in Nyon, Switzerland.
CHAMPIONS LEAGUE POLL: Who will Barça get in the quarter finals?
When asked about which team he'd rather face, Iniesta was unambiguous. "I don't want to face either of the Spanish teams in the quarterfinals, because we know each other very well," he said. Nevertheless, he explained, while "the Champions League is always a motivation, it's very complicated — we're going to fight for it."