Madonna lost Monday a nearly year-long bid to stop an auction of intimate items, including a breakup letter from rap legend Tupac Shakur. Madonna A judge ruled that the Material Girl had directed her legal action against the wrong target in going after Darlene Lutz, a New York art dealer who helped Madonna build a collection before falling out with her. Lutz had been the main source for 22 items, including love letters, cassettes and a hairbrush, that were up for sale by auction house Gotta Have Rock and Roll until a judge issued an injunction in July.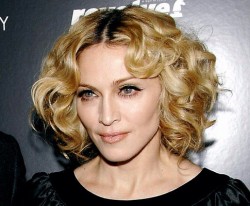 New York Judge Gerald Lebovits, in a ruling based on narrow legal grounds rather than on Madonna's claims of violations of privacy, agreed with Lutz, who said that her disputes with Madonna were settled by a 2004 legal agreement between the former friends. Lebovits, in a decision dated last week but made public Monday, also questioned why Madonna was pursuing Lutz and not the singer's assistants, who Madonna said had handed items to the art dealer. "If plaintiff's allegations are accepted as true — that Lutz received the letters through inadvertent actions of the plaintiff's assistants," Lebovits wrote, then her case against Lutz is "time-barred and improper."
The auction house said it would press ahead in July with the sale of Madonna merchandise including the offending letter from Tupac. In a statement, Gotta Have Rock and Roll said it had been confident about the case and had done "substantial due diligence" before first announcing the auction. Judd Grossman, a lawyer for Lutz, called the court decision "a total win." "Ms Lutz is now free to do with her property as she pleases without any continued interference by Madonna," Grossman said.
A lawyer for Madonna did not immediately respond to requests for comment. – Private letter from Tupac – The items up for auction — part of a collection of some 100 pieces — included the 1995 letter from Tupac, who would be shot dead a year later. Madonna has only recently spoken publicly about their then-secret relationship. In the letter breaking up with Madonna, Tupac said his image would suffer by dating a white woman and voiced pain at an interview in which the singer said, "I'm off to rehabilitate all the rappers and basketball players."
Madonna, in winning a temporary block of the auction in July, told the court that her celebrity status "does not obviate my right to maintain my privacy, including with regard to highly personal items." Lutz's lawyers accused Madonna of a "personal vendetta" and mocked her appeals for privacy, noting that the auction included a pair of underwear she had mailed to a lover.