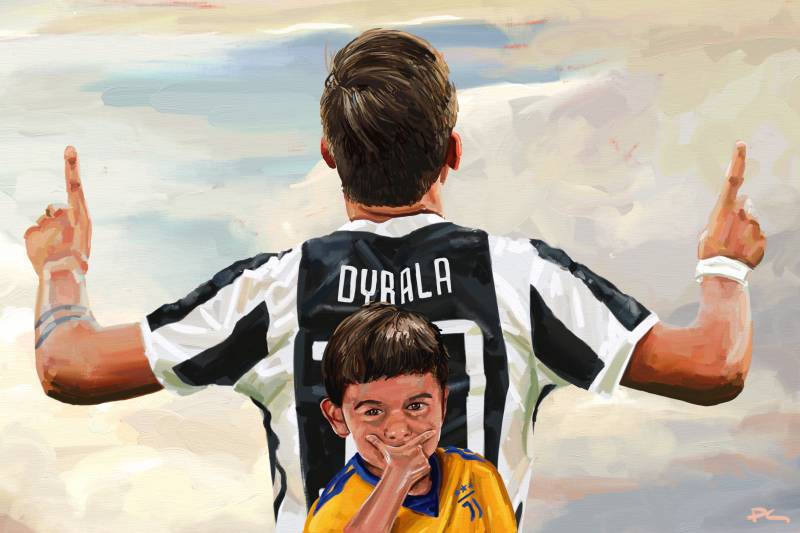 The road between Laguna Larga and Cordoba in Argentina is long and straight. The view stretches out flat and wide beyond fields of various autumnal shades. There is little to distract the eye or provoke unexpected conversation.
For Paulo Dybala and his father, Adolfo, the subject on that drive from their hometown to Paulo's workouts was pretty much always football: The stories in daily sports newspaper Ole that morning, the goals they had seen on television and their hopes for Dybala's future in the game.
Paulo had a close relationship with all of his family, but those who knew him growing up and those who have worked with him within football all say that his bond with his father was particularly strong. All that time spent together on the road reinforced that.
It was never only Dybala striving for a career in football. It was a joint effort.
It was on a chilly night in Turin last April that Dybala announced himself to the world. Attentive observers already sensed he was a supreme talent, but his performance for Juventus against Barcelona in the first leg of that Champions League quarter-final confirmed it to a wider audience.
Dybala after scoring against BarcelonaGetty
Throughout, he was a nuisance to the Barcelona defence. He found pockets of space to receive the ball and link with teammates and used his cunning to win a number of free-kicks. Decisively, he provided two quickfire goals that helped Juventus to a 3-0 advantage Barcelona were unable to overturn in the return fixture a week later.
His first was an instinctive turn and finish after receiving the ball inside the penalty area; the second a well-placed, first-time shot into the corner. Both were celebrated in his customary style, with a finger from each hand pointed upward to the heavens.
---
Adolfo Dybala always dreamed that at least one of his three sons would become a professional footballer. He had himself been a talented midfielder, but he never made it out of Laguna Larga. He was involved in the running of Newell's Old Boys—one of the small town's two clubs and not the famous Rosario team where Lionel Messi began his career—and he passed on his love for the game to his offspring.
It quickly became clear which of his sons was most likely to make it. Paulo first started kicking a football around at the age of two. He could later be found every afternoon at the Canchita del Seba, a small dirt pitch next to the railway station where used truck tyres provided makeshift seating for interested onlookers.
His father instilled in him a passion for Buenos Aires giants Boca Juniors, but it was Ronaldinho who caught the eye of a young Dybala. He sought to emulate the the flamboyant Brazilian forward's moves and dribbles with his friends.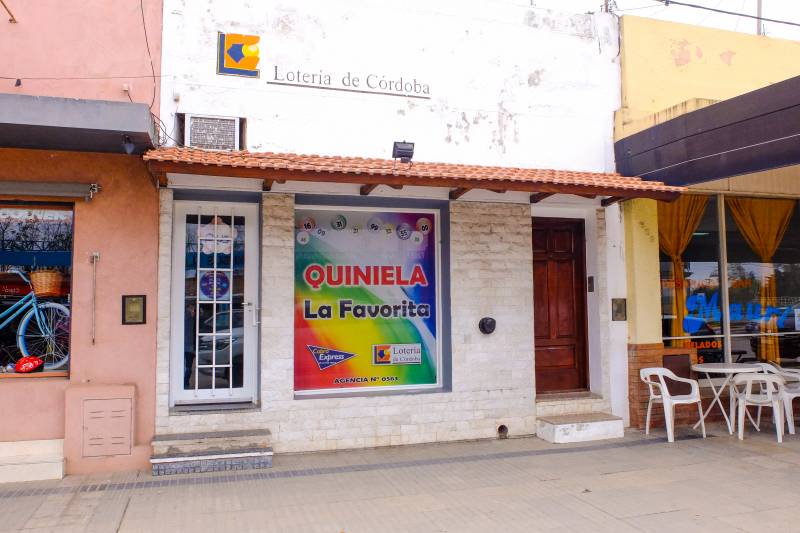 The lottery shop that Dybala's parents ran during his childhood with the entrance to his childhood home on the rightNick Dorrington
When he wasn't playing football, Dybala would spend time with his father in the lottery shop the family owned and ran. Once, when he was 10, his father had to step out for a few minutes. Dybala was left in charge. He sensed an opportunity. He put two pesos in the till and picked the first number that came to mind.
A few days later, he came clean at a family dinner. He had won 30 pesos.Instituto de Cordoba were the first professional club to take note of Dybala's talent. Their legendary scout, Santos Turza, saw him play for barely 10 minutes before taking his father aside and making it clear he wanted to sign him.
Pablo Alvarez is the man tasked with overseeing Instituto's youth categories. He joined the club in 2004 and took over Dybala's team, the under-15s, in 2008.
"Paulo was very good technically," he said. "In dead-ball situations, free-kicks, he struck the ball very well. It was almost always a goal. But he didn't yet have the explosiveness he has today… he was an underdeveloped kid who didn't like tackles or contact."
There was clearly some promise there, but nothing that made it clear Dybala would go on to become a star in Europe and appear for the Argentina national team.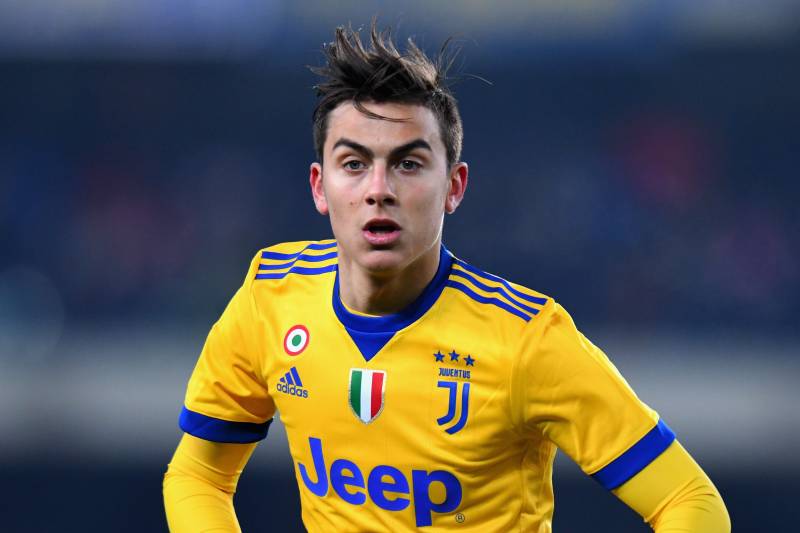 Alessandro Sabattini/Getty Images
"In the youth teams, no. I've seen better players who never made a career for themselves," Alvarez said. "There are a lot of good footballers in Cordoba, but many don't have their heads in the right place. They spend all their time in nightclubs, end up with a kid at 15 or succumb to other social problems that stop them from becoming professional footballers."
Dybala's father was determined his son would not become one of those who fell by the wayside. He was sure Paulo had talent, even if his slight frame meant he would need some additional time to bloom. Adolfo set about guiding him, offering words of encouragement and advice and ensuring he maintained his focus.
Rather than send Paulo off to training on the bus, he decided to take time out of his working week to transport him there himself.
"When Paulo was younger, we spoke a number of times because he (Adolfo) would bring him here, watch the training session and then take him back afterwards," Alvarez explained. "He was a good person. It was 70 kilometres, so there was a lot of sacrifice involved."
---
In early 2008, the Dybala family received devastating news. Adolfo had been diagnosed with intestinal cancer. In September of that year, he passed away. Paulo was just 14 years old.
It was a difficult time. Understandably, the family wanted to be together. Instituto therefore agreed it would be best for Dybala to return to Laguna Larga on loan at Newell's Old Boys.
His coach there was Walter Obregon, a gregarious former player who was originally brought to the club by Dybala's father and remains there today.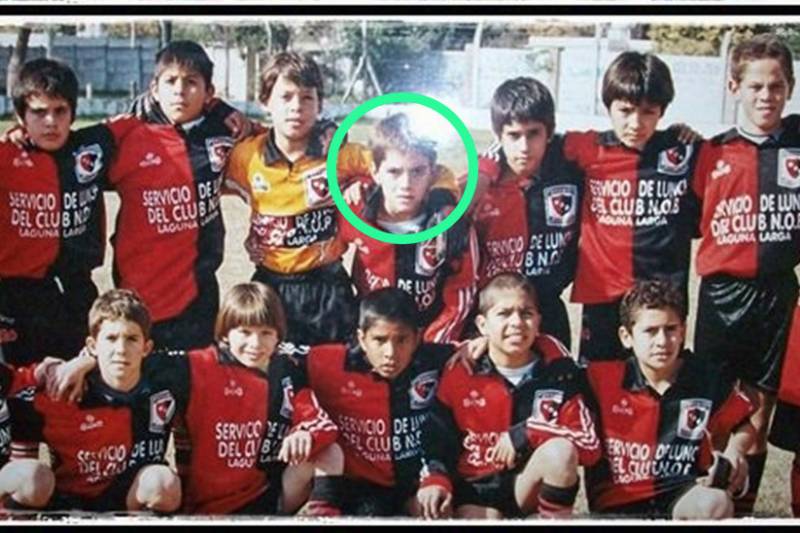 A young Dybala at Newell's Old Boys in Laguna LargaCourtesy of Walter Obregon
There was little Obregon could do to improve Dybala as a footballer. His priority was to manage him emotionally and give him a platform to show off his talent.
"I already knew that with him on board, we'd win the championship," he explained. "I remember a goal he scored from a free-kick in a semi-final. … He put it right in the top corner. But he scored so many goals here. And that was obviously a big help for the team in winning the championship."
At Instituto, Dybala was just one more player; at Newell's his ability was plain to see. He was clearly above the level of the local league, but Obregon still feels his time there served a purpose.
"I think that playing in our league instilled in him the soul of the potrero, of neighbourhood football. At this level, the pitches are rarely beautiful. The ball jumps about, the marking is tighter and more aggressive, and the style of play is more abrupt: there is more contact, more collisions, more of a need for strength. Playing in that type of football served him well when he later had the opportunity to play on beautiful pitches."
For Obregon, it was also an opportunity to forge a relationship that would allow him to keep a promise he had made to Dybala's father before he passed away.
"I still remember his father's words to me… He already knew he was ill. He said: 'Walter, the only thing I want is for him to continue to be motivated, to continue playing at a high level.' He told me to not allow Paulo to let up or relax. We tried to make sure he didn't, and we achieved it."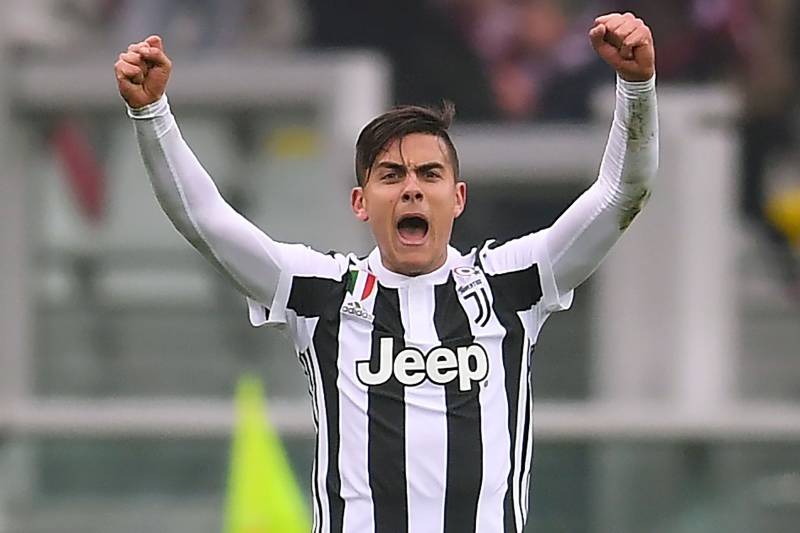 MARCO BERTORELLO/Getty Images
Dybala eventually returned to Instituto and tried to get on with his career. But he continued to be affected by his father's death.  On one occasion, his team travelled to Buenos Aires to take on Independiente. Dybala was taken off after just 25 minutes. He was playing badly and struggling to connect with his teammates. He was visibly frustrated. The head of youth teams followed him into the dressing room and asked what the issue was.
"My father died a year ago today," Dybala told him.
---
The next season, Francisco Buteler joined Instituto to take over Dybala's age group. A former defender for the club, he had accumulated nearly 15 years' experience working with youth teams, including two years at city rivals Talleres, before he returned as a coach.
The club had told him that Dybala was a player with promise, an interesting project, and it didn't take long for Buteler to realize that he had a potential star on his hands.
"I was just two or three weeks into the job when we left to play a tournament in Chile," he said. "The first match was against Colo-Colo, one of the biggest teams in Chile. The second time he touched the ball, he executed a one-two with a teammate and first time, with his weaker right foot, fired the ball across the goalkeeper right into the bottom corner. That was the first thing I saw from him in an official match."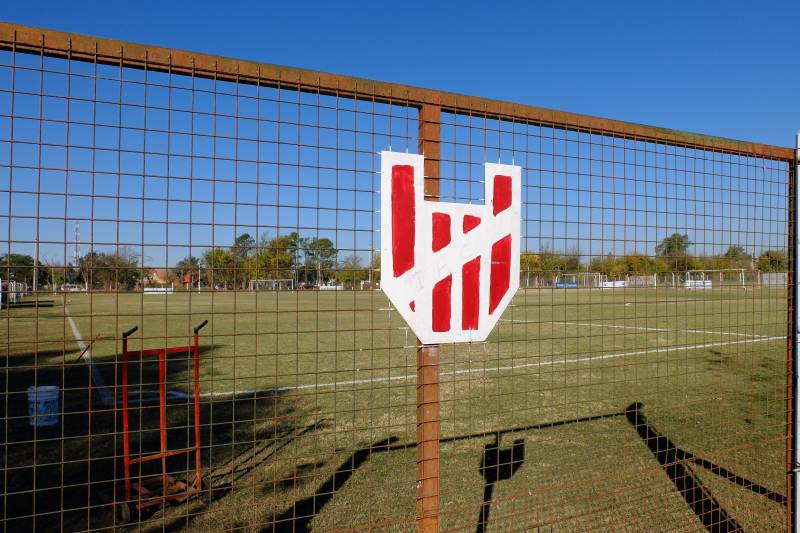 Instituto's club badge at their training ground, La AgustinaNick Dorrington
Dybala picked up an injury early into the second half and missed the rest of the tournament. Subsequent performances confirmed his importance. "We played much better before Paulo got injured than we did afterwards. In the next match, without Paulo, we looked like a different team." Buteler said. "That made me realise Paulo's value. What he could give to the team."
By this stage, Dybala was more at home with the physical side of the game. He was still small, but between his wits and natural ability, he had the necessary tools to overcome that weakness. There wasn't much that Buteler needed to work on. The only concrete guidance he gave him was to try to keep things simple—advice that he quickly followed.
Things really took off when Buteler changed Dybala's position. He had previously played as a central attacking midfielder, but Buteler felt he would be more effective closer to goal. In his many years working in football, he had never seen a player who finished so well. To him, it was obvious Dybala needed to play up front.
"At the start he didn't like it. The head of youth teams at the time brought him over to me and said to Paulo that he could see that everything wasn't right with him and that he needed to raise his level. In front of me, Paulo said: 'The thing is, I'm not playing in my position.' It was a cheeky little comment. Luckily for him and for me, the head of youth teams said: 'If he has put you in this position, it's because he has seen something in you.'"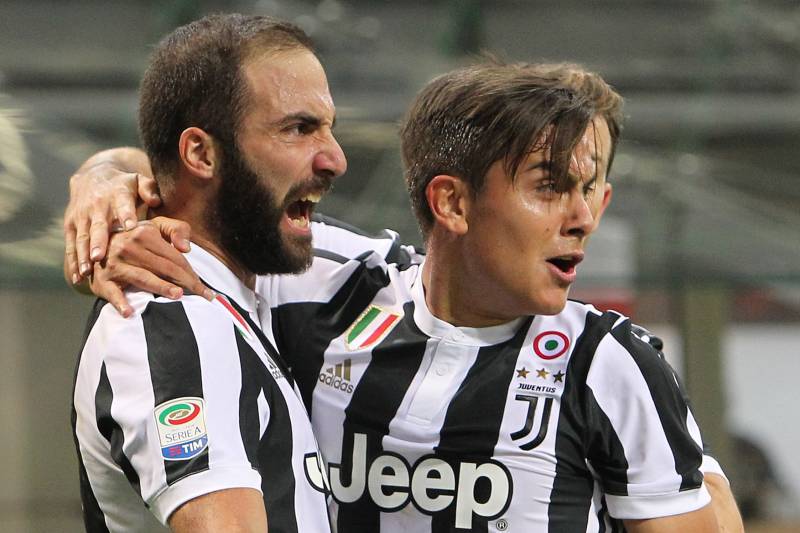 Marco Luzzani/Getty Images
What that "something" was quickly became clear. In a free role behind the main striker, Gustavo Gotti, Dybala ran riot. In the next four or five matches, the pair of them scored an average of three goals per match. Instantly, Dybala looked too good for his age group. The first team beckoned.
Dario Franco had just come in as the new head coach and, with a shortage of forwards, was interested to see whether there were any young talents capable of making the step up. By then, Alvarez was overseeing the youth teams. He suggested Dybala. In a trial match against the first team, the then-17-year-old made an immediate impression.
"In his first training session with the first team, Paulo nutmegged Osvaldo Barsottini, a big central defender, and as the goalkeeper Julio Chiarini advanced, lobbed the ball over his head and in," Alvarez recalled. "Dario Franco said to me: 'Give me him. I like his cheekiness.'"
---
The Estadio Presidente Juan Domingo Peron is located in the Alta Cordoba neighbourhood to the north of Cordoba's city centre. Built in 1951 and occupied by Instituto ever since, it is essentially a single-tier concrete rectangle embellished by a towering corner unit and a series of corporate boxes perched on one side.
The scene is a typical one in Argentina. Ticker tape streams down from the top of the stands, and a band bangs away incessantly from the first whistle to the last. Goals are met by charges to the front; throughout, the stadium rocks in time with the rhythmic bouncing of bodies.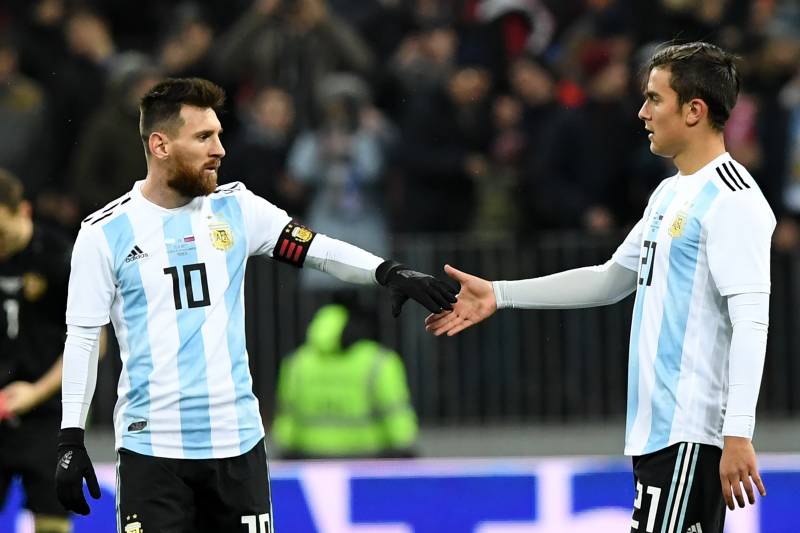 Dybala will hope to be a key player for Argentina at the World CupKIRILL KUDRYAVTSEV/Getty Images
It is the sort of venue and atmosphere that would understandably generate some nerves in a young player waiting to make his debut. But if that was the case with Dybala, it didn't show.
The date was August 12, 2011, the opponents Huracan. It was the opening match of the season. Instituto had signed striker Miguel Fernandez from San Martin de Tucuman, but he was suspended, so Dybala started in his place. Hernan Laurino was there that day as a reporter for local newspaper La Voz, and he was just one of many in the press box to be amazed by the young forward's performance.
"All of us quickly noted that he had a strange amount of freeness to him for a kid of 17 making his debut," he said. "He didn't feel under pressure or nervous. He gathered the ball and again and again tried to dribble. He was one of the best players in that match, despite not scoring. And he left the field to the applause of the crowd."
Dybala scored against Aldosivi in his second appearance and in doing so broke Mario Kempes' record as the club's youngest ever goalscorer. In an article the following day, journalist Marcos Villalobo christened him La Joya (the jewel), the nickname that sticks to this day.
River Plate's relegation to the Primera B brought a lot of coverage to the second tier that season. Whenever the cameras were on, Dybala shone. Match after match, he continued to perform so well that Fernandez never got a look in.
Instituto played some fantastic football that season, and Dybala provided 17 goals for a team that narrowly missed out to River Plate and Quilmes in the battle for automatic promotion. In Laurino's eyes, his performance away to Gimnasia de Jujuy was particularly memorable.
"Firstly, for a left-footed strike from outside the area that was very similar to those that Lionel Messi regularly produces," he continued. "And afterwards, for an individual play from the centre of the pitch, in which he went past various opponents, including one whom he nutmegged to applause from the home supporters. He stood out because he did things that weren't typical at that level."
Dybala was destined for greater things. Palermo paid €12 million to take him to Italy at the end of the season. In 2015, he moved on to Juventus and a few months later made his debut for the Argentina national team. A blistering first half of the season was disturbed by injury, but there is still time for 2018 to be his. Throughout, his demeanour and approach to the game has barely changed. He could still be playing on the dirt pitch in his hometown.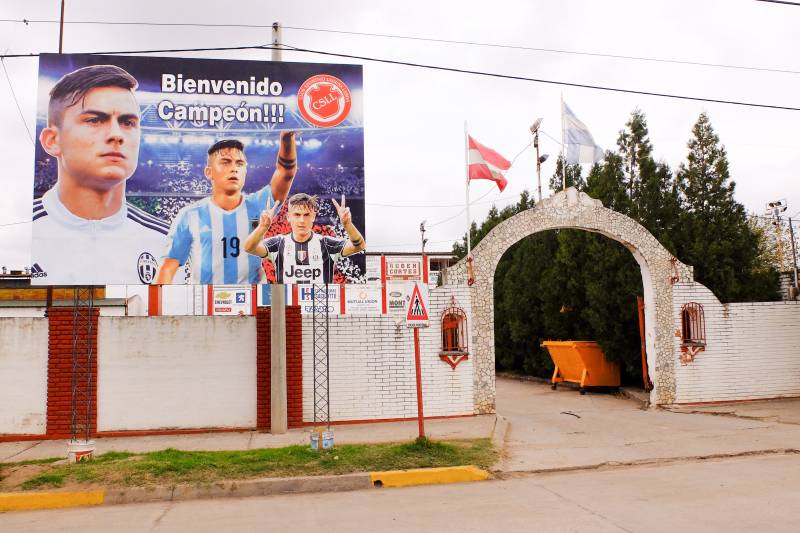 A poster celebrating Dybala in Laguna LargaNick Dorrington
Whenever he has free time, Dybala returns to Laguna Larga. He knows the people there have his best interests at heart. He gives back, too. Over the last couple of years, he has organised a pair of charity matches in the town featuring acquaintances and former teammates, while he recently donated a classroom to a centre for disabled children.
Friendships from his childhood have also been maintained. Two of his teammates from the Instituto youth teams—Federico Beltran and Nahuel Ruiz—now play for a lower-league side in Italy thanks to Dybala's connections.
"The thing that stands out for me is how present he is in the life of his friends and family," Laurino explained."The importance he gives to friendship, to always trying to help out and be present for the people who accompanied him through his childhood. I think he has strong emotional bonds with his friends and that they provide important support for him."
Everyone who has had some involvement in Dybala's career also cites the strong family unit around him as a key factor in his success. After the death of his father, the family closed ranks and helped each other through the loss. There was never an opportunity for Dybala to lose his way.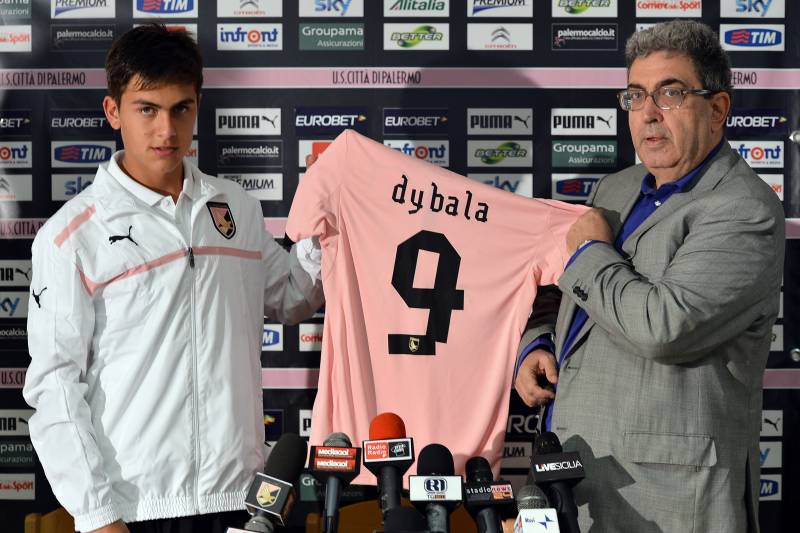 Paulo Dybala soon after completing his move to PalermoTullio M. Puglia/Getty Images
When he moved to Palermo, his mother went with him and prepared meals for him and teammate Franco Vazquez. Every goal he scores is celebrated with a salute to his father up above.
Dybala comes across as quiet and respectful, but his underlying character is strong.
"The thing that I always say to the kids here at the club is that despite the death of his father, despite the fact that he has gone through difficult moments in his life, he never stopped dreaming," said Obregon. "He never gave up on his dream of becoming a professional player."
His dream—and his father's too.