JUST IN:A fight Between Israel and Gaza Militant. More than 20 dead in Gaza, 4 in Israel. after hail of rockets and airstrikes
Twenty-three people have died in Gaza as a result of the fighting between Israel and Gaza militants since Saturday morning, according to the Palestinian Ministry of Health.In Israel, four people have been killed by rocket fire from Gaza, according to local hospitals and emergency services. Eight of the dead in Gaza are members of the armed wing of Islamic Jihad, the Quds Brigade, according to an Islamic Jihad spokesman.
Another of those killed was targeted deliberately — the Israel Defense Forces (IDF) says Hamid Ahmed Abdul Khudri, 34, was responsible for money transfers from Iran to militant groups like Islamic Jihad and Hamas inside Gaza.Health officials in Gaza also say that two infants, a 12-year old boy, and two pregnant women have been killed.
There is a dispute over the cause of the deaths of one of the infants and one of the pregnant women — Gaza health officials say both died in an Israeli airstrike, while the Israeli military says they were killed when a militant rocket misfired on launchIn Israel, a 58-year-old man was killed by rocket fire in Ashkelon overnight Saturday into Sunday, according to Barzilai hospital in Ashkelon. A 50-year-old Israeli man was killed when his car was hit by a Kornet anti-tank missile near Sderot on Sunday afternoon, according to emergency response services.
A foreign worker was killed by a rocket that landed on a factory in Ashkelon on Sunday according to Barzilai hospital. A fourth man was killed when a rocket struck a car next to him in Ashdod on Sunday evening, according to ZAKA, an emergency volunteer response service.Israeli Prime Minister Benjamin Netanyahu said "massive attacks against terrorist elements" in Gaza will continue after militants in the coastal enclave fired approximately 600 rockets towards Israel.Speaking at the weekly Cabinet meeting Sunday morning, Netanyahu said:
"Hamas bears the responsibility not only for its own attacks and actions but also for the actions of Islamic Jihad, and it is paying a very heavy price for this."Israel has so far responded with airstrikes on 320 targets across Gaza, according to the IDF. The Coordinator of Government Activities in the Territories (COGAT) announced that all fuel imports to Gaza would be stopped effective immediately. Diplomatic attempts to bring an end to the fighting were continuing. "Very intense" mediation efforts by Egypt and the United Nations were underway to try to restore a ceasefire, a source with direct knowledge of the negotiations told THEBIAFRASTAR.
The source acknowledged that the challenge was great but said mediators were "not giving up hope and pushing very hard."The escalation began Saturday morning with about 50 rockets fired towards Israel within the course of an hour and continued late into the evening. The IDF said its Iron Dome aerial defense system had intercepted dozens of the incoming rockets.In response to the rockets, the IDF said it carried out airstrikes on targets in Gaza including a tunnel, rocket launcher sites and other military compounds used by Hamas and Palestinian Islamic Jihad (PIJ.) The military also struck a mosque in al-Shati in northern Gaza, which the IDF said was used a command and control center by Palestinian Islamic Jihad.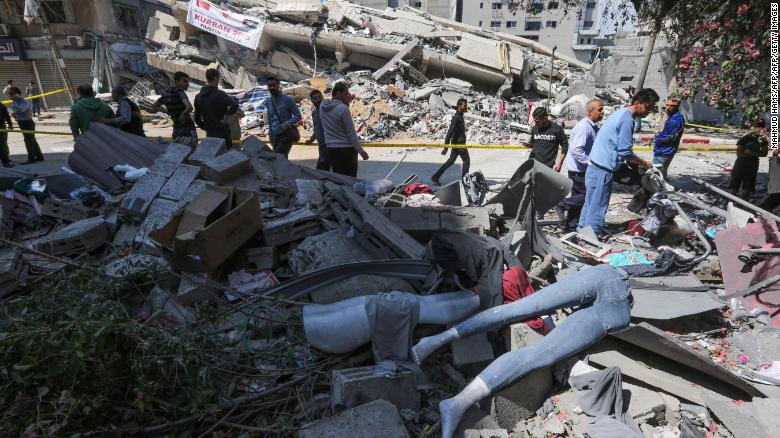 Palestinians walk by a clothing shop damaged by Israeli airstrikes on Saturday. Turkey has condemned a strike on a building housing the office of its state-run Anadolu news agency, a building which Israel says is also used by Hamas's military intelligence.A spokesman for Turkey's President said: "We urge all governments that claim to defend press freedom, including @USEmbassyTurkey to join us in condemning the Israeli government."Israel announced that it is closing the two border crossings between Israel and Gaza, as well as closing the Gaza fishing zone.The fishing zone was restricted to 6 nautical miles earlier this week following a rocket fired from Gaza that landed off the coast of Israel.There was no specific date for when the crossings and the fishing zone would reopen.Saturday's rocket barrage came less than a day after two militants from Hamas' armed wing, the Qassam Brigades, were killed in an Israeli strike on Hamas posts in Gaza.