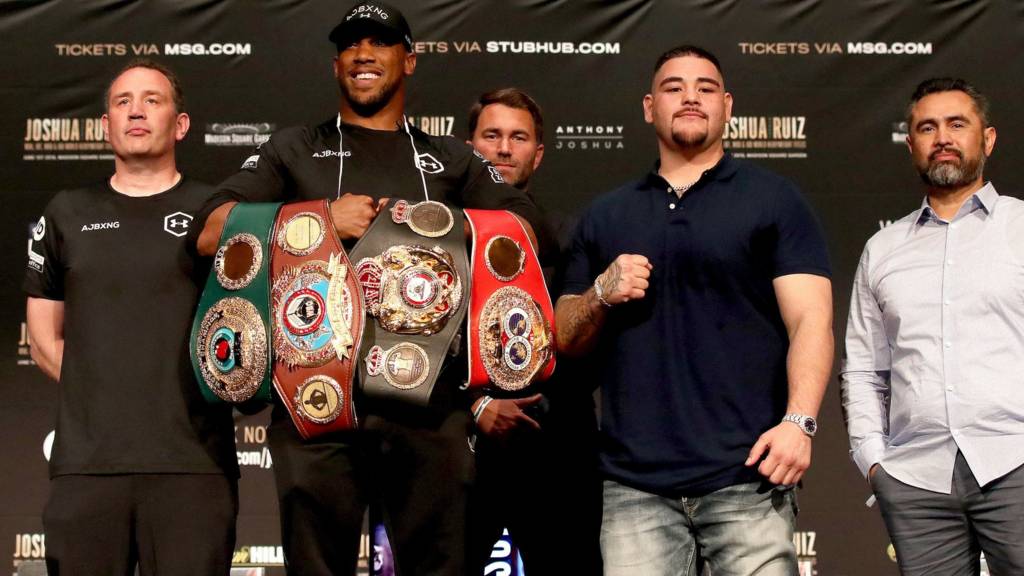 Got a TV Licence?
You need one to watch live TV on any channel or device, and BBC programmes on iPlayer. It's the law.
Find out more
Summary
Anthony Joshua makes his debut in the United States at New York's Madison Square Garden – approx 03:30 BST
Briton's WBA, WBO, IBF world heavyweight titles on the line against Mexican Andy Ruiz Jr
Callum Smith defends WBA world super-middleweight title against Hassan N'Dam – approx 02:30 BST
Katie Taylor faces Delfine Persoon with all four women's lightweight world titles on the line – approx 01:30 BST
Listen to commentary of all three fights on BBC Radio 5 Live
Get involved: #bbcboxing on Twitter or text 81111 (UK only)
Live Reporting
By Michael Emons
All times stated are UK
Send a text to

81111 (charged at your standard message rate)

Twitter:

Use the hashtag

#bbcboxing

Facebook:

BBC Sport
A lovely right, which Persoon eats and shows that she has some chin. Taylor needs a lot more of that as that was a good punch, but her opponent was unmoved.

'Taylor needs to be smarter'

Round 5

Steve Bunce

BBC Radio 5 Live boxing pundit at Madison Square Garden

I'm not sure Katie Taylor can win this now by moving her feet, but somehow she needs to be smarter.

Delfine Persoon still has bad feet and she can utilise that because a brawl in the middle of the ring will end in defeat.

Taylor had showed some confidence in that round, waving her opponent on, but it was not wise as it just led to a flurry of Persoon punches, many of them landing. Taylor in trouble at the halfway point.

Katie Taylor is forced back on to the ropes as Persoon tries to launch her opponent through into the seats. Another straight right sends Taylor on to another section of the ropes.

'She doesn't have the skills but she has the desire'

Round 4

David Haye

Former world heavyweight champion on BBC Radio 5 live

I had Delfine Persoon just nicking that round. Katie Taylor made it a little closer but the sheer will to win seems to be coming from the Belgian. She doesn't have the skills but she has the desire.

If this is the sign of things to come tonight then this is going to be a fantastic night of boxing. Hugely enjoyable. Both try flurries of punches, with varying success. Some hit, sometimes they leave themselves open.

A closer round than the previous two. Taylor's face is covered by blood, thanks to a cut at the top of the nose. That is not looking too good. That cut is not far from the eyes so could cause problems later on.

'Taylor has been hurt too many times'

Round 3

Carl Frampton

Former world champion on BBC Radio 5 live

Both girls are pretty easy to hit but Katie Taylor is not moving out of the way, and she has been hurt too many times in the opening three rounds.

Another left finds its way through the Taylor defence. And another with only seconds remaining. She may well have been hit more times in this fight already compared to throughout most of her professional career. Three gone. Two-one to the Belgian.

Luke Reddy

BBC Sport at Madison Square Garden

.Copyright: .

"Don't go back in straight lines Katie."

That's the call from one of her ringside pals.

This is a good, lively affair. Don't think I've seen Taylor under pressure like this before. Persoon game, very game.

"Tight guard Katie, tight guard," comes the shout.

The Belgian is again the attacker. A looping overhand right misses. Her style is aggressive and frantic, with Taylor trying to catch her on the counter, but Taylor is shipping a lot of punishment.

'Taylor has never been in a round like that'

Round 2

Steve Bunce

BBC Radio 5 Live boxing pundit at Madison Square Garden

That was the best round of women's boxing I have seen. Katie Taylor has never been in a round of boxing like that in her career.

A strong left-right hook from Persoon. One, two, three, four shots from Persoon, they all find the target. Frantic, but a good watch. You have to give that round to the Belgian. Katie Taylor is going to have dig deeper than she ever has had to before.

A left hook from Persoon sends Taylor back and the Belgian looks to attack. Another right hook gets through not long after.

WBA super-flyweight champion Kal Yafai expects Katie Taylor to win this one…

Carl Frampton

Former world champion on BBC Radio 5 live

I would give that round to Katie Taylor.

Taylor's work is good for the purists, Persoon more head-down and charging and hoping. Which is going to be the most effective tactic?

Here we go. An early jab from Taylor to the Persoon face. Persoon is on the attack, with a wild swing that Taylor spots, ducks under and counters.

Katie Taylor does not need any clues on what to do. Delfine Persoon does just that with a bizarre phase of frantic hitting-yourself-in-the-face spell. As ways of psyching yourself up, I've seen less painful ways of doing it.

Can Taylor hit Persoon in the face as well? Ten rounds, each of two minutes coming up.

Eye-catching ref…

Taylor v Persoon

Luke Reddy

BBC Sport at Madison Square Garden

The referee for the Taylor v Persoon fight is called… wait for it…

Sparkle Lee.

What a great name.

U2's "I still haven't found what I'm looking for" is Katie Taylor's ringwalk music of choice. What she is after is becoming an undisputed champion. Here's her chance.