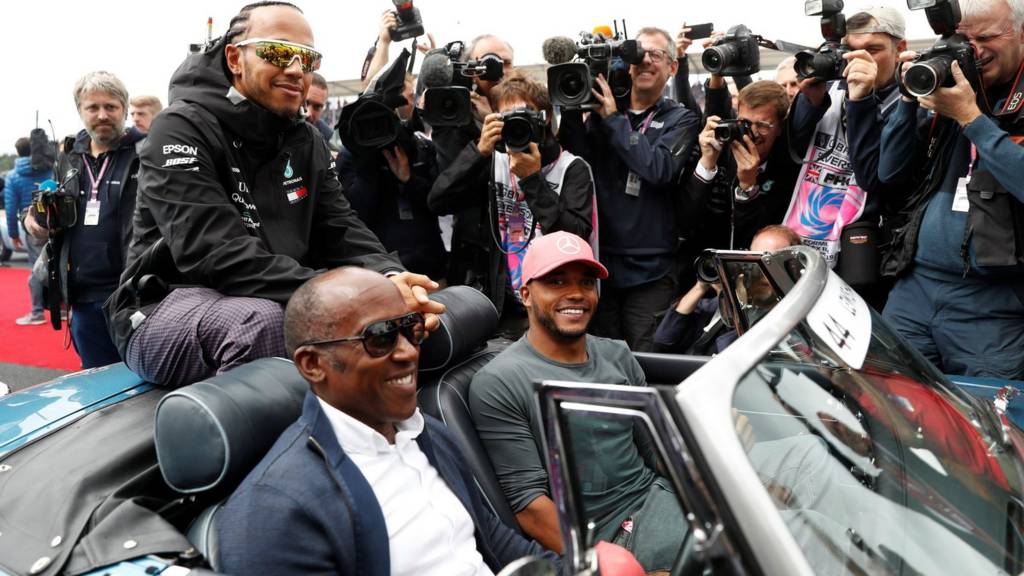 Got a TV Licence?
You need one to watch live TV on any channel or device, and BBC programmes on iPlayer. It's the law.
Find out more
Live Reporting
By Gary Rose
All times stated are UK
'I couldn't work out what changed'

Michael Emons

BBC Sport at Silverstone

It has been a tough weekend for Haas. Romain Grosjean, whose car has been reverted to the Australia-spec as at the start of the season, smashed himself into the pit lane wall on Friday and team-mate Kevin Magnussen failed to get out of Q1 yesterday.

"I don't really know what happened," said Magnussen. "I had a good car and we were optimistic of being close to the front of that middle group. I thought it would be good and it got to qualifying and I couldn't work out what changed.

"I feel he (Grosjean) has been too close considering l've got the upgraded car. Something must have gone wrong in the garage. For him to come here with an older car and be quicker than me is not good."

Grosjean added: "It's not what we like but it's what is best for the team at the moment."

Grosjean starts 14th, two places in front of Magnussen.

BBC SportCopyright: BBC Sport

Michael Emons

BBC Sport at Silverstone

This is Tottenham manager Mauricio Pochettino heading into the Racing Point garage. You might have to just trust me on that one. Mourinho was here yesterday, Pochettino today.

BBC SportCopyright: BBC Sport

Kayleigh's nabbed a top spot for watching the action.

Not jealous. Not jealous at all…

Michael Emons

BBC Sport at Silverstone

Busy, busy, busy out on track. If you're wondering what the building work is next to the start line then it's a new hotel which is set to be completed next summer.

Then you'll be able to wake up, open the curtains and look straight out on to the track.

BBC SportCopyright: BBC Sport

Uh oh. A flurry of activity around Max Verstappen's car down on the grid. Christian Horner doesn't sound too concerned, though.

"We just found a little issue with an endplate," he tells Sky Sports. "Needed changing and that is what they have done."

Roy Nelson:Watching F1 from Melaka, Malaysia, cheering for Lewis!
#bbcf1#BritishGP@SilverstoneUK.#bbcf1

Where are you following the race from and who are you rooting for? Let us now via #bbcf1!

Andrew Benson

BBC Sport's chief F1 writer at Silverstone

Strategy looks somewhere
between a one-and a two-stop. And it's difficult to predict who will do what
and how.

Mercedes and Red Bull are convinced Ferrari have made a mistake in
choosing the soft as the start tyre, but Ferrari themselves are quite happy
with it. Are they going soft-soft-hard on a two-stop, as Pirelli predict is the
quickest strategy?

Charles Leclerc and Lewis Hamilton are the only drivers in
the top 10 with a new set of softs available for the race. Does choosing the
medium mean Mercedes and Red Bull are going to try a one-stop? On softs, the first
pit-stop window is laps nine to 17; on mediums 14-22. Pit-stop time loss is 19
seconds under green flag conditions; 11 under a safety car of one kind or
another.

#F1, Silverstone is probably in the bottom five or six. It's way, way behind Monza, Austin, Spa, Suzuka, Montreal, and Interlagos. It's not even the best racetrack in the UK, either, despite all of this 'Silverstone romance'' stuff. #BritishGP#BBCF1

Andrew Benson
BBC Sport's chief F1 writer at Silverstone
Getty ImagesCopyright: Getty Images
Ferrari
have been unexpectedly competitive in Silverstone, and Charles Leclerc came
oh-so-close to take pole position, missing out by just 0.079secs. In fact, halfway
through qualifying, Ferrari though they were on for their second pole in a row,
after Leclerc performed so strongly on mediums in the first and second
sessions. But their car was more competitive on the medium on one lap than on
the soft, and he ended up just missing out. Does that mean they should have
gone for the medium for the race start, as Mercedes and Red Bull have? Team
boss Mattia Binotto says no – the race is a different thing. The suspicion has
to be that Ferrari will go for a two-stop with Leclerc.
As for Sebastian Vettel, he has been out-paced for the third race
in a row. He did not drive at his best, complaining that he could not "feel" the
car, always the key issue he requires to be at his best. But even if he's done
his perfect lap, the feeling was that he would still have been 0.3secs behind
Leclerc, who is really beginning to build up a head of steam in the last few
races.