The Frenchman has officially stepped down as manager of Real Madrid
What's the story?
According to reports, Zinedine Zidane has stepped down as manager of Real Madrid, just days after helping them to their third successive Champions League title in as many years. Their 13th overall in the competition's history.
Zidane took over at Real in January 2016 as Rafa Benitez's replacement after working with the club's Castilla side. Los Blancos defeated Atletico Madrid to win on penalties to win the Champions League that season before beating Juventus last year and Liverpool on Saturday.
Zidane, who is under contract until 2020 in Madrid, offered little suggestion he would walk away after the 3-1 victory in Kiev but he has decided the time is right to leave the Bernabeu.
"I've taken the decision to not continue next year as #RealMadrid Coach. I made this decision because I love this club, I love (Florentino Perez) and I am grateful towards him."
-Zinedine Zidane
"I would've liked to have convinced him to stay but I know what he's like.Real Madrid president Florentino Perez: "I would've liked to have convinced him to stay but I know what he's like. It has been completely unexpected. It has been impossible to convince him. Real will be his home forever."
-Florentino Perez
In case you didn't know…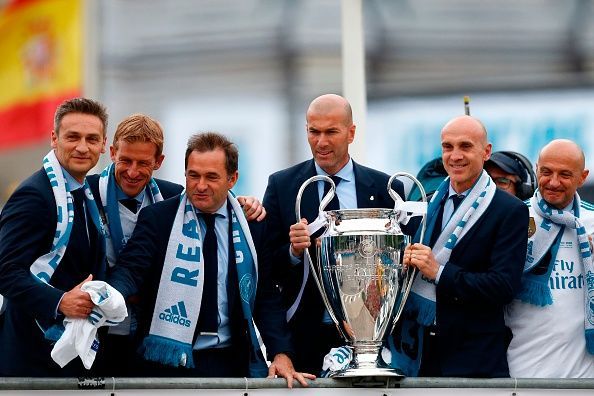 The Frenchman has long been in the eye of the Spanish media storm for some time now. Despite landing a hat-trick of Champions League titles including a double last season. Even Cristiano Ronaldo's last two Ballon d'Ors have come under his tutelage.
So it wouldn't be too far-fetched to think that the World Cup winner has done enough to not just prove his undisputed worth as manager but also provide him some further runway at the Spanish Capital.
However, nothing could be further from the truth as the maestro continuously find himself in the cross-hairs of the Spanish press, who never seem contend with Zidane's work despite him legitimately rewriting history.
Despite his most recent success in the most elite competition in Europe, his third on the trot(!), Zinedine Zidane was far from secure in his job at Madrid as many of the players hinting that they're far from happy at the club.
Gareth Bale had reacted unceremoniously after that overhead kick in the final to imply that he might move on this summer before the spotlight was stolen all over again by a Portuguese who went on to express the same emotion.
Isco had also taken a swipe at his manager a little while ago for his man management style and his perceived injustice at the lack of playing time under the Frenchman.
Heart of the matter
Alarm bells had been set off in Madrid after Real, out of the blue, announced that Zinedine Zidane and Florentino Perez will appear in front of the gazing eyes of the Spanish press in an unscheduled press conference.
Honestly, we thought it could be for anything. Maybe Zidane would come in front of the cameras and announce that he got an emergency hair transplant operation done. Maybe he'd have glowing luscious hair that runs all the way to the ground to back his words.
Because the alternative was one that involves one of the greatest clubs parting ways with (already) one of the greatest managers in the game at the moment.
Unfortunately though, it was the more reasonable explanation that turned out to be reality as the man who won Europe's elite competition as both player and manager for Los Blancos decided to call it quits at Real Madrid.
Three Champions League titles the Frenchman's tenure at the club draws to a close. How could he have done more to assure the board or the fans or the press is beyond us. Even though he insists it is completely his decision we reckon the continuous hounding by the talking heads in the Spanish capital had plenty to do with it as well
More to follow. Keep watching this space.
Do you think Zidane leaving is justified? What is in-store next for both club and manager? Have your say in the comments section.