We take a look at 3 Chelsea players who have the best chance of returning to Stamford Bridge as a World Cup winner
Chelsea have had a rather forgettable season as the defending Premier League champions and ended their campaign without qualifying for the UEFA Champions League. However, they got the better of Manchester United in the FA Cup final and signed off on a positive note.
There are several reasons that propelled Chelsea towards an underwhelming season ranging from the abysmal form of new signings to Antonio Conte's disagreements with the board. Chelsea, however, still possess a group of players who are world beaters in their own right.
With several of their players making it to the squads of their respective national teams for the 2018 FIFA World Cup in Russia, there's a good chance that Chelsea will welcome back a champion after the season break.
On that note, let's take a look at the top 3 Chelsea players who could return as Champions from Russia:
#3 N'Golo Kante- France
There are very few players in world football who does as much work on the ground as the French defensive midfielder N'Golo Kante. Kante was instrumental in Leicester's and Chelsea's title-winning campaigns and has established himself as one of the best midfielders in all of Europe.
He never gives up on the football field and is constantly on the run to cut down passing lanes and minimize the space available to the opposition. For France, Kante will be playing alongside the likes of Paul Pogba, Steven N'Zonzi, Matuidi and Tolisso. Kante will complement their strengths and is all set to be a regular feature for France in Russia.
Though he's a tad bit weak when it comes to aerial duels, Kante makes up for it with timely interceptions and excellent tackling abilities.
Kante is also not afraid to test the goalkeeper from range. Though he is not big on scoring goals, Kante earns his bread by preventing the opposition from scoring.
Given the abundance of talent in the France national team, it will not be a surprise if Les Bleus go on to win the biggest prize of them all this year.
#2 Cesar Azpilicueta- Spain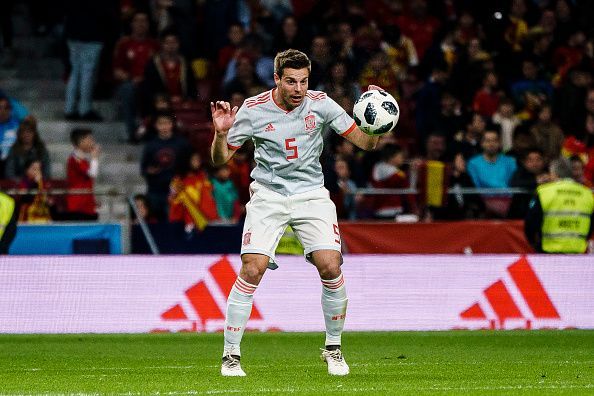 Cesar Azpilicueta a.k.a Dave has been one of Chelsea's most consistent players over the past 5 years or so. The versatile defender who can play at centre-back just as well as he can deputize at right-back is all set to represent Spain in Russia.
Azpilicueta is an excellent passer of the ball and it is difficult to dispossess the 28-year-old. While he may not have the flair that the Spaniards are renowned for, his focused approach to the game and mighty impressive defensive abilities will go a long way in determining Spain's chances in Russia.
Though Azplicueta will not have his friend and teammate Alvaro Morata, with whom he has a telepathic understanding, at the World Cup, he is expected to play an influential role in Spain's campaign.
Azpilicueta scored twice and assisted 6 goals in the Premier League this season. The Spain team that has a raft of world-class midfielders and attackers and could very well be one of the most exciting teams at the World Cup. If their recent 6-1 thrashing of Argentina in an international friendly is anything to go by, Spain have more than just a decent chance to win the cup.
#1 Eden Hazard- Belgium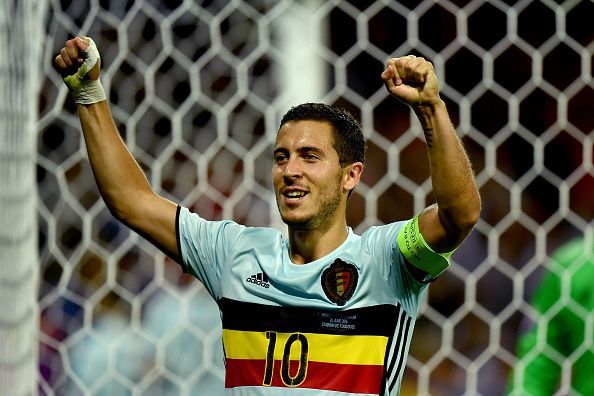 Belgium has a squad that is packed to the rafters with talented players. I mean, just look at the frontline for instance. They have Romelu Lukaku, Dries Mertens and Eden Hazard leading the line! To back them up, in midfield, there is the inimitable Kevin de Bruyne, Tielemans, Mousa Dembele, Alex Witsel, Leander Dendoncker and Nacer Chadli.
In goal, they have Thibaut Courtois and in defence, there is the ever reliable duo of Toby Alderweireld and Vertonghen in addition to players like Thomas Meunier and Vincent freaking Kompany.
And Eden Hazard steals the limelight. We all know that the diminutive Belgian is a special player. Though Hazard didn't exactly have the kind of season he'd have wanted, his contributions have still been of utmost importance to the Stamford Bridge outfit.
He has scored 17 goals and provided 7 assists across all competitions in the 2017-18 season and has been Chelsea's best performer. What's even better news for the Belgian national team is that Hazard has sprung to life towards the fag end of the season.
If Belgium go on to win the World Cup, Hazard will undoubtedly be at the heart of it.