It's the international break, England have just played Spain in a UEFA Nations League game at Wembley and lost 1-2, and Luke Shaw has got injured again. You were there in the stands and tried to look nonchalant when Shaw was being carried away on a stretcher but inside, you must have lost your bearings for a second. Marcus Rashford scored against the Spaniards- another piece of good news for you but Shaw was what everyone was talking about.
It's been a tough start to the season. You edged out Leicester at Old Trafford on opening night but suffered two consecutive losses to Brighton and Tottenham before finally gaining some traction and taking full points against Burnley at Turf Moor. Everyone has been talking about your 'third season syndrome' and the press is having fits over your style of play but that doesn't bother you much, Jose. Or does it?
Luke Shaw has been the lone bright spot in a United team made up of star-studded individuals this season and now he is injured too. You pray for him to recover well and silently curse as to why this had to happen to you. Now you'll have to pick Ashley Young for Watford, and as good as he is, even he will admit that he can no longer make pressing runs on the left wing and come immediately back to defend with authority. Why did this have to happen to you, Jose?
Shaw has indeed been a revelation this season. He made high pressing runs, cut on the inside to support Anthony Martial and Alexis Sanchez in consecutive games, provided assists and even scored his first senior Manchester United goal. You were given all the credit for his revival as a genuine top-flight full-back, with people saying that you gave him 'confidence, courage and conviction'. Courage the lad already had and yes, you had given him a lot of tough love and confidence, but conviction? What did that mean anyway? Maybe you'll check your English-to-Portuguese dictionary tonight.
There is no denying that Manchester United is in a rut currently and you will bravely take all the blame upon yourself but Ed Woodward had been vexatious over the off-season, refusing to release funds for signing Toby Alderweireld, Ivan Perisic and Alex Sandro. You did your best on the pre-season tour, but clearly, it wasn't enough. You went into the new season having signed only one regular first-team player in Fred and he has been marvellous but deep inside, even you know that a central defender was what you most needed.
You brought Eric Bailly and Victor Lindelof to Old Trafford a year apart from each other at 30 million apiece to strengthen your fragile defence and they looked brilliant choices at the time, but a lot of water has passed under the bridge and the two have not looked at home in Manchester yet. Injuries have played their part and Chris Smalling has staged a rebirth since.
Some of the blame has to go to you too, Jose. You started with Smalling and Phil Jones in what was perhaps the most important match of last season in the FA Cup final against Chelsea and gave no valid explanation as to why the others weren't picked apart from saying that since Bailly had no chance to go to the World Cup (his country Ivory Coast did not qualify), you wanted to give those who could, an opportunity. All of your central defenders were called up for their countries apart from Smalling.
The media loves coming to your press conferences. You give them lines to write about and subjects they could never have dreamt of. You proclaim yourself to be one of the best managers in the world (you stop a little shy of saying that you're the Special One, like you did in 2004 with Chelsea), and you say that you have won at least three titles more than all the other managers in the Premier League combined. All true but you can't stop Pep Guardiola and Jurgen Klopp from having a laugh nonetheless.
You have strange ways of motivating your players, Jose. You crucify them in the media and tear them apart in front of complete strangers. The fans don't appreciate this method of yours, just like they don't fathom your high possession, high defensive style of playing football. Both of them have given you success over the years, though, with Zlatan Ibrahimovic and Samuel Eto'o even stating that they would go to war for you, but the results are not really going your way this time. But you believe the fans need to understand that United were a team in transition when you first took over and a return of a League Cup, Community Shield and the Europa League do some justice to your hard work.
The fans get agitated and scream when you turn on your charm offensive. They say that you have no place in a club as big and historic as Manchester United. They also say that you entice boring football. What they don't understand is that you're willing to sacrifice beauty for graft and a two-goal cushion for a clean sheet. The fans think you're being an egoistic, selfish scoundrel in press conferences by talking only about yourself and your achievements; what they don't comprehend is that you do so only to take the glare and pressure off your players.
You have been one of the most successful football managers of all time, Jose and everyone who knows football will say that you possess immense technical and game management skills. No one knows defensive football better than you do. Hell, it was you who made Claude Makelele and gave Marouane Fellaini a new lease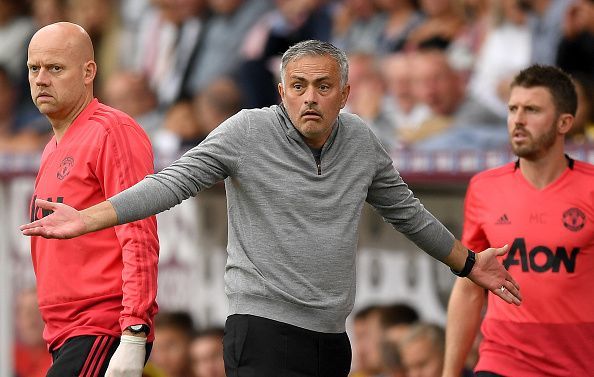 of life. If nothing, you have instilled the winning feeling in Manchester United again. Some journalists will never let go of you and some football pundits will never warm to you. But that's okay. None of these 'experts' have won more Champions League titles than you have.
Some people will never understand you.