Rep. Trey Gowdy (R-SC), the chairman of the House Oversight Committee, said on Tuesday that the FBI's use of an informant for the Trump campaign in 2016 was appropriate, joining top Democrats in disputing President Donald Trump's characterization of the informant as a spy.
"I am even more convinced that the FBI did exactly what my fellow citizens would want them to do when they got the information they got, and that it has nothing to do with Donald Trump," Gowdy said during an interview on Fox News.
In recent days, Trump has parroted misleading claims about the FBI's use of the informant as part of its counter-intelligence investigation into Russia's interference in the 2016 election, dubbing the individual a "spy" and referring to the controversy as "Spygate."
Gowdy's comments were notable because the former federal prosecutor participated in a classified briefing about the informant last week that was conducted by Deputy Attorney General Rod Rosenstein and FBI Director Christopher Wray. The so-called "Gang of Eight"—which includes House and Senate leaders in addition to the top Republicans and Democrats on the intelligence committees—also joined the briefing. The Democrats present at the meeting previously released a joint statement saying they heard "no evidence" from Rosenstein and Wray that a "spy" was placed within the Trump campaign.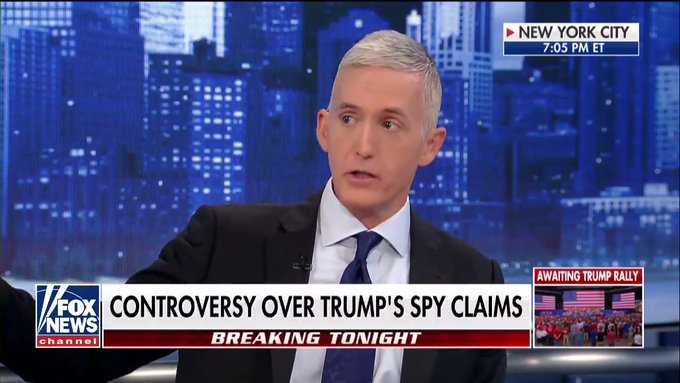 Sen. Marco Rubio (R-FL), who sits on the Senate Intelligence Committee, has also backed Gowdy's and other congressional leaders' characterization of the FBI's activities as part of the counter-intelligence investigation. On Sunday, the senator said the FBI was right to look into "individuals with a history of links to Russia that were concerning."
One of the president's top lawyers, former New York City mayor Rudy Giuliani, said on Sunday that the use of the informant means special counsel Robert Mueller's investigation is no longer "legitimate." Giuliani raised serious doubts about whether the president would ever sit for an interview with the special counsel.