Here's a look at five quotes from Jose Mourinho which epitomise the hypocrisy of his managerial dynasty…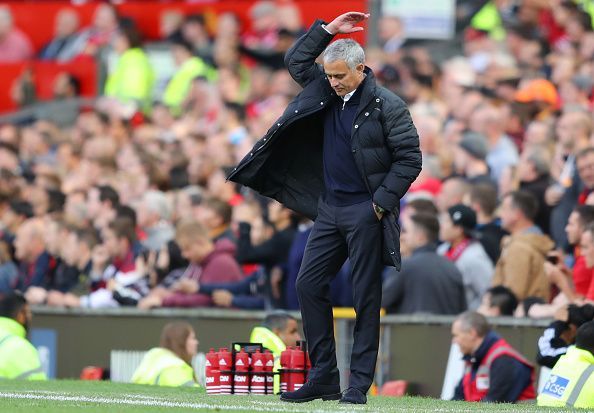 Jose Mourinho has plied his trade at the likes of FC Porto, Chelsea, Real Madrid, Inter Milan and, of course, Manchester United. Despite being dubbed 'The Special One', albeit of his own accord, the Portuguese hasn't seen unprecedented success in every season of his career but one thing has spanned his entire tenure- controversy.
Whether it be through his team selection or, more predominantly, his post-match comments, the 54-year-old manager always seems to capture the media's eye and will often compromise his own integrity as a result. Despite being hailed as a master tactician and generally intelligent man, Mourinho is widely regarded as both contradictory and, simply put, a hypocrite.
In the world of the Portuguese gaffer, rules which apply to other managers and clubs don't touch him or his side and he often comes out with claims which just months later he is disproving either through his words or actions. Here's a look at five quotes in particular which epitomise the hypocrisy embedded within Jose Mourinho's managerial dynasty..
#5 – "It is now cultural in the Premier League; this way of playing with so many behind the ball"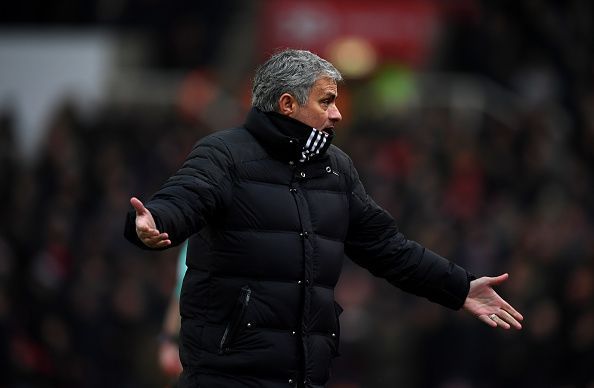 Where better to begin than with this vapid comment made in the wake of Manchester United's 2-2 draw away to Stoke City on match-day four of this season's Premier League.
A sly dig at Stoke's defensive style was by no means the pinnacle of the disrespect exhibited by Jose in this game however, the Portuguese also refused to shake hands with Mark Hughes at the final whistle. When questioned about the rebuffing, Mourinho simply suggested it was a 'bad question' to be asking in the post-match interview.
Prior to this quote, as reported by Marca, the Manchester United boss outlined that, "one team tried to win, one team tried to get the point but they fought hard to get that point." At surface level it seemed genuine praise from Mourinho but the comments embed both hostility and hypocrisy.
Mourinho was here stating that every club is beginning to play drab, uninteresting and conservative football, yet this is exactly the approach he has been adopting since strolling into Old Trafford. In his first full season in charge, United may have had the second best defence in the league, but for a side in sixth place, their goal return of 54 was poor and not greatly superior to the likes of Crystal Palace (50) and Leicester City (48) in the lower mid-table positions.
#4 "He is one of these people who is a voyeur – he likes to watch other people. He's worried about us, he's always talking about us – it's Chelsea, Chelsea, Chelsea, Chelsea"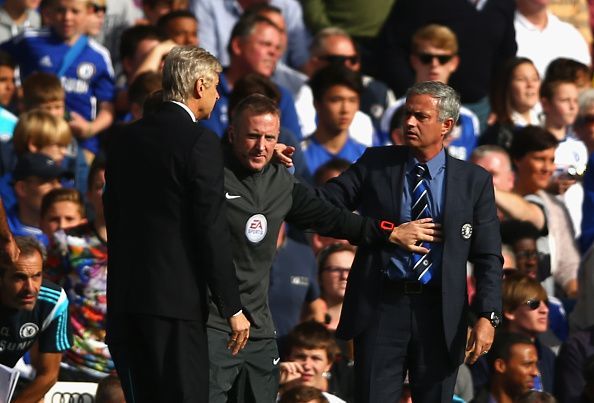 An article relating to the controversy of Mourinho's words would simply not be complete without mention of Arsene Wenger. The pair have had one of the most colourful relationships in football and these comments about the Frenchman during Mourinho's first spell at Chelsea in 2005 epitomise each manager's obsession with one another.
Mourinho's labelling of Wenger as a 'voyeur', which can essentially be defined as someone who enjoys watching the pain of others, was sparked by Wenger's comments regarding a "loss of belief" in the Chelsea camp after a defeat at home to Charlton for the Blues.
There's perhaps no doubting that Wenger had concentrated on Chelsea's fortunes more than he should have done, but Mourinho was, and always has been, just as bad himself. Most notably his comment back in 2014 labelling Wenger as a "specialist in failure" was a form of steep escalation in response to comments from the Frenchman that bigger clubs were becoming too afraid to fail. Mourinho clearly took it very much to heart and there seemed to be a build-up of oppressed resentment spill out quickly.
Even as recently as a week ago it seemed Mourinho could not help but have a dig at Arsene and Arsenal regarding the Mkhitaryan-Sanchez swap deal. It could be suggested that Mourinho subtly degraded his Premier League rivals by referring to United as a "giant" club and the North-London outfit as merely a "fantastic" one.
However you read it, there's no doubting that it is both Wenger and Mourinho who enjoy taunting one another and there's no way that Mourinho can suggest this is a one-sided obsession.
#3 "I saw the Barcelona players trying to put pressure on the referee. Why can Barcelona not act like champions and accept they lost on the night to a team that played better?"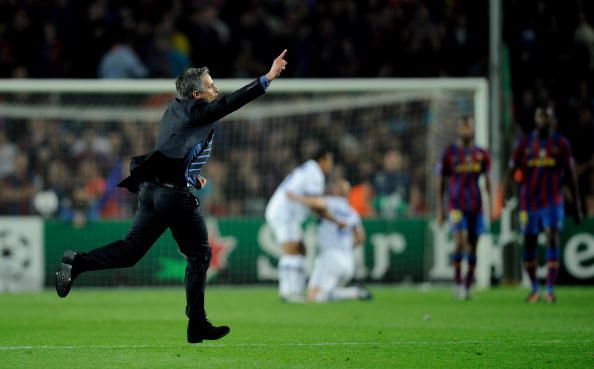 How easy it is to dissect moral behaviour when you're winning matches, right José? This particular comment was made following his Inter Milan side's victory over FC Barcelona in the 2010 Champions League semi-finals. It was a surprising night for all concerned but Mourinho couldn't help but have a dig at the opposition off the field.
Inter won the first leg 3-1 but the game was swamped by controversy with the Barcelona camp, and midfield maestro Xavi in particular, claiming that the match official Olegario Benquerenca had shown bias against Barcelona. These claims were only strengthened by reports that, Benquerenca, a fellow Portuguese, had met up with Mourinho for a meal prior to the match.
Naturally, in typical mind-game fashion, Mourinho jumped onto his pedestal and deemed Barcelona unprofessional through his above comment, adding that the Catalan club's obsession with the Champions League had led to dishonest and pressurising behaviour.
These comments come from a man who has seldom made life particularly easy for referees himself. In November 2016, Mourinho was sent to the stands and later banned and fined for his "abusive words" towards Mark Clattenburg and officials in a draw with Burnley.
Just last year meanwhile, according to The Telegraph, following a goalless draw with Hull, José was quick to suggest that referees were deliberately acting against his Manchester United side. Overall it seems that, much like the Barcelona players he was so quick to lambast, Mourinho too cannot help but make life awkward and uncomfortable for top match officials.
#2 "Other managers, they cry, they cry, they cry when some player is injured. I don't cry"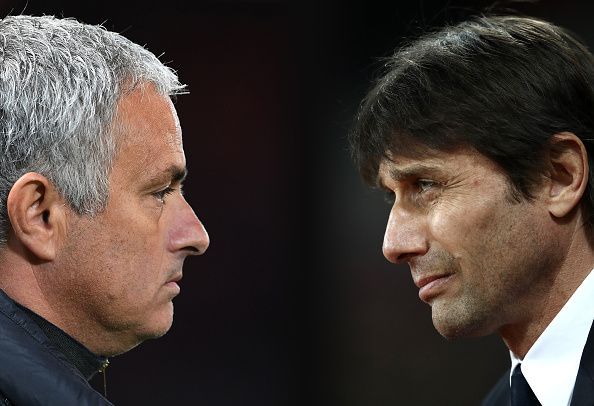 If he's not tearing into match officials or modern media, Mourinho's other favoured group to reprimand is that of his fellow football managers, none more so perhaps than one of his successors at Chelsea, Antonio Conte.
Mourinho's aforementioned quote was quite clearly directed towards the Italian, who had expressed his frustration at having lost the likes of David Luiz and Tiemoue Bakayoko to injury prior to a Champions League encounter with Roma in October.
It is an undeniably petulant and short-sighted comment on Mourinho's part; every manager complains about injuries, that's just how football works. As far as moaning goes, few are better at it than Mourinho himself, a sentiment echoed by Charlie Nicholas. The pundit claimed back in October, "he cried all last year and moaned all last season at Manchester United. He actually got it to a fine art at one stage".
One must only go as far back as April last year to a prime example of this 'moaning' about injuries when Mourinho showed little sympathy towards Luke Shaw and his long-term casualty, choosing instead to suggest it was difficult because his side were particularly vulnerable to injuries. The Portuguese claimed, "at the moment we cannot walk from the bed to the toilet without breaking a leg."
#1 "I don't want to win the UEFA Cup. It would be a big disappointment for me if I win it"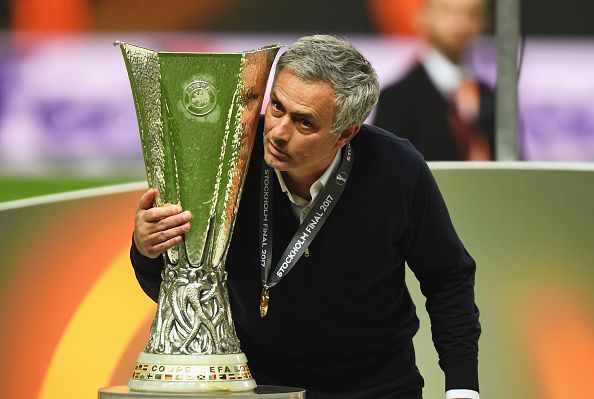 Even without context, this comment is reflective of a petulant child slamming their console controller on the floor after a disappointing defeat on FIFA. José Mourinho's above claim following his former club Chelsea's 2013 Europa League victory under Rafael Benitez wreaks not only of hypocrisy but also jealousy.
As the Portuguese maestro has a habit of doing with big clubs, he left Stamford Bridge on somewhat of a sour note back in 2007. A rumoured fall-out with Roman Abramovich meant that the two seasons of stellar success José had brought to South London seemingly evaporated and there was quite evidently a bitter taste left in his mouth.
This extended all the way to 2013 when he made the aforementioned statement in the wake of Chelsea's Europa League victory, degrading both the club and the competition in the process.
Fast-forward to the climax of the 2016/17 Europa League final in Stockholm and, funnily enough, José's views on the competition seem to have changed. Having navigated their way past, with no disrespect intended, mediocre sides such as Rostov, Anderlecht and Celta Vigo, United overcame an incredibly youthful Ajax side in the final to lift the Europa League.
Despite having previously said, with regard to Chelsea's triumph, that it was a trophy he'd go as far as saying he'd be disappointed to win, Mourinho was in tears at the final whistle and went as far as dubbing it the "most important trophy of his career" because it was his most recent. Clearly then José appeared as viewing the result as a great "disappointment" (sigh). Was there ever a better example of a manager going back on their word?