Top 4 records set by the Frenchman, both as a player and a manager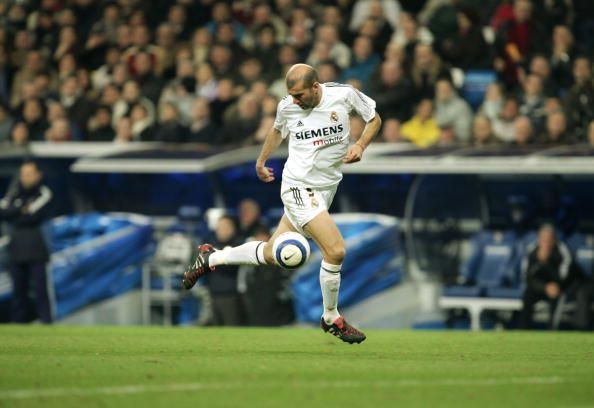 Zinedine Zidane is unquestionably one of the greats of the game, with many heralding the Frenchman as the best player of his generation.
When pundits and commentators compile their all-time starting XI's Zidane almost always seems to make the squad sitting centrally at the heart of the team.
The French-Algerian legend's graceful style, exquisite skill, and unmatched footballing intelligence captivated the world for over a decade and although there is a younger generation who only know Zidane the 'manager' there are still those who remember Zidane the 'player'.
Winning virtually every accolade wherever he went, Zidane could turn any team into champions and was never reliant on a certain squad or a certain system to elevate him.
Zlatan Ibrahimovic stated, "When Zidane stepped on the pitch, the 10 other guys suddenly got better." This is the impact Zidane had on a football game and for this, he is a totally unique footballing specimen who turned a brutish game into artful elegance.
#1 Only player to win the European Championship, the World Cup while being the best player in both tournaments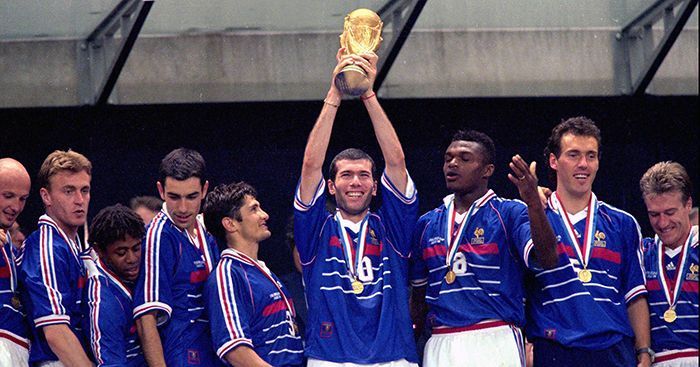 Unlike some players who only deliver for their club teams, Zidane was arguably at his very best when he donned the French national kit with the French maestro translating his club success into the national team as well.
There is nothing that illustrates this better than his record of being the only player in history to win the World Cup and the European Champions while being named the best player at each tournament.
This record is so astounding as it shows that not only was he part of a squad that won international trophies but also that he was the best player in the world.
This is important as it shows that he wasn't carried by his team to success but was the key element of the French squad that elevated them to the eternal glory of winning these trophies.
To win both the World Cup and Euros is a rare feat in football, but for a player to win both and take home the best player of the tournament award in both is a complete one off with Zidane being the only player to do this and for that reason this is perhaps his best record.
#2 Only player in history to be named player of the year in 3 of the Top 5 leagues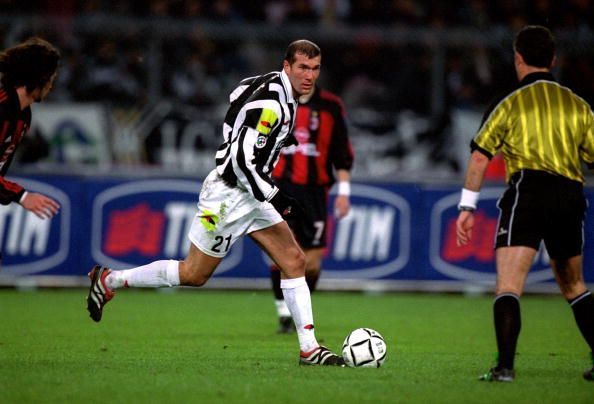 Another great record that Zidane possesses is being the only player in history to have been heralded as the player of the year in 3 of the top 5 leagues.
In 1996 Zizou was awarded the Ligue 1 Player of the Year award, in 2001 he was awarded the Serie A Footballer of the Year award, and in the following year in 2002, Zidane completed the trifecta by winning the Don Balon Award which is awarded to the best player in La Liga of that year.
The reason why this record is so impressive is that it illustrates that Zidane could play for any team in any league.
Unlike other players who can only seem to play well in one team, Zidane could do it anywhere under any manager.
Furthermore, this record also demonstrates that Zidane was able to maintain a high standard of football for a long time and despite playing in leagues that boasted countless World Class players Zizou stood above them all.
#3 Quickest manager in the history of the top 5 leagues to win 8 titles with a single club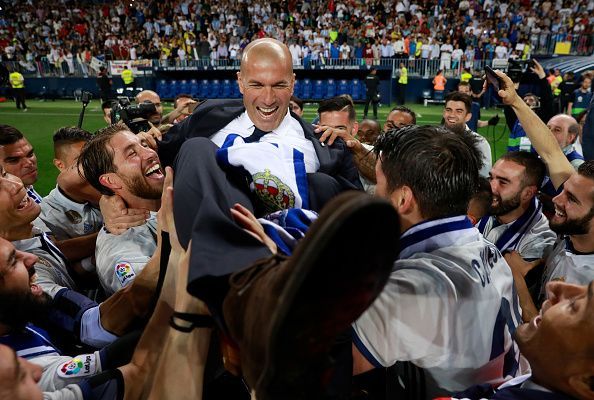 As well as having a glittering playing career, Zidane's start to his managing career has been arguably even more successful.
Despite becoming Real Madrid's manager during a turbulent period, Zidane turned the club around and turned them into the title winning titans they were born to be.
Nothing demonstrates the impact of Zidane as a manager more than the record he set by winning 8 titles quicker than any other manager in a top 5 league.
It took Zizou only 23 months to achieve this, where during this period he won 2 Champions Leagues, 2 World Club Cups, 1 La Liga, 1 Spanish Super Cup, and 2 Uefa Super Cups.
This is an unprecedented feat that even Pep Guardiola couldn't achieve with his famous Barcelona team or any other manager for that matter.
It was a great achievement which served as ample evidence against his detractors that the Real Madrid legend was more than capable of leading Real Madrid to success as a manager just as he did as a player.
To achieve this so quickly in his young managerial career came unexpectedly to the footballing world, nevertheless, he has now established himself as one of the best managers in the world with his unique insight into football proving instrumental into Real Madrid's unprecedented success since 2016.
This record is exceptional as it is rarely an easy task for a manager to gel with his team from the off, it is something else entirely however for a manager to win at this unprecedented rate so quickly and due to the rarity of Zidane's record, it is unquestionably one of his best ones.
#4 Only manager to defend both the Champions League and the Club World Cup simultaneously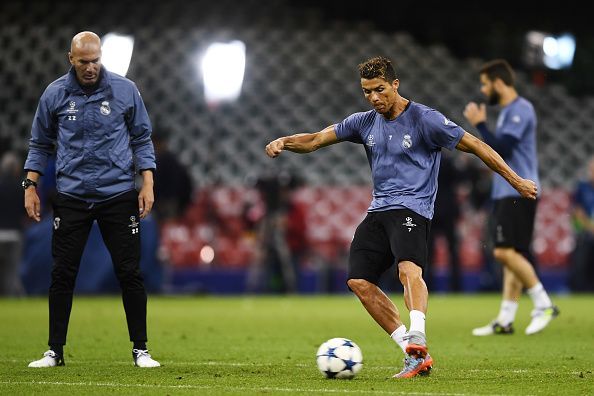 Few could imagine the immediate success that Zidane would have in his managerial career with many sceptics puzzled by Madrid's choice of picking the inexperienced Frenchman to save the club from their recent poor form.
However, just like in his playing days Zidane stunned the footballing world and won back to back Champions League trophies, being the first manager to do that in the tournaments current format.
Not only that, but Zidane also led Real Madrid to back to back Club World Cup victories as well being the first manager to ever do that.
The hardest part of this achievement is definitely the back to back Champions League titles with many before almost achieving this feat but falling short, however where others failed Zidane succeeded.
Whilst the Club World Cup doesn't hold too much prestige with the victor almost always being a European squad it is still not a given that the Champions League winners will definitely win the tournament and for that reason, it does enhance this record slightly.
This record is an incredible one as it shows that Zidane has been able to maintain his high managerial level with little deviation and not only win these trophies but to do it in his first two and a half seasons as a manager is nothing short of a miracle.