Years have been spent pondering the question of Arsenal and Arsene Wenger, and we finally seem to be at the breaking point.
It's that time of the year again.
Arsenal have started to falter away, as they always seem to do around this time of the year. They lost the League cup final to Manchester City and, unlike the Arsenal of recent years, just did not turn up at all. They looked timid and strangely apprehensive in the face of their opposition, and were clearly walked all over.
Even though Manchester City are the best team in the league right now, Arsenal have never been an easy opponent to beat in domestic cups in recent years. They faced and beat fierce opponents from the top of the Premier league so often in their recent FA cup runs and came out on top, showing character and resolve – the same character and resolve that deserts them in the league.
Every year, there is something to look back on as an Arsenal fan – whether it's a FA cup run, a string of victories to sneak into the top 4, or an unlikely Champions league victory of the sort that gives so much hope only to leave you in the dust – the one against Bayern Munich at the Emirates in 2015 comes to mind.
Those have been the silver linings in an otherwise grey cloud over Arsenal fans year after year, where games that should not have been lost or games which should have at least been competitive often ended in catastrophic fashion for the gunners.
But things seem to be different this time. Nobody seems to be looking forward to an Arsenal game this year. Ending the season in the top 4 seems highly unlikely, there is no FA cup run which could inject life into the season, and honestly speaking, there are teams in the Europa league much more capable of winning the competition than Arsenal. The league cup has already been lost followed by a humiliating loss to City in the league barely 4 days later.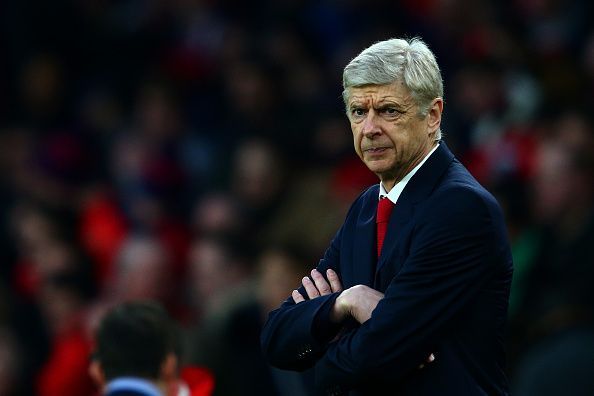 Amidst all the chaos stands the defiant figure of Arsene Wenger. This is not the first time he has been in such a situation and if he stays beyond this season, it probably won't be his last. In his own opinion, Wenger is still the right man to lead the club – equipped with the right management skills which he can rejuvenate a club.
Perhaps he can turn things around. Perhaps one more season can be the season where he finally challenges for the Premier league or the Champions league again (provided that he can get the team into the latte and something I would not put my money on).
There is a sense of dejection among everybody associated with Arsenal. Even the most die-hard supporters of Arsene Wenger have been at a loss for words at some of his most recent decisions regarding player selections, teams and formations, but there are no protests or banners as there have been every year. Even if there are, they are not as loud as they were in the recent past.
Why?
It seems that everybody is resigned to the fact that Arsene Wenger is here to stay for another year at least, a fact that nobody is happy about.This was not how it was meant to be. Arsene Wenger is a romantic at heart, and his relationship with Arsenal football club has been the most intense of love affairs. He has put his heart and soul into a football club for over 20 years, sacrificing so much more than anybody can ever imagine along the way.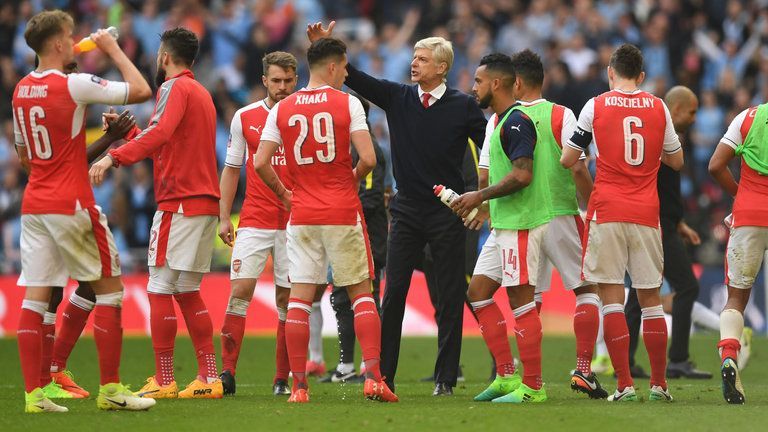 He had the dream, when he came to England, of winning everything he could with Arsenal, and he certainly has. The truth – even if everyone wants to forget it, is this – Wenger did revolutionize the way the game was played and a double of the FA cup and the Premier league in his first full season in charge is testament to it.
His name will forever be engraved in Arsenal folklore after the Invincible season of 2003/04. The man had done the unthinkable that year and there was no way anybody can question his achievements with Arsenal or his dedication to the club. Or so it seemed.
Then, after the FA cup victory in 2005, came the barren spell nobody, including the man himself, could have foreseen. He had the world at his feet when he led his team to the Champions league final in 2006, only to lose to Barcelona. He could have joined any club he had wanted to at that time and the Arsene Wenger stock was at an all time high.
Things were only going to get tougher at Arsenal with the recent stadium move and limited funds in the transfer market, plus the move of his best players to bigger and financially more stable clubs. Also, with the injection of money into clubs like Chelsea and Manchester city, the league was certainly going to get a lot harder to win.
Arsene did have a way out at that time. But, like an age old romantic, Arsene stayed. He could not leave his beloved Arsenal, not when it needed him the most.
In today's world, loyalty is a virtue not many can boast of. This was not how the world used to function back then. People fell in love and stayed in love. Arsene is from that generation, and Arsene continues to show how highly he places Arsenal football club in his priorities.
It's hard to imagine what he must be feeling when he sees people talking about wanting him to leave. After 20 years of loyalty and hard work, he feels a sense of belonging to this club which none of us can even imagine. No wonder he doesn't want to leave. It will leave a void in his life that will be very hard, if not impossible, to fill.
Thus, he continues to toil away, even though the end seems to be near. He has tried his best to bring back the glory days but has not been able to do so. New signings, restructuring of the team and tactics, all seems to be backfiring and a boiling point has been reached – if the reports of players ending up in tears in training is to believed.
Maybe, it is time for him to end his association. But after all that he has done, some fans certainly believe that only he reserves the right to decide when his time is up, while others have the opinion that that ship has sailed away. When the time finally comes, one thing is for certain – Arsene Wenger will receive a teary send-off from even the fans who have taken to belittling him of late.
Life is hardly ever fair, and in all probability, Arsene Wenger will be forced to leave the club he has put so much into. It will be a sad day for Arsenal. It will be a sad day for football. But the game moves on. So must Arsenal. And so must Arsene Wenger.