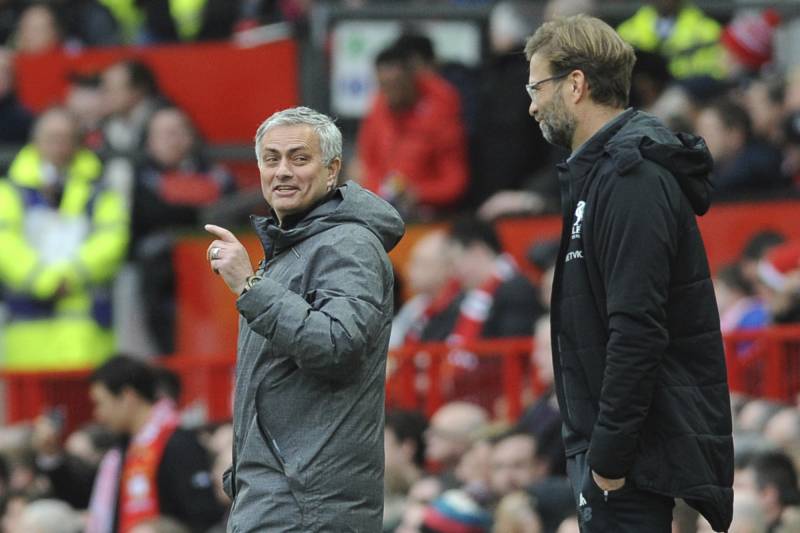 It's fair to say Jose Mourinho enjoyed outwitting Jurgen Klopp at the weekend.Rui Vieira/Associated Press
Almost universally billed as a battle of aesthetics—in the red corner the achingly dull pragmatist, and in the other red corner the manic gegenpressing zealot—Manchester United's defeat of Liverpool adhered to predetermined tropes and prejudices to such an extent it felt as if it could have been scripted.
It was. By Jose Mourinho.
This was the type of polarising performance Mourinho has built his career on. Textbook stuff. At various intervals throughout the game, even United's supporters seemed unsure whether they were witnessing a tactical master class or their team getting away with one.
If United had not administered two knockdown blows, a points decision would have been unanimous. Liverpool enjoyed, or as Mourinho would probably argue, endured, 67.9 percent possession, had 584 passes to United's 283, bossed the shot count 14 to five and led the corner count 13 to one.
One suspects Mourinho subscribes to the Mark Twain view: "Facts are stubborn things, but statistics are pliable."
Yet the day's most decisive football was played by Manchester United in the first half when Marcus Rashford scored his two goals and Juan Matawent close to making it 3-0 with an acrobatic volley just wide. David de Gea did not make a save of note all afternoon. Other than Virgil van Dijk's attempted header that came off his shoulder, when he should have scored from a corner, it's hard to think of a clear-cut Liverpool chance. In the second half, Liverpool failed to have a shot on target.
Mourinho's thoughts on the style police are well documented. Here's one he made earlier, per the Guardian: "People talk about style and flair, but what is that? Sometimes I ask myself about the future, and maybe the future of football is a beautiful green grass carpet without goals, where the team with more ball possession wins the game. The way people analyse style and flair is to take the goals off the pitch."
As a coach, Mourinho believes his central role is to expose an opponent's weaknesses, as opposed to accentuate his own team's strengths. He once claimed a key part of his methodology is disguising his own side's shortcomings. Smoke and mirrors matter to Mourinho like few other coaches. When he goes on holiday, he probably tries to trick the sun into thinking it's raining by making his wife spray him with a watering can.
It is the antitheses to how Klopp works, how Guardiola works, how Mauricio Pochettino works. It still works. As Graeme Souness simmered in the Sky Sports studio, despite the fact no one seemingly disagreed with him (maybe that was the problem), he was right when he tetchily spat out his view: "There's more than one way to win football matches."
No one quite loves an ugly beautiful win like Mourinho. One suspects he enjoys it more when an opposition manager goes home raging about an injustice, as Klopp no doubt will have done on the back of Liverpool having had three half-decent shouts for penalties waved away, than dishing out a resounding beating. Players administer beatings; coaches are often the difference when a game hangs on the finest of margins.
Yet for many, it still won't be enough. The easy-on-the-eye football presently being played by Manchester City, Liverpool and Tottenham Hostpur on a weekly basis has effectively amended what is deemed acceptable at the top clubs in England, not least to their supporters. Neutrals are even higher maintenance. United are second in the league and have beaten all of the top six with the exception of Manchester City. Yet other than Arsenal's Arsene Wenger, no manager has been criticised as widely or as often as Mourinho.
Winning, to Mourinho's obvious disgust, is no longer enough—especially when taking into account the money he has spent.
The temptation is always to bring money into it. The £312 million Mourinho has parted with at a net expenditure of £260 million, compared to Klopp's £221 million with a profit of £4 million (h/t Mirror), gives Liverpool the type of bragging rights that can make only the heart of an accountant swell.
The plight of Arsenal supporters should be a stark warning for those Liverpool brethren always eager to talk numbers. Winning the net-spend league consecutively for the best part of a decade hasn't stopped branches of AA (Arsenal Anonymous) worldwide from struggling to cope with over subscription. If whoever takes over from Wenger in 2050 doesn't spend Stan Kroenke's money as though playing the lead role in a remake of Brewster's Millions, they will be run out of Islington by crowds brandishing pitchforks.
If there is tension over the football United have played this season, and there most certainly is, Mourinho isn't showing it. All week, the Iberian had been as relaxed as a linen suit, somewhat of a surprise given usually before big matches he shows his team exactly what he wants by adopting a defensive position. Again at full-time he was full of joie de vivre, mischievously and pointedly telling Sky Sports: "Even if people don't think we deserve, I don't care! It's three points; let's go home."
In his press conference, he was similarly on a roll. He half-jokingly claimed he had substituted Rashford because Gary Neville's half-time assessment that he should have been sent off would have put pressure on referee Craig Pawson to do so, before admonishing the home crowd for showing their irritation at Scott McTominay for passing the ball backwards when United were attacking. Unsurprisingly, he was more than happy with the midfielder's choice of passes. On Eric Bailly, he deadpanned, "fantastic performance; amazing goal." With a hint of devilment in his eyes, Mourinho was enjoying himself. It's not too often that's been said of the Portuguese over the past few years.
In their last three matches, United have done jobs on Chelsea and Liverpool, and won 3-2 at Crystal Palace after coming back from two goals down. By the end of next week, they may be safely ensconced in the quarter-finals of the UEFA Champions League and the semi-finals of the FA Cup. It may not be the fabled Manchester United way, but it's Mourinho's way. And it's starting to yield some pretty impressive results.
With eight league games left to play United have two more wins than in the whole of last season, scored four more goals and secured only four points fewer. The 20 wins they have clocked up in 30 Premier League matches is the quickest they have reached that number of victories since Sir Alex Ferguson's final season in charge. The improvement is marked, even if there is still an incoherence to their attacking play that feels as though the master plan is being rewritten with every new addition. And then there's the other lot across the road.
It's uncommon for men with gargantuan egos to also be in possession of a pugilist's awareness of when and how to use the ropes. Mourinho has it, just in the way Ferguson had it. He knows he doesn't have to win every round, just be ahead at the final bell. It cuts against a zeitgeist that deems attack to be the best form of defence. To put pragmatism front and centre, to unapologetically protect a lead and show scant interest in extending it, is practically avant-garde these days. Mourinho almost certainly cares for zeitgeists about as much as he does pundits.
With a detective's eye for detail, Mourinho identified the channel between Trent Alexander-Arnold and Dejan Lovren as the area of the pitch where United would have most joy. When they did, scoring twice in the opening 24 minutes down that side, he then ordered a tactical retreat. Thereafter for the majority of the game United sat so deep a steward in the Stretford End had to politely ask De Gea to leave as he was occupying a season-ticket-holder's seat.
Liverpool arrived in Manchester with 105 goals already in the locker, replete with a gilded front three many a reasoned voice has proclaimed to be as good as any in Europe at present. It's not defeatism to defend deep against them, just common sense. The games Liverpool have struggled in this season, though they've not had many struggles of late given they went into Saturday on the back of eight wins from their last 10 league matches, is when weaker opposition have left no space to run in behind. United doing it with better defenders was always likely to give them a fighter's chance of nullifying the threat of Mohamed Salah, Sadio Mane and Roberto Firmino.
United's back four was so narrow at times they could practically have held hands. It ensured the pockets of space Rashford was finding at the other end, between Liverpool's centre-halves and full-backs, were absent when United were defending. If they looked drilled within an inch of their lives, it's because they were drilled within an inch of their lives. Liverpool's attack has rarely looked so impotent. The same could be said of Klopp.
On his first start for four months, Bailly reminded everyone United have been without their best defender for the vast majority of the season. Other than when he was haunted by the ghost of Djimi Traore to score a spectacularly bad own goal, the Ivorian was immense. If Mourinho can find a Rio Ferdinand-like ball-player to partner him, they already have their Nemanja Vidic in place.
Ashley Young up against Europe's most in-form forward looked a mismatch. It was. Salah didn't get a kick. Young led the way in terms of tackles and interceptions, while no United player had more touches. The one-time winger with a balance problem turned left-back was aggressive and smart throughout. On what was a good day for the in attendance England manager Gareth Southgate, he must surely now have penciled in Young for Russia. On current form, he should be in his starting XI.
Cutting off the supply line to Liverpool's vaunted attacking triumvirate was Mourinho's other major tactical triumph. In this respect, the absence of the injured Paul Pogba aided United. McTominay's presence alongside Nemanja Matic means Manchester United's central midfield is essentially two Volvo estates, but what it lacks in sex appeal is more than made up for in terms of dependability. Matic in tandem with Pogba in recent matches has worn the same on-the-brink expression he used to sport at Chelsea when asked to babysit Cesc Fabregas. Pogba's absence also allows Mata to add a calm creativity in between the lines that is less showy than the Frenchman's rangy athleticism, but often as quietly effective.
From a defensive perspective, Mourinho was on the money when he said post-match: "In my opinion Liverpool controlling with the ball, United controlling without.
"You can be in control by not having the ball. Against Liverpool if you play bad when you have the ball you can be in trouble."
The time to worry about Liverpool is when you have the ball. If they nick it and counter, with that front three, it's a wing-and-prayer job not to concede. Given his past misdemeanours, eye-pokes and hiding in laundry baskets to name just two, it is unlikely Mourinho has the big man upstairs on speed dial when such circumstances decree.
Mourinho may have overseen a spend of over £300 million on new players since arriving at Old Trafford, but his focus on the day was on one of Liverpool's who had cost them nothing. Alexander-Arnold was so overloaded on Liverpool's right side by the end of the game he resembled a dishwasher stacked by teenage kids on the day their parents return from a two-week holiday. The game's only Manc starter, match-winner Rashford, gave its only Scouser a tortuous tim
When he wasn't being forced to take on Rashford in foot races, Alexander-Arnold had to contend with Alexis Sanchez repeatedly drifting out to his favoured left flank. When Mata, playing on the right, did likewise when United had the ascendancy in the first half, Alexander-Arnold must have felt it would only be a matter of time before Fred the Red popped off his mascot head to reveal himself to be Jeremy Beadle in stitches.
Alexander-Arnold is still a pup. At 20, he'll learn. Finding an excuse for Lovren's worse day at the office since October's 4-1 defeat to Tottenham is more problematic. Romelu Lukaku bullied him so mercilessly had Klopp given him one of his trademark bear hugs, instead of berating him from the touchline, almost certainly Lovren would have burst into tears.
Before the game in an interview with Sky Sports, Lukaku spoke about how he wanted to become a player that offered more than goals. When he talked to Thierry Henry about becoming a striker who creates as well as takes chances, it felt like watching a little kid tell Miles Davis they're going to learn to play the trumpet they got for Christmas. In fairness, Lukaku had Lovren feeling kind of blue by full-time, not least because of the integral part he played in both of Rashford's goals.
United's game plan to go long, with Mourinho stating post-match how Lukaku fancied his chances in the air against Lovren, was primitive but brilliantly effective. All game the Belgian displayed the classic bully trait of trying to isolate his victim. From United goal kicks, it was as though he was marking Lovren.
For United's opener, Emre Can's lack of awareness to step in front of Lukaku to stop him having a free run on Lovren to attack a ball from back to front, did Liverpool's centre-half no favours. Still Lovren's meekness was hopelessly unacceptable. Lukaku's flicked header down the left channel allowed Rashford to reaffirm to the world, including Southgate in the stands, just what a prodigious talent he really is.
Alexander-Arnold was caught on the wrong side as Rashford darted pasted him by nodding the ball into his path. A turn that was two parts Johan Cruyff, one part Rashford's own design, then left the Liverpool man so disorientated he may as well have been back on Merseyside. Done at searing pace there was something balletic about how he kept his balance before with his right foot whipping a searing diagonal strike past Loris Karius. With minimum back lift, it echoed how Cristiano Ronaldo generates such power in confined spaces.
In his interview with Henry, it was with pride Lukaku spoke of being Mourinho's "sergeant." When they watch it back this week, half of United's squad will probably have their lips trailing on the floor, muttering to themselves, "I thought I was his sergeant…"
Still in the case of his top goalscorer, Mourinho has demonstrated his man-management repertoire extends beyond brandishing the stick he has become most famed for in recent years. In Lukaku's barren spells he has said to anyone who will listen how his striker is about so much more than just goals, even if on occasion it's been difficult to surmise precisely what.
Mourinho's unstinting faith has been rewarded in the past few weeks with some first rate centre-forward performances. Powerful displays against Liverpool and Chelsea suggest Lukaku is ready to become a fat-cat bully as opposed to one of the flat-track variety he is so readily accused of being.
 If Lukaku is Mourinho's sergeant, then Rashford seems more Territorial Army volunteer. His enthusiasm is always welcomed, but Mourinho appears reluctant to hand him a real gun. Prior to the weekend, Rashford's only starts in the calendar year had been against Derby County and Yeovil Town in the FA Cup. Mourinho tends to reward those who come back and prove a point after a spell in the wilderness, and how he deals with Rashford between now and end of the season will be interesting.
When he replaced him midway through the second half for Marouane Fellaini the Old Trafford crowd made their displeasure known. Taking off a local kid chasing a hat-trick against Liverpool, to bring on Fellaini, seems like the most Mourinho thing ever. Yet it worked perfectly. Fellaini was excellent. No player in the Premier League is as awkward as the Belgian scarecrow, and if you're looking to break the game up, slow it down, draw fouls and commit them, and generally make it look so wretched it would come last in a beauty pageant, then Fellaini's your man.
Jamie Carragher on Sky Sports, with a wistful look in his eye, lamented how, "Klopp doesn't believe in the dark arts." Mourinho practically invented them.
It's the aesthetic thing again. For many, perhaps even a majority, Mourinho football is like muesli without milk. A single spoonful is enough to have even the most evenhanded critics coughing and spluttering.
In a week when Juventus' pickpocketing of Tottenham at Wembley had the thinking football fans' alliance turning out their pockets to see if they could raise enough money to commission a statue of Giorgio Chiellini in finest Italian marble, United's not-dissimilar backs-to-the-wall retreat on Saturday will be seen by a good number to have effectively been anti-football. Yet if a Venn diagram were drawn to plot where the two parties met, the intersection between the circles would likely be standing room only.
The Old Lady were superior to Spurs for approximately 20 minutes of a 180-minute tie and were hailed as wily and cunning (rightly so in my opinion). To not afford Mourinho the same type of backhanded compliment seems a little churlish.
In fairness, that's probably how he likes it.