Real's centre-back and captain could miss the first leg if found guilty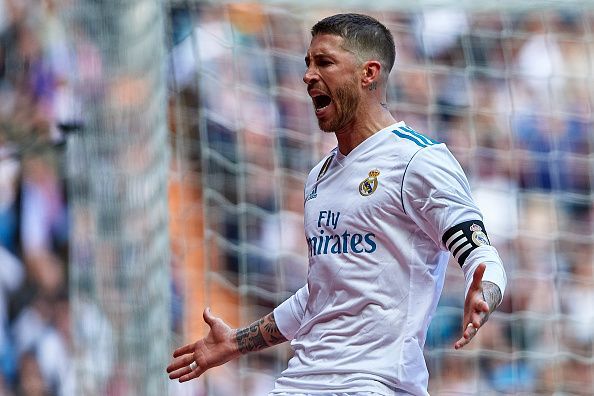 What's the story?
Despite not playing in the quarter-final second leg against Juventus at the Santiago Bernabeu, Real Madrid captain Sergio Ramos faces the prospect of being banned for the first leg of the Champions League semi-final, according to Sky.
Ramos was seen pitch-side in the dugout and in the tunnel when he had no right to be there. The Spanish centre-back was initially seen up in the stands watching the game but soon made his way to the Real Madrid bench in the second half.
In case you didn't know…
Despite having a 3-0 lead from the first leg, Real Madrid capitulated at the Bernabeu in the second leg as Juventus took a 1-0 lead within two minutes before scoring two more goals to set up a tantalising finish.
However, a penalty conceded in the 90th minute saw Gianluigi Buffon sent off for physically confronting the referee and Cristiano Ronaldo stepped up to make it 1-3 on the night and 4-3 on aggregate to ensure Los Blancos' progress to the semi-finals.
Real Madrid will find out their Champions League semi-final opponents in the draw on Friday.
Heart of the matter
According to UEFA regulations, a player who is ineligible for the match cannot be seen participating in any manner. Ramos had been suspended for the second leg after picking up one yellow card too many in the first leg.
Ramos was seen discussing the game with the club's staff and, towards the end of the match, he was also involved in an altercation with Juventus manager Massimiliano Allegri before Ronaldo stepped up and sealed Real's win with a penalty.
What's next?
Ramos will now wait and see if referee Michael Oliver includes his name in the match report. Provided he was kept busy by Buffon and Juventus players on the pitch after the incident, he may not have seen Ramos near the touchline.
However, if the fourth official mentions his presence and the altercation with Allegri, Oliver will have to include that in his report.
Author's take
If Ramos is found guilty, this will not be the first time a player will be given a one-match ban for a similar offence. In the 2014 Champions League final, Real Madrid midfielder Xabi Alonso had been in the stands but had entered the field of play.
Alonso had jumped over the barrier and celebrated with his teammates when Gareth Bale had scored in the win over Atletico Madrid. As a result, the Spanish midfielder had been given a one-match ban.
UEFA are usually very strict when it comes to punishment and it would come as no surprise if Ramos is indeed given a ban. If guilty, it will be a huge blow to Real Madrid who conceded three goals in his absence.