Paul Pogba steals the show and the points for United in a spirited comeback from 2 goals down against bitter rivals Manchester City!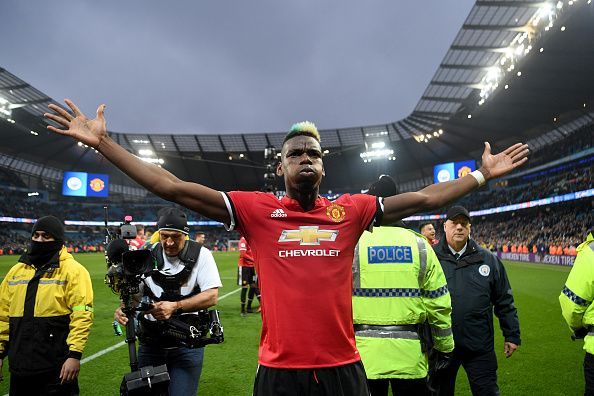 Final score: Manchester City 2-3 Manchester United
Goalscorers: United – Pogba 53′, 55′, Smalling 69′; City – Kompany 25′, Gundogan 30′
Oh my my!
Manchester City had the glorious opportunity to attain the holy grail, their promised land! How can you make a League Championship success even more memorable? Win it against your most bitter rivals!
Everyone had turned up to watch the coronation and then party till the end of time, as City blazed through to a two-goal lead in the first 45 minutes and really should've tripled that number in the same period.
They didn't, and the pain that will accompany their inability to put the game to bed will last for some time – as Sanchez worked-up two chances for Pogba before assisting the thrilling come-back winner for Chris Smalling.
So much to talk about! Only five points to try and summarise it all in. Wow, that's unfair.
#5 Football shall screw one and all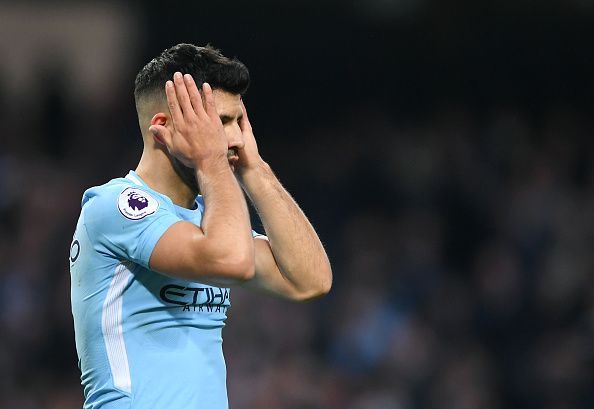 Football often hands out cruel awakenings in equal measure to all those who dare to indulge in this addiction that has no cure. Unfortunately for City, this time around it was Pep who was left holding the baby. And it wasn't just your regular cute little baby; it was the Lindbergh baby.
Oh the decades and decades of taunts that the inability of the Cityzens to get over the line will now invite from the Old Trafford faithful. A chance at inscribing your names deep in the history of the English game – missed. Slipped right through your fingers.
But how could it be? Kompany scored a thumping header at the same end…
We wonder if City will ever get another shot at what they claimed was their destiny this season. Reality though is singing quite a different tune.
A lesson for both the club and their manager who've quite often blazed through the opposition without so much as leaving a trail.
#4 Will the real Paul Pogba please stand up?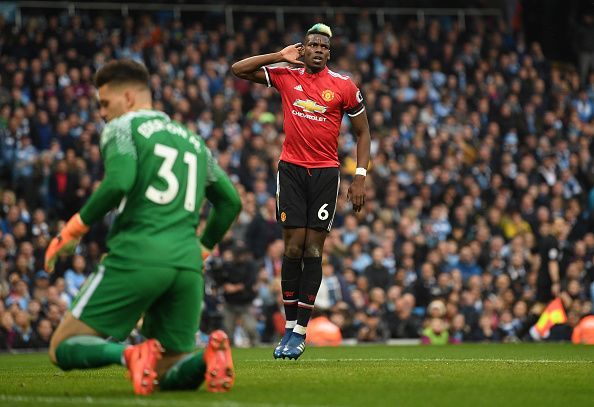 Manchester City were well on their way to doing the unthinkable and win it all against their historical foes, their derby rivals, their arch nemesis!
But then, Manchester United's estranged partner in a stormy relationship – Paul Pogba, came up with an even better "Say whaaa…" comeback (cue the whole Pep-Raiola fiasco).
It was all done to win one over those he's been religiously taught to reserve all his hatred for, those noisy neighbours who deserve a solid spanking by the footballing Gods for forgetting that it's not all roses and champagnes at the top level because almost just as often, you get horribly stood up.
The French international has arguably been going through the worst patch of form since he first lit up the world stage with his enigmatic skills. With reports of his equation with Jose souring doing the rounds, the magnificent midfielder finally decided to let his football do all the talking!
A determined lunge to get to the ball encapsulated what has been missing in United's record signing's play since the turn of the year. Pogba presented a much more mature version of himself than he has this season and took things to heart and galvanised a come-back, scoring two in a matter of minutes and the Red Devil reared his ugly head at the Etihad.
What a performance by Pogba. Simply incredible; been dying to see this from him for so long now! What a night to come up with it! What an undeniable talent!
#3 We'd like to file a missing person's report for a certain Alexis.. No wait. There he is!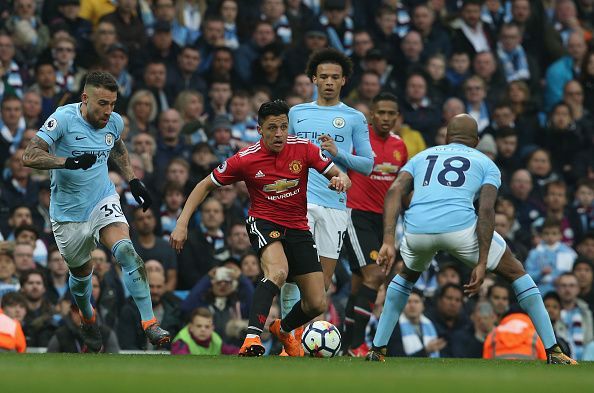 The Chilean has been similarly ridiculed recently for so many reasons in not-so-many matches that we'd all started buying into the theory that the former Arsenal saviour has lost his super-powers.
Three goals – all down to the brilliance of the South American. The first one to labour down the flank, changing directions with that trade-mark drop of the shoulder and then whipping in an accurate delivery which ended with the Frenchman pulling one back.
The second was even better! That ball he so often found Mesut Ozil and Olivier Giroud with, finally on display in the red for Manchester United. Pogba was the beneficiary once again.
Finally glimpses of what the master can do with his ability to affect the game when allowed to. United fans will be hoping this is just the start in a long and successful career as their beloved No. 7 for Alexis Sanchez.
#2 Manchester City corked the champagne bottle and cursed their luck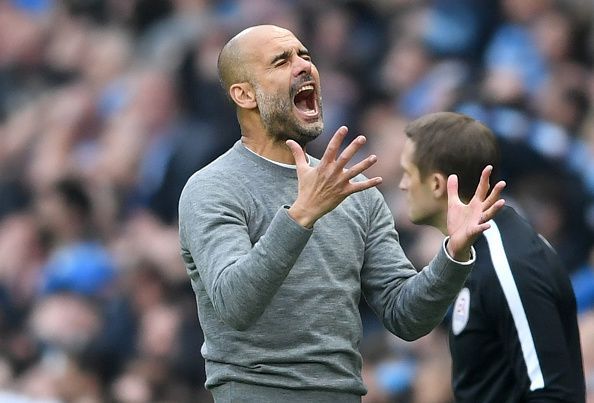 Pep Guardiola's side have been, by some distance, the most dominant force in England and one of the most in all of Europe right through the campaign.
Their Spaniard master-tactician has got his side to play some of the best football to come out of the club. Ever.
On the night though, a game of two halves saw the Citizens get terribly busted while United had a couple of aces up their sleeves – Sanchez and Pogba.
This, now, to add to the near-perfect run of results which saw them go unbeaten for the majority of the season in the League ending brutally at the hands of Liverpool and then some more Liverpool-dealt heartbreak in the Champions League in Europe which has almost certainly ended their hopes of progressing any further in the competition.
After such a stellar showing for so long, Pep and his team of relative youngsters marshalled by the men with wisdom have slowly faded away near the end of the campaign.
What could have been? A treble, an unbeaten season or the title against United: take your pick.
All that has come to fruition is another league title and some League Cup? That's not how Pep does it though, is it?
#1 Will-be champions, would-be legends?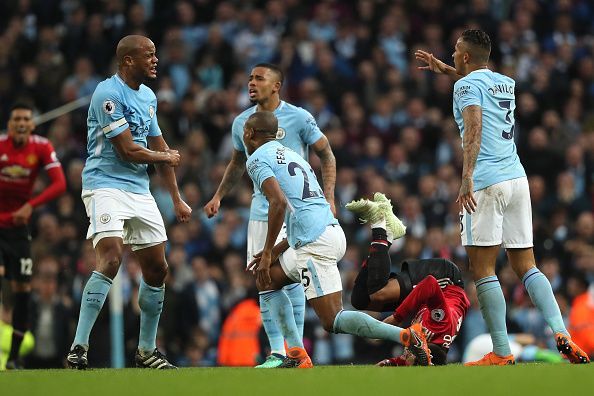 Some of the gloss may have come off City's achievements – both under the belt and the big one to arrive, quite stellar ones may we add, this season. This ought to not discourage the ones in charge because it appears that their rather exuberant "project" is on-track.
All the signs are positive, maybe not on the night as Jose came up trumps once again, for the blue half of Manchester. One of the best managers in Europe with an exciting young squad to play around with and of course – oil money.
This City side will be back, decidedly stronger after tonight's humbling on their home-turf, but the day and the night, and a couple more nights after that we presume, belong to their bitter bitter rivals.