The man who would become one of the most beloved and most hated footballers in Europe announced himself to Real Madrid with a missile.
Sergio Ramos had come up through the ranks for his hometown club, Sevilla, in the south of Spain. When the two sides met in a league fixture in May 2005, he smacked in a free-kick from 30 metres early in the first half to push Sevilla into the lead. The ball swerved in midair like a heat-seeker.
As he wheeled away to celebrate, Dani Alves, who was playing for Sevilla at the time, climbed up on his back like a jockey. In the stands, Real Madrid's president, Florentino Perez, looked on glumly. It was a stunning strike for a defender who had turned only 19 a few weeks earlier. Real Madrid's players—a group that included Raul, David Beckham and the club's current head coach, Zinedine Zidane—were among those to take note.
"We weren't surprised because of his goal; we were surprised because of his level," Paco Pavon, who played for Real Madrid at the time, tells B/R. "It was like a great player had suddenly appeared in La Liga and also one who was so young. From the first moment, it was obvious he was a guy that had a splendid future."
Fast-forward 13 years, and what Pavon and his teammates discovered at that moment is what fans all over Europe have learned to expect of Ramos: the unexpected. That 19-year-old would grow into a leader who captains both Real Madrid and the Spanish national team, a defender many call the best in the world—and a player who simply demands constant watching to see what will come next, be it a crucial late goal, getting sent off or both.
They've come to love, or hate, a man whose attitude on and off the field can wind up opposing fans like few others, which just makes his supporters love him all the more. Like a European version of Draymond Green or Odell Beckham Jr., he has an edge that can be divisive but is part of what makes him great.
Real Madrid pursued Ramos that summer. He was close to signing for the club when he went on international duty with the Spain national team in August. He arrived at camp wearing sunglasses and a white suit, the color that is synonymous with Real Madrid, Los Blancos. In a documentary about his career, Ramos would later describe the suit as "tacky." He wore it to stir the pot. The news corps from Spain's television stations lapped it up, filming him on arrival. It was an audacious maneuver. A couple of weeks later, he was unveiled as a Real Madrid player.
Ramos took on Real Madrid's No. 4 jersey, which had been vacated a couple of seasons earlier by club legend Fernando Hierro, who played in the heart of Real Madrid's defense for 14 seasons—and who, like Ramos, captained his club and country and is from southern Spain. It was another message.
"Sergio reminds me of Fernando Hierro," says Pavon, who partnered with Hierro in central defense. "They're two similar personalities. They both have the same integrity. They assumed leadership in a similar way. You can see the way Sergio treats his teammates. He's an example for them. He's the spokesman for the team. He always puts the team before anything else. That's why all his teammates are with him until death."
Hierro was a strong presence in Real Madrid's dressing room, but he flew too close to the sun and was bombed out of the club in the summer of 2003, per Steve McManaman's memoir, El Macca. Ramos—who came close to joining Manchester United in 2015, according to the documentary, Informe Robinson – Capitan Ramos—has even greater power in Real Madrid's dressing room. He is not shy about standing up to coaches, once, for example, deriding then-Real Madrid manager Jose Mourinho because Mourinho was "never a [professional] player" during a training ground spat in January 2012, per Marca.
"Ramos has more influence in the dressing room than Hierro," says Diego Torres, a journalist with El Pais. "[Real Madrid president] Florentino [Perez] got rid of Hierro. Florentino couldn't get rid of Ramos, who is a footballer that is cherished and very respected by his teammates."
Ramos uses his influence to smooth the rough edges in Real Madrid's dressing room. He sees eye to eye with Cristiano Ronaldo, the team's franchise player, although the pair locked horns publicly earlier this season over the lack of experience (as Ronaldo saw it) on Real Madrid's squad.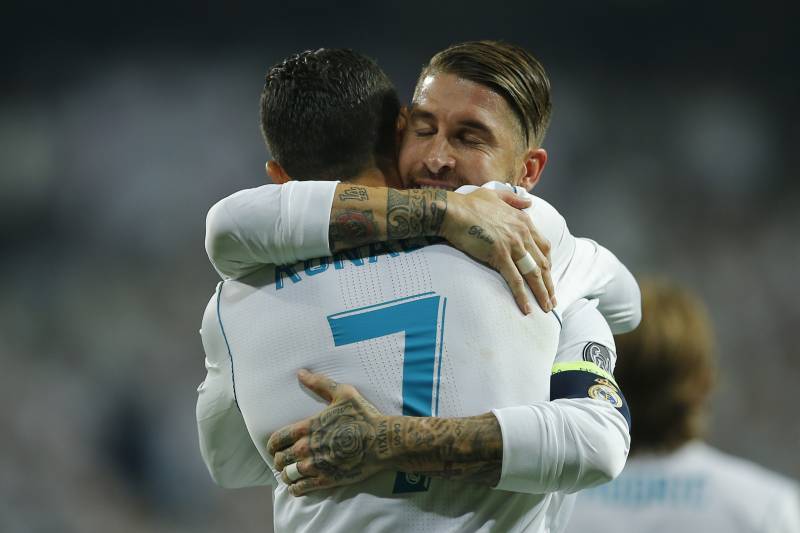 Paul White/Associated Press
After a 3-1 defeat to Tottenham Hotspur in the group stages of the UEFA Champions League in November 2017, Ronaldo complained that the club shouldn't have offloaded Pepe, Alvaro Morata and James Rodriguez in the offseason in favor of promoting several young Spanish players, per Marca.
Ramos disagreed that the squad was "weaker." When Ramos was asked shortly afterward about what the future held for Ronaldo—who is locked in stalled contract renewal negotiations with the club—he was dismissive: "Is Cristiano leaving? Ask him. I don't know about these things," per Marca. Ramos then made peace, however, in a television interview before Christmas, citing their "great friendship."
"Sergio has quite a good relationship with Cristiano," Torres says. "They have passed through a complicated moment. In other seasons, they had a better relationship than now. Now they are a bit further apart. Cristiano is colder, more distant. Cristiano is [battling] with the club. He's trying to improve his contract. He's distanced himself a bit from the team. He hasn't played as many games. He's not aligned with Sergio Ramos.
"But in general they get on very well. They have a professional relationship that is very good. It's one of the keys to the success of Real Madrid."
Another key to Real Madrid's domination in Europe and a five-trophy haul in 2017 is the goals Ramos gets. He scored 10 last season in 44 games, per Diario AS, a remarkable haul for a defender. He has a knack, too, for scoring clutch goals, including an injury-time equalizer against Atletico Madrid in the 2014 UEFA Champions League final. It typified his never-say-die attitude. Ramos now has a "92.48" tattoo—the time on the clock when his header flew into the net—to remind him of the moment, per El Mundo.
"Sergio has that character which is essential to be an idol in Real Madrid's Bernabeu Stadium. He has what people call 'the Juanito spirit,'" says Ramon Calderon, a former Real Madrid president, referencing the club's beloved winger Juanito, who died in a car crash in 1992 at age 37.
"Juanito was a player like Sergio, a very strong character with a lot of stamina who gives until the last gasp when playing. That's why Sergio was able to score a goal in added time in Lisbon, because he gives everything he's got on the pitch. That is very important in our club. It's what our fans are always looking for. They can't forgive a player who is wearing the white shirt if he doesn't give 100 percent."
Ramos' commitment means he often steps over the line. He has collected 24 red cards in his career with Real Madrid, including a league-record 19 in La Liga, per Guardian, although curiously he has never been sent off in 151 appearances for Spain.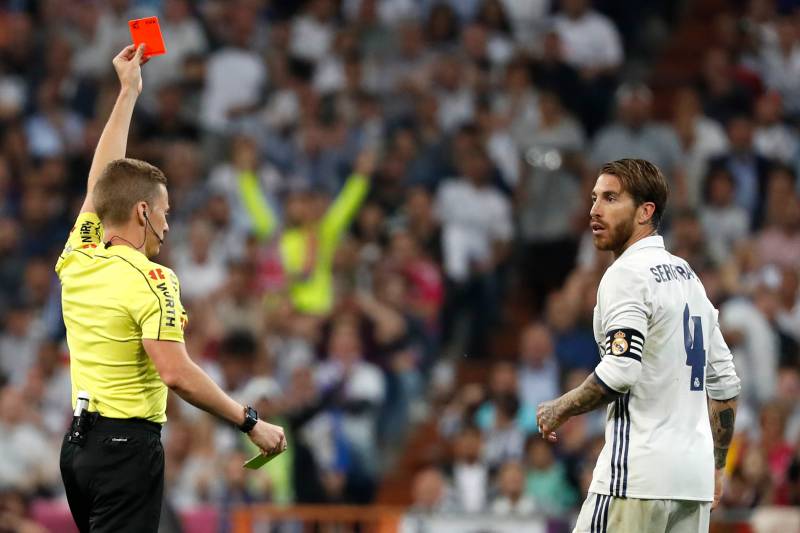 TF-Images/Getty Images
"The red cards aren't a problem," Pavon says. "It's his way to play. He goes to the limit. A lot of times, he's the team's last defender. He has to make fouls. Also, he has infamy, so when there is a doubt, he gets a lot of cards that he doesn't deserve."
One of Ramos' darkest moments with Real Madrid was when he missed against Bayern Munich in a penalty shootout in the 2012 UEFA Champions League semi-final, which cost his team a place in the final. The manner of the miss stung. His ball flew so far over the crossbar that it launched a thousand memes on social media, including pictures of the ball flying toward the moon past E.T. on a bike.
Ramos found redemption two months later by cheekily scoring a Panenka—a penalty kick that is lobbed gently down the middle of the goal—in a penalty shootout for Spain against Portugal in the UEFA Euro 2012 semi-final. He's got a pair of stones.
Whenever Ramos makes gaffes—like when he tweeted "congratulations" to Spain's female water polo team for winning gold at the World Championships in 2013, not realizing he was watching a rerun of their final match on television, almost a month after their win—he is quick to laugh at himself. This endears him to fans. He is, however, a figure of fun for many Barcelona fans in Spain. On the Catalan satirical television show Crackovia, for example, Ramos is mocked for being a philistine and for having a thick Andalucian accent.
"Possibly in Barcelona, they compare Ramos to [Barcelona central defender] Gerard Pique," says Torres. "Pique is urbane. He's from the city. He's a footballer who he wants to study, to travel, to learn languages and other subjects apart form football. But why don't they compare Ramos to Carles Puyol or Samuel Umtiti? Ramos doesn't compare so badly in this type of comparison in terms of cultural education.
"Ramos is more rustic than an urbanite. He's a footballer that likes the countryside. He likes bulls, horses, animals and nature. He's a bit like Tarzan. In this way he's very like Puyol. Puyol is a guy from the countryside, from a village, and his hair is more spectacular than Ramos. Ramos is very intelligent. He knows how to use his influence. There are many men who are intelligent and cultured, but they don't know how to wield power. Ramos knows perfectly how the world works, how to use his power, which you don't learn at university."
Calderon, the team president, gave Ramos the nickname Tarzan. "He likes it," Calderon says. "He's always laughing when I see him. He remembers it: 'Well, you gave me the nickname Tarzan,' he says. Many of his teammates called him it because of his strength and his muscled body."
Ramos owns a stud farm in Andalucia. It's his bolthole, where he can escape with his family from the rush of life in the public eye in Madrid. One of his horses is called "Capitan Ramos," per Informe Robinson – Capitan Ramos.
Calderon says Ramos is a quintessential guy from Andalucia, with a passion for its two great pastimes. He recalls Ramos singing flamenco "very well" during a party to celebrate the first league title win under his presidency in 2007, and he has also watched Ramos bullfighting.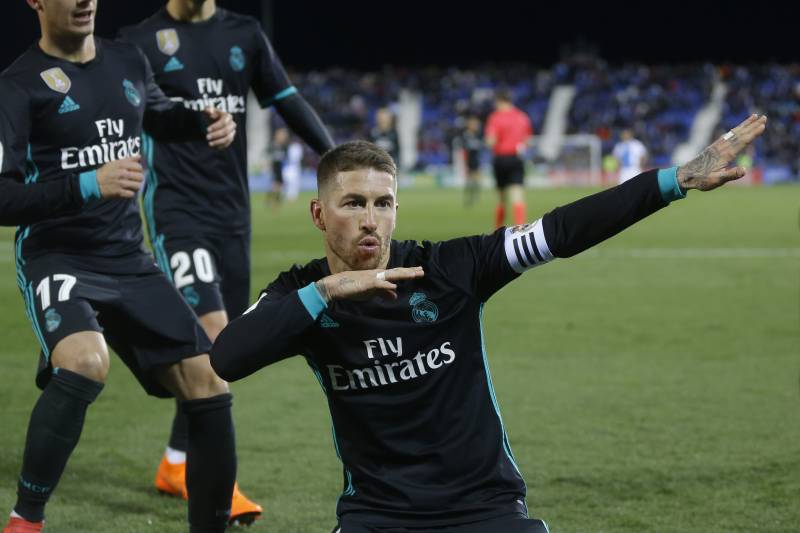 Francisco Seco/Associated Press
"Sergio likes bullfighting," Calderon says. "He's an aficionado. Of course, professional footballers are not allowed to do it because of the risk of an injury, but he has done it sometimes when he's on [holidays].
"I've seen him at the small fiestas that are organized in the farms where the bulls are being bred, and he does it quite well with small bulls. He has got good style. That's why you see Ramos when the club wins a title—the league or the Champions League—he takes a cape with the logo of Real out on the pitch and simulates fighting a bull. Fans like it. It's fun."
At least, his club's fans do.
Fans from Liverpool, Real Madrid's opponent in Saturday's UEFA Champions League final, might not be so fond if Ramos gets to unfurl his matador's cape.