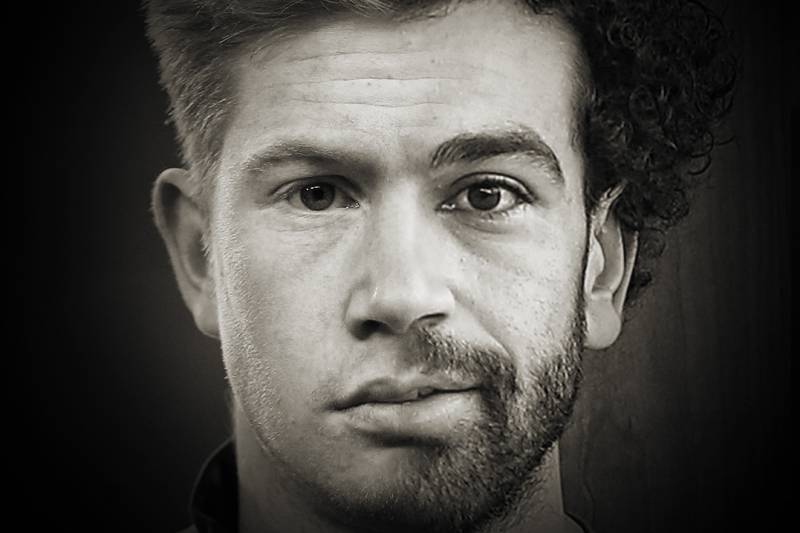 Credit: B/R x Getty
The majestic, awe-inspiring Kevin De Bruyne or the incredible, record-breaking Mohamed Salah? That is, essentially, the choice voters have faced when picking their 2017-18 PFA Player of the Year.
The two have been far and away the most impressive players in the Premier League this term. De Bruyne has been the key piece in an unrelenting, potentially all-time great Manchester City midfield, while Salah has sparkled in his first year with Liverpool.
Both have represented unbridled joy on the pitch, turning in jaw-dropping moment after jaw-dropping moment, growing as the season has worn on and playing with a smile.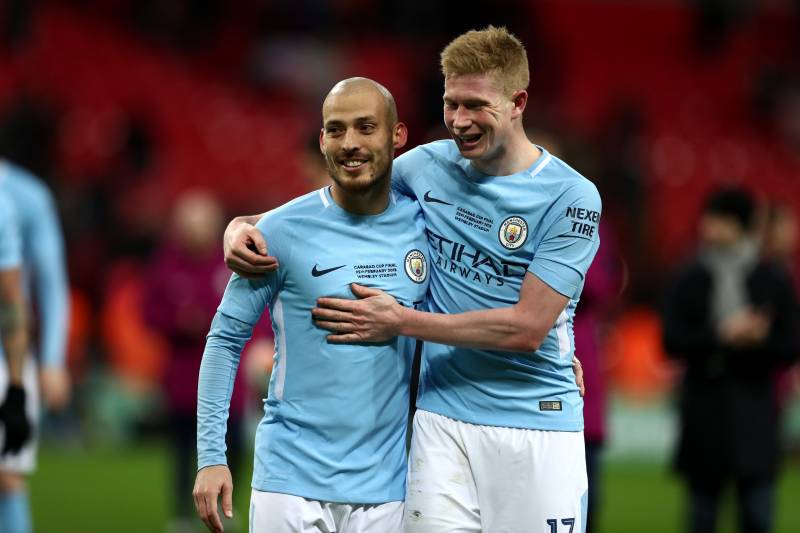 Catherine Ivill/Getty Images
That it seems set to be a straight choice between the two is testament to how consistently incredible they have been.
There are others who have had landmark campaigns—David Silva, Raheem Sterling, Harry Kane and Roberto Firmino are but four—and yet they aren't even close to being in the running.
It's all about two men: The brilliant Belgian changing the fabric of the central-midfield role and the exceptional Egyptian knocking the socks off defenders.
Here, we make a case for each one to win the award, analysing their season based not solely through a statistical prism but also from every important angle.
The Case for Kevin De Bruyne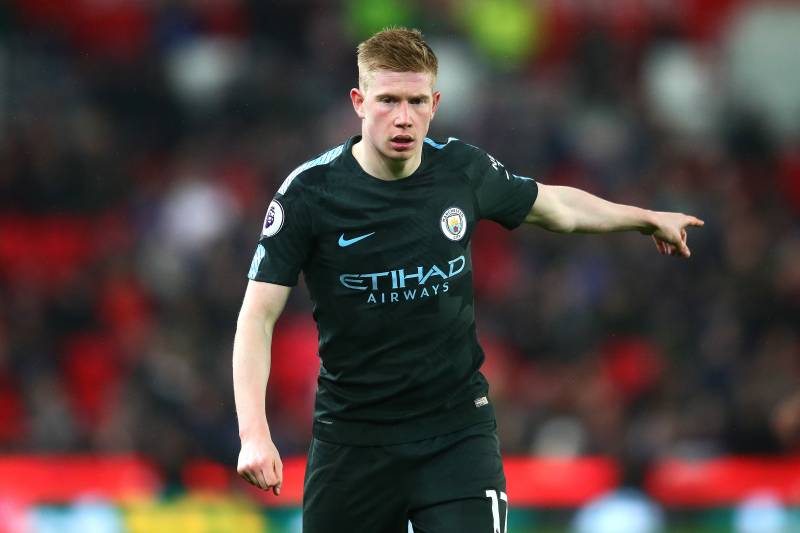 Chris Brunskill Ltd/Getty Images
It's long been clear De Bruyne is one of the most talented players in the Premier League, but in 2017-18 he appears to have punctured the stratosphere.
We now talk about him as one of the best players in the world, a potential Ballon d'Or winner in the post-Lionel Messi and Cristiano Ronaldo era, a contender for the title of the world's third-best player.
That change in perception has occurred over the course of this campaign alone, thanks largely to his astonishing displays at the heart of a City side who could have the Premier League title wrapped up with six games to spare.
Pep Guardiola's decision to move him into a deeper, No. 8 role (along with Silva) has proved almost incomprehensibly successful, with De Bruyne now getting his foot on the ball more than ever; despite playing approximately 300 fewer minutes, he has already eclipsed last season's touch totals, influencing matches more consistently and more heavily than ever.
It's what you do with the ball that counts, though, and in De Bruyne's case the formula is simple: The more of it he sees, the more damaging he becomes.
That the 26-year-old leads the Premier League assists chart with 14 goals created comes as no surprise, and no matter how you slice up the "key pass" metric—total or per game—he comes out on top there, too.
For a player to manage a combined 21 goals and assists in 30 appearances from a genuine central-midfield role—not an attacking-midfield variant—is a stunning tally.
While the numbers are gaudy, De Bruyne wins more hearts by passing the aesthetic test; the preciseness of his passing, his oddly effective gait and the controlling impact he has on games cannot be truly conveyed via numbers or figures.
February's 5-1 win over Leicester City perfectly showcased the two types of cross he has mastered, with their opener a tap-in at the back post following a whipped delivery across the face of goal, and their second converted from a low, firm ball that felt like it defied physics.
His through balls don't just send runners free into space, they are placed and angled so perfectly that the runner can take it in his stride and on his strong foot every time. Leroy Sane has been the main benefactor of this, though the strikers have cleaned up thanks to it, too.
You would never pick De Bruyne as the league's best or most proficient dribbler, but his ability to shuttle forward can take City up the pitch in a more robust fashion.
He's surprisingly strong and therefore doesn't really have to weave or feint; he just runs, and he's deceptively hard to stop.
The Case for Mohamed Salah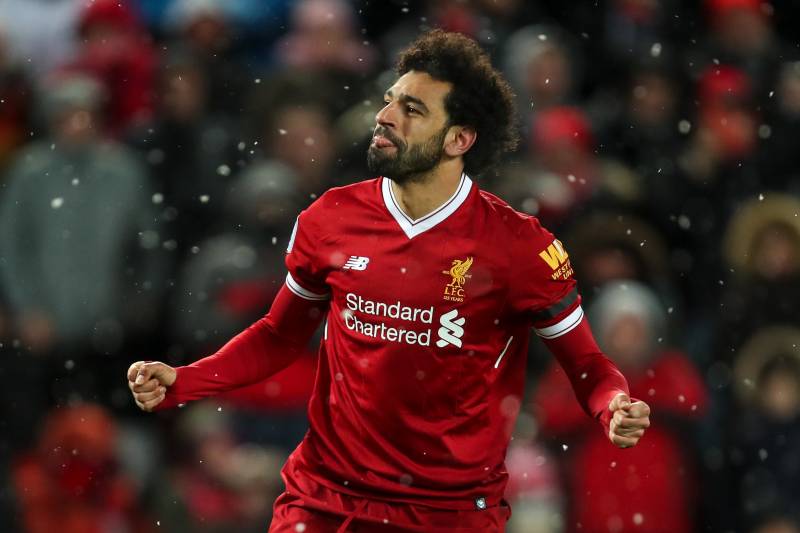 We have become used to Salah's brilliance, his inexplicable moments, and his relentless, punishing goalscoring streaks. When he bagged four against Watford ahead of the international break, people were undeniably impressed but not surprised.
It means that to establish why Salah's imperious season and claim for PFA Player of the Year is so strong, you have to recall his situation when he arrived at Anfield in June.
Costing a base fee of €42 million (£36.8 million), potentially rising to €50 million (£43.8 million), more than a few were only too happy to brand him a future flop, largely based on his disappointing short stint at Chelsea and ignoring the subsequent two-and-a-half eyebrow-raising seasons in Italy.
Compounding this was the fact strengthening Salah's position didn't feel like a burning need that summer, with goalkeeping, defensive and midfield concerns all arguably more prevalent.
Adding a €42 million player to an attack that had no trouble scoring goals the previous season—and at the same time failing to secure long-term target Virgil van Dijk—ramped up the pressure on both player and manager.
Fortunately, a debut goal at Watford has been followed by 28 more in the league and 34 more in all competitions. With six braces and a quadruple to his name now, along with 10 assists for good measure, he is the statistically outstanding player of this Premier League campaign.
Recently, there has been a debate over who Salah reminds fans of more: Messi or Ronaldo. That's not the worst tug-of-war situation to be found in the middle of. The answer is pretty tough to pin down, as it depends on the angle you measure from.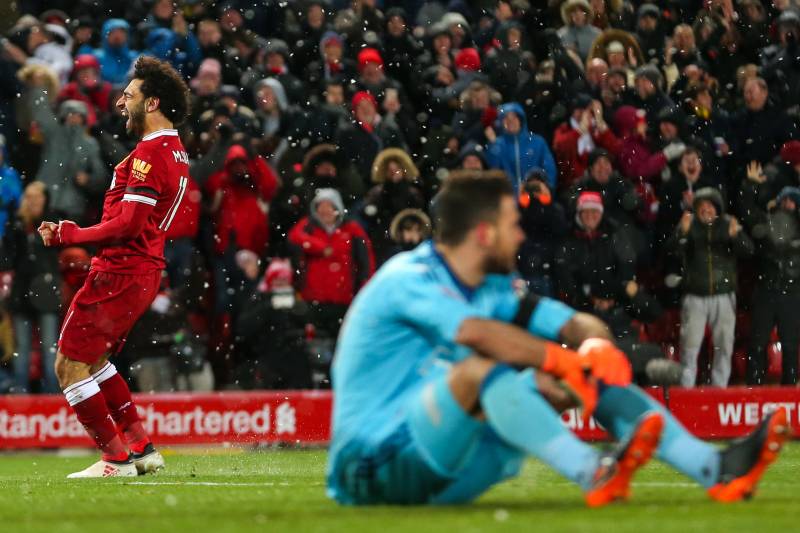 Robbie Jay Barratt – AMA/Getty Images
Stylistically, the 25-year-old resembles Messi. The little touches he takes while dribbling, the eye-popping change of speed and direction, and the fact he favours his left foot, draw obvious comparisons to the Argentinian.
It was the Watford game that hammered that home, not only because he scored that seemingly impossible goal while surrounded by five opponents, but his first of the afternoon saw him put Miguel Britos on his backside in similar fashion to when Messi sent Jerome Boateng down a hole in the ground in the 2014-15 Champions League semi-final.
Tactically and positionally, though, he's beginning to resemble Ronaldo more and more. He is barely a winger at this stage, with Liverpool's formation tilting to allow Salah to nip in and play alongside Firmino, utilise the half-spaces and dance into the box.
He picks up brilliant positions, is fed a lot of chances, misses quite a few but scores more than enough—just like Ronaldo.
Currently on 28 goals with seven Premier League fixtures left, the world will be stunned if Salah fails to break the division's single-season (38-game) goal record of 31, which is shared by Alan Shearer, Luis Suarez and Ronaldo himself.
Closing Arguments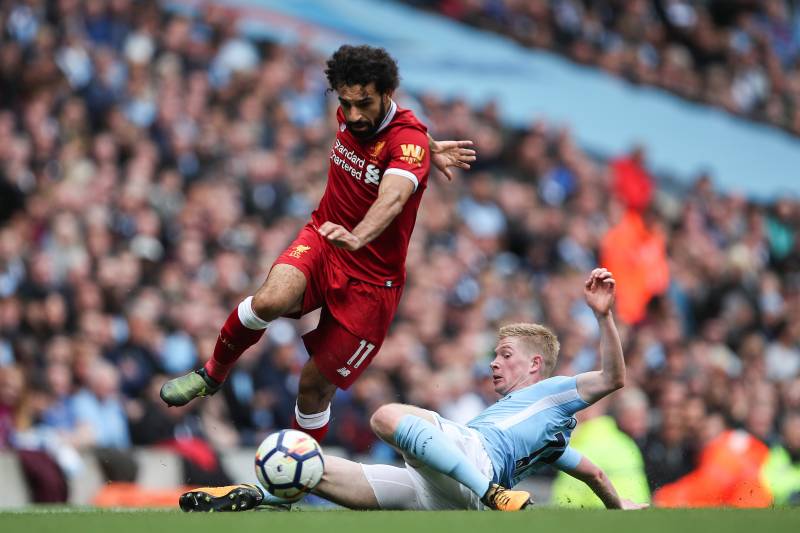 Robbie Jay Barratt – AMA/Getty Images
That Salah, a player set to break a Premier League goal record, isn't nailed on to win the PFA Player of the Year award is testament to how brilliant De Bruyne has been. That De Bruyne, the key cog in a team that looks set to break the points tally record, isn't nailed on to win is testament to the ridiculous level Salah has reached.
You can call it either way—there's no wrong answer. The fact they're both ostensibly attacking players but carry out such different roles within such different systems makes them incredibly hard to compare.
Salah's 37 goal contributions (goals plus assists) trumps De Bruyne's tally of 21, but you would expect him to outgun the Belgian given his job is to score goals, whereas the City man's is (primarily) to create and dictate.
The fact Salah also tops the "big-chances-missed" table with 19 may level out your view of his accomplishments.
It may ultimately boil down to two traditional schools of thought and whether you appreciate goals in the face of adversity or the harder-to-quantify impact a quality central midfielder can have over the course of a season.
Both deserve to win it, neither deserve not to. It's surely one of the tightest calls in the award's history. Just be pleased you were here to witness both put such phenomenal campaigns together.
Winner: Kevin De Bruyne