Cristiano Ronaldo and Real Madrid were in fine form as they put Juventus to the sword at Turin last night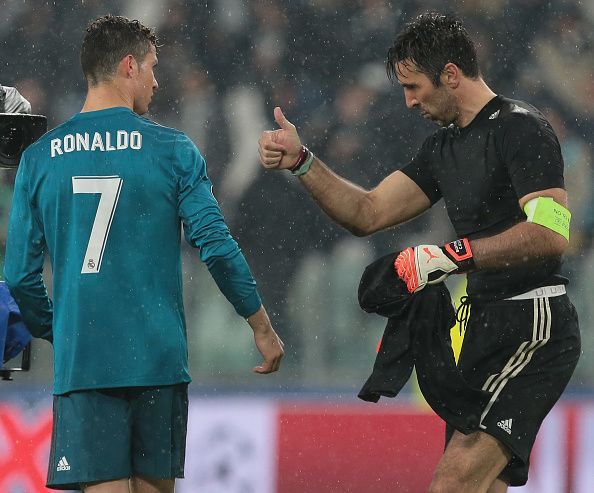 Juventus 0 – 3 Real Madrid (Cristiano Ronaldo 3′ 64′, Marcelo 72′)
12-time Champions League winners Real Madrid put in a stunning performance at Turin to all but seal their place in the semi-finals. Cristiano Ronaldo was the star of the show as he scored 2 amazing goals and even grabbed an assist to hand Juventus their first defeat at home in over a year.
While the Old Lady showed glimpses of what they are capable of after going behind to Ronaldo's opener, a piece of individual brilliance by the Portuguese superstar followed by a red card to talisman Paulo Dybala knocked the stuffing out of them. Without much ado, let us take a look at the player ratings for both Juventus and Real Madrid.
Juventus
Gianluigi Buffon – 6/10
Although the veteran shot-stopper did pull out a couple of good saves, his and Chiellini's moment of indecision led to Ronaldo's miraculous second goal. It looks like the Champions League will elude Buffon once again this season.
Mattia De Sciglio – 4/10
De Sciglio was directly at fault for Madrid's first goal, affording Isco too much space and time to pick out a pass. He did get into good attacking positions, but often, his final ball failed to make an impact.
Andrea Barzagli – 5.5/10
Barzagli was pretty decent on the night although he was outpaced by Real Madrid players on certain occasions. The 36-year-old could do nothing to stop either of the 3 goals.
Giorgio Chiellini – 4/10
Ronaldo vs Chiellini was touted to be a battle to watch out for. There was only one winner last night. The Italian centre-back had an uncharacteristically poor game as he struggled to deal with the pace and movement of Ronaldo, Benzema and Isco.
Not a game Chiellini will remember fondly.
Kwado Asamoah – 5/10
Playing in the left-back position, Asamoah tried hard and was full of running. However, he struggled to have any real impact on the game and often relinquished possession with mishit passes and crosses.
He was replaced by Mandzukic in the 69th minute.
Rodrigo Bentancur – 4/10
The 20-year-old talented Uruguayan midfielder struggled to keep up with the pace and physicality of the game. Starting ahead of the likes of Marchisio and Matuidi, Bentancur was outclassed by the likes of Casemiro, Kroos and Modric and he struggled to make any meaningful contribution.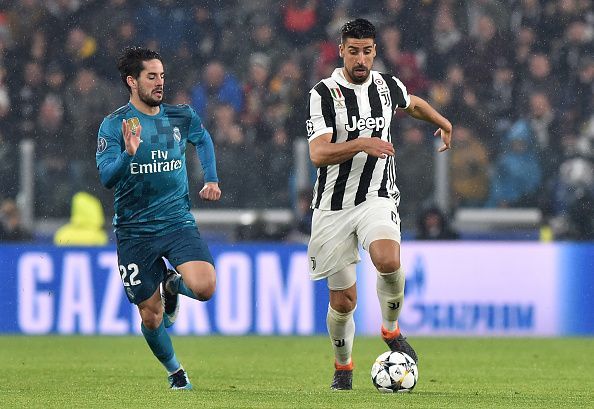 Sami Khedira – 7/10
The former Real Madrid midfielder put in an energetic performance last night and was undoubtedly Juventus' best player. Making some intelligent runs into the box and pressing the opposition players, the German was a constant threat to Los Blancos last night.
Alex Sandro – 5/10
Played as a winger last night, Alex Sandro could not use his pace or crossing effectively to trouble the likes of Marcelo and Ramos. Although the Brazilian ran up and down the flanks gamely, the quality was definitely missing from his passing and crosses.
Douglas Costa – 5.5/10
The pacy winger got into some excellent positions last night, but his decision making let him down badly. He made some excellent runs but his touch, finishing and passing left a lot to be desired.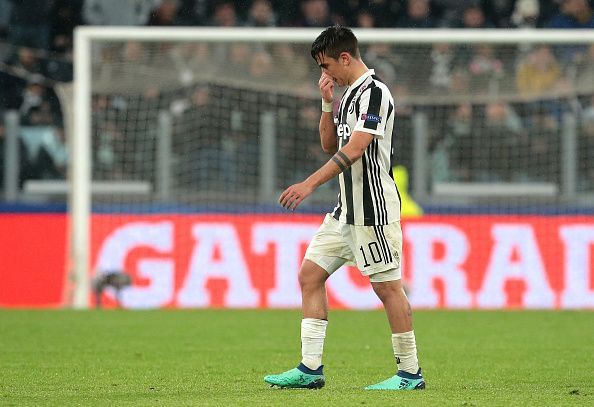 Paulo Dybala – 4/10
The Argentine superstar was expected to rise to the occasion. However, the 24-year-old was sent off in the 66th minute for getting two yellows (one for diving). Although Dybala played some brilliant one-twos with his teammates, he failed to really cause the Madrid defence any real problems.
He also could not make the most of two excellent free-kick opportunities, striking the wall on both occasions. All in all a night to forget for the talented youngster.
Gonzalo Higuain – 6/10
Higuain was one of Juventus' better players last night as he pressed, harried and hassled the Madrid defenders throughout the night. He was denied brilliantly by Keylor Navas on 2 occasions.
Substitutes
Mario Mandzukic – 5/10
He was brought on in the 69th minutes, but he could hardly make an impact. Saw very little of the ball in the latter stages of the game.
Blaise Matuidi – 5/10
Tried to add solidity to the Juventus midfield after Dybala's dismissal. Did not do anything of note in the game.
Juan Cuadrado – 4/10
Missed an absolute sitter in the dying parts of the game. He also misplaced a lot of passes.
Real Madrid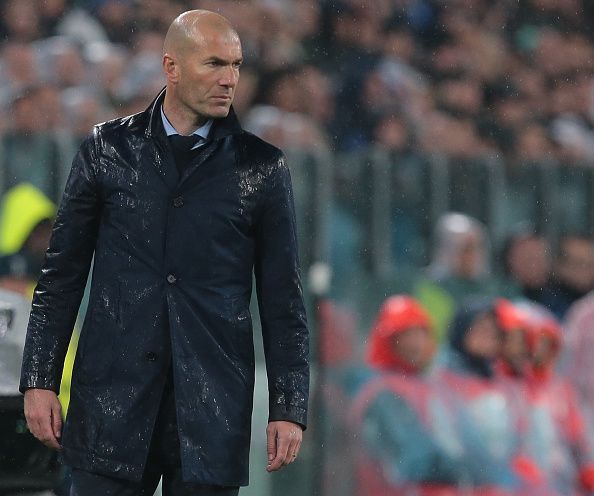 Keylor Navas – 8/10
The unsung hero of last night, Keylor Navas pulled off a couple of stunning saves to help keep a clean sheet. His save in the first half from a point-blank Higuain header was simply superb.
Daniel Carvajal – 7/10
The Spanish right-back was full of running and contributed massively both in attack and defence. He also sent in the cross for Ronaldo's spectacular second goal.
Raphael Varane – 7/10
Varane showed impressive pace and physicality throughout the night as he largely handled the threat by the Juventus attack effectively. He also played some lovely passes to start off attacks.
Sergio Ramos – 7/10
The Real Madrid captain will be missing the next leg because of a yellow card, but Ramos and Madrid will not be fretting too much about it. He once again put in an assured display on a big occasion and shackled the likes of Dybala and Alex Sandro effectively.
Marcelo – 8/10
The Brazilian was assured at the back and dangerous while going forward even prodding in the third goal to completely put the tie out of Juventus' reach. He combined with Ronaldo excellently on the left flank.
Casemiro – 7/10
The Brazilian snapped into tackles and did all the dirty work in midfield. He completely outclassed Bentancur and made some important interceptions. He did misplace some passes but was pretty good on the night.
Luka Modric – 7.5/10
The Croatian maestro was in cruise control throughout the night as he played some excellent balls and kept possession effortlessly. Modric, Kroos and Casemiro completely dominated the midfield battle.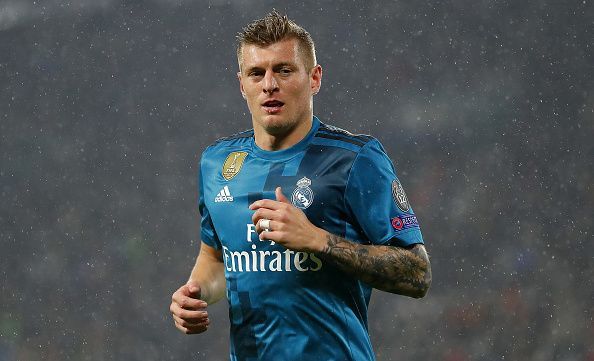 Toni Kroos – 8/10
The German midfielder showed his class last night with a superb performance. He completely ran the show for Madrid playing some brilliant passes and taking up excellent positions.
He was unlucky to not get on to the scoresheet as his thunderous shot in the first half struck the bar.
Isco – 7.5/10
Picked to start ahead of Gareth Bale by Zinedine Zidane, Isco repaid his manager's faith by putting on a superb performance in the first half. Isco got the ball rolling by playing in a superb ball to Ronaldo in the 3rd minute.
Although he did not have the same impact in the second half, Zidane will be pleased with the Spaniard's performance.
Karim Benzema – 5.5/10
The Frenchman made some intelligent runs and combined well with the likes of Isco and Ronaldo. However, Benzema failed to do anything of note and was taken off by Zidane in the 59th minute.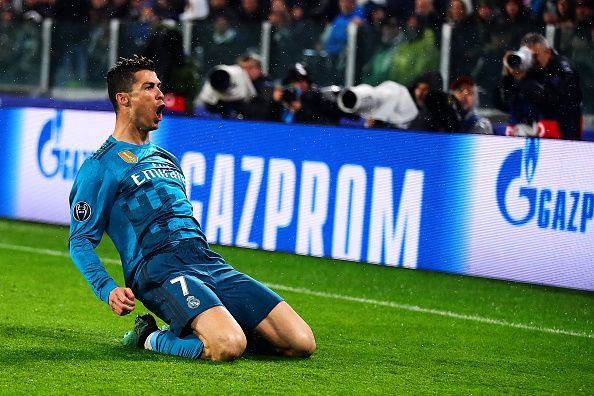 Cristiano Ronaldo – 9.5/10
What more can we say about the great man! Cristiano Ronaldo last night showed why he will go down as one of the greatest players of all time by putting in an almost perfect performance to completely take the tie away from Juventus.
While his first goal was pretty good, his second was simply sensational. The bicycle goal he scored was so brilliant that even the Juventus fans could not resist giving the Portuguese star a standing ovation.
When opposition fans applaud you, you know you have done something special. Take a bow, Cristiano Ronaldo.
P.S. – He was given 9.5 and not 10 because he missed a sitter at the end of the game and proved to us all he is only human.
What a performance by Ronaldo!
Substitutes
Lucas Vasquez – 7/10
Came on in the 59th minute for Benzema. He looked busy and combined well with Cristiano Ronaldo. Got into some good attacking positions.
Marco Asensio – N/A
Came on in the 75th minute for Isco. Did not get enough time and opportunity to make an impact.
Mateo Kovacic – 6.5/10
Although he only came on in the 82nd minute for Luka Modric, Kovacic saw quite a bit of the ball in the closing stages of the game. He hit the bar with a well taken shot and was unlucky not to score. He also received a yellow card for a silly foul late on in the game,