Paul Pogba is going through a difficult time, will he fight back or bail?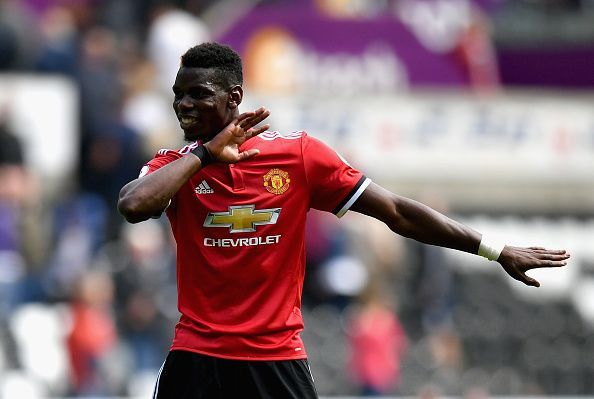 Trailing by two away to Tottenham Hotspur a couple of months ago, Manchester United manager Jose Mourinho substituted his supposedly best midfielder for Marouane Fellaini, whose Old Trafford career is going nowhere.
Paul Pogba was re-signed by Manchester United in 2016 for the then a world record £89 million to add more control in games of such magnitude. United, however, ended up losing 2-0 with sharp criticism from fans and pundits alike, Pogba not for the first time, divided opinion.
The Frenchman had started the season strongly before getting sidelined for six weeks with a thigh problem. He was Man of the Match on his return against Newcastle (1 goal, 1 assist) and assisted twice against Arsenal before getting sent off.
Post-suspension, his form has flickered, from being a key player in their victories over Everton and Stoke to having no impact in the losses to Spurs and Newcastle, being accused of inconsistency and losing his place in the side.
'The complete midfielder'
Paul Pogba is 6'3'', is physical, heads well, tackles, has agility and speed, beats players with his dribbling ability and; a coach's dream player. The way he utilises these abilities in the game puts some light on the player he is today.
At Juventus, Pogba was a runner, a creator in the final third; he played in a midfield three featuring Pirlo, who sprayed passes to attacking players. At United, in Mourinho 4-2-1-3 he has been asked to do that Pirlo role, which is not where his credentials lie. The fact that he can play so much better than his current form tells us that he isn't immune to criticism from the manager who cannot be questioned for expecting more.
Sanchez's arrival
Pogba had the best ratio of assists to minutes played for any player in Europe's top five leagues — one every 126 minutes — before the Chilean's arrival, but has had no assists since.
He created 2.14 chances per 90 minutes in the Premier League which has dropped to 1.73 after Sanchez's arrival. Pogba's combination with Sanchez will be key as the Chilean is a player who will need more attention from the defenders, thereby freeing up space for the former.
Pogba – The personality
Like many modern day footballers, Pogba is a social media buff, has fancy haircuts and loves to flaunt his personality. But it is unfair to question his lifestyle and use it as reasoning for his consistency on the pitch.
Pogba under all the flashes and glamour, at times, is a man who needs an arm around his shoulder.
Is a transfer on the cards?
Real Madrid and PSG will be more than willing to sign the 25-year-old with the player seemingly unsettled by his manager's public criticism and subsequent showings from the bench.
He has stated that everything is fine under Mourinho but it is safe to say that he does have options if he decides to switch. However, taking this step will only question his personality and his ability to bounce back from criticism. On the other hand, if he does move to another team and performs brilliantly, no points for guessing who will be blamed for his performances at United.
The World Cup dream
Pogba came off the bench during the first game and scored quite spectacularly in the second of the recent international friendlies for France. Though Didier Deschamps adores the midfielder's abilities, Pogba will need to finish the season strongly to assure a place in the French World Cup squad. Deschamps even stated that he was worried about the midfielder's current situation at his club as it will only be detrimental to France.
It is truly vital now that care must be taken by the club and manager for such a talented player to achieve his maximum potential.