Result is blow to US, but Iran will also lose out after Iraq's protest against rule by proxy
The unexpectedly poor showing of Haider al-Abadi, Iraq's prime minister, in parliamentary elections has dealt a blow to US influence in the country. It was a poor return for American backing for the Baghdad government's drive to extirpate Islamic State and regain lost territory.
But the bigger loser may be Iran, whose allies in Iraq's Shia militias known as the Popular Mobilisation Forces were pushed into second place by Moqtada al-Sadr, the veteran nationalist. Put simply, Sadr believes Iraqis should run Iraqi affairs – not Washington, not Tehran and not their proxies.
The pressing question now, for Iraqis and the wider Arab world, is whether the election marks the high watermark of Iranian influence that has grown steadily across the region since the 2003 US invasion. Recent events have blown large holes in the prevailing narrative of an inexorable Iranian advance. In short, have we reached "peak Iran"?
Evidence the tide may be turning emerged last week after Donald Trump, in effect, tore up the 2015 nuclear deal with Iran and reimposed sweeping sanctions.
Tehran's fractured leadership seemed caught off-guard by the full force of the US president's denunciation. It has failed so far to articulate a clear response.
Although European signatories will this week tell Mohammad Javad Zarif, Iran's foreign minister, they are determined to uphold the pact, this seems an empty promise. Faced with swingeing US treasury sanctions, private companies doing business in Iran will mostly walk away. There is little France, Germany or the EU can do to stop them.
By its relative silence, the UK – caught as ever between Washington and Europe – is already acknowledging this reality. Nor can Iran rely on Russia or China, also signatories to the deal, to bail it out. To fund its inefficient state-dominated economy, its ongoing interventions in Syria and Yemen and, for example, its ballistic missile programme, Iran needs the billions of dollars accruing from oil exports. This cash flow is in serious jeopardy.
Iran had a significant setback in another regional theatre last week, blundering into an Israeli trap. It began with a minor attack last Tuesday on Iranian military facilities at Kisweh, south of Damascus – the latest of several Israeli hit-and-run raids to which Iran had not until then responded. It proved the last straw.
Iran's Revolutionary Guards commanders opened fire on Israeli positions in the occupied Golan Heights. That gave Israel a looked-for pretext to launch a pre-planned assault on Iranian facilities all across Syria. It was a classic sucker punch. Iran's troublesome military buildup appears to have been halted, at least for now.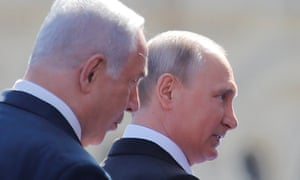 Iran, meanwhile, risks being outmanoeuvred diplomatically. Benjamin Netanyahu, Israel's prime minister, was in Moscow again last week, aligning his interests in Syria with those of Vladimir Putin. Israel forewarned Russia of last week's attacks.
Such coordination is becoming routine. Viewed from Tehran, Russia, ostensibly Iran's brother-in-arms in Syria, is increasingly unreliable. Its Saudi foes are greatly encouraged by Trump's offensive.
Iran's regional leadership pretensions are also under challenge on religious and ideological grounds. Just as many Iraqi voters resent Tehran's domineering, neocolonial behaviour, Shias around the region appear to be looking again to Najaf, the historical capital of Shiadom, rather than to Qom, the Iranian holy city that usurped its role during Saddam Hussein's Sunni dictatorship.
Ayatollah Ali al-Sistani, the most senior Shia cleric in Iraq, is spiritual grist to Sadr's nonsectarian mill. In rejecting the Velayat-e faqih, the guiding principle established by Iran's late Ayatollah Khomeini, Sistani has also rejected the fundamental precept that the "trustworthy jurist" (that is to say, Iran's supreme leader) has absolute power over the body politic as well as the community of the faithful.
Sistani's authoritative drawing of a line (in western terms) between church and state has appeal inside Iran, too, where domestic unrest this year focused on economic woes but also on the overweening, illiberal power of a corrupt theocracy. Iraq's mini-rebellion against rule by Iranian proxy may yet prove a turning point.
Since you're here …
… we have a small favour to ask. More people are reading the Guardian than ever but advertising revenues across the media are falling fast. And unlike many news organisations, we haven't put up a paywall – we want to keep our journalism as open as we can. So you can see why we need to ask for your help. The Guardian's independent, investigative journalism takes a lot of time, money and hard work to produce. But we do it because we believe our perspective matters – because it might well be your perspective, too.
I appreciate there not being a paywall: it is more democratic for the media to be available for all and not a commodity to be purchased by a few. I'm happy to make a contribution so others with less means still have access to information. Thomasine, Sweden
If everyone who reads our reporting, who likes it, helps fund it, our future would be much more secure. For as little as £1, you can support the Guardian – and it only takes a minute. Thank you.