Here is a look at 5 key talking points from last night's game, as Brazil overcame Germany with some scintillating football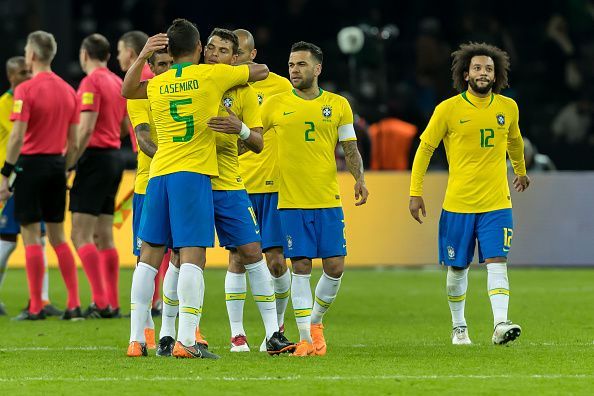 Fresh from the humiliation of a 7-1 thrashing at home in the semifinals of the 2014 World Cup, Brazil were welcomed by Germany for an international friendly – One that wasn't as significant as that game, but still meant the world to both sides.
While Germany entered this game on the back of a 1-1 draw against the lads from Spain, Brazil had just beaten hosts-to-be Russia in an emphatic 3-0 win, and were visibly brimming with confidence despite the absence of their talismanic superstar, Neymar.
Gabriel Jesus was blessed with a spot in the starting 11 ahead of Liverpool's in-form Roberto Firmino, and he sure didn't disappoint. He opened the scoring in the 37th minute, nodding his way past a flat-footed Kevin Trapp to give the visitors the eventual winner.
Germany didn't quite look to be in a position to cause Brazil any concerns last night, and the Selecao made the most of it as they picked up an inconsequential, yet spirit-lifting win over the defending world champions.
Without further ado, here is a look at 5 talking points from last night's clash at the Olympiastadion in Berlin:
#5 Tite is bound to relish a selection headache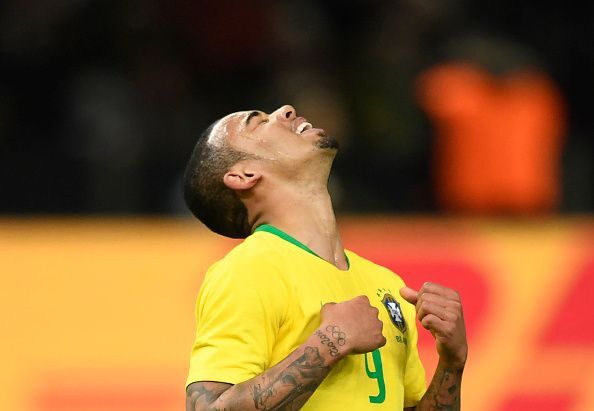 With a plethora of attacking options to choose from, Brazil's coach, Tite, was always going to suffer from relentless selection-related migraines. Last night, he coped with it by favouring Manchester City's Gabriel Jesus over Liverpool's Roberto Firmino.
Neymar's absence may have reduced his the burden, but Jesus' performance certainly didn't. When you're picked ahead of someone who's enjoying their best season, you're expected to perform, and perform Jesus did.
Considering that Firmino has scored 23 goals in all competitions this season, the battle for the striker's slot was always going to be intense. Now, though, Tite could well consider playing both strikers alongside each other, simply because it would be a shame if he left either out.
Firmino has shown us, time and again this season, that he's the kind of player who lets his team-mates play off of him. Why not allow the likes of Jesus, Neymar, Coutinho and Willian piggyback on Firmino's efforts? It has been effective for Liverpool. Surely it can effective for Brazil as well.
With both strikers putting in consistently admirable performances, Tite will have quite a job to do if he's looking to pick between them.
#4 Kevin Trapp fails to make a case for himself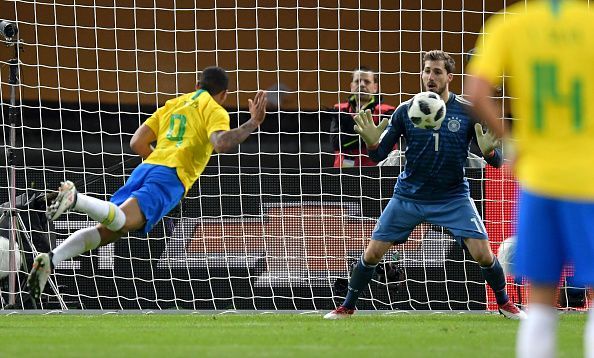 Manuel Neuer, Marc-Andre ter Stegen, and Bernd Leno. 3 fabulous goalkeepers. 3 safe-as-a-house custodians. That's the competition Kevin Trapp faces if he's to cement a spot as Germany's goalkeeper for the upcoming FIFA World Cup.
Trapp is, perhaps, the last option when it comes to Germany's goalkeeper slot, however, manager Joachim Low decided to bestow the Paris Saint-Germain shot-stopper with an opportunity to make a case for himself last night, although it only served to highlight Trapp's chances, or lack thereof.
Despite restricting the visitors to just the solitary goal – one that was hit right at him, but he failed to stop – Trapp won't be too pleased with his own efforts. Also, with PSG out of the UEFA Champions League, Kevin Trapp is not going to have too many other opportunities to stake his claim, and with just about two-and-a-half months to go before the World Cup, Trapp could very well begin to bid farewell to his World Cup dreams.
#3 Brazil's high press foils Germany's plans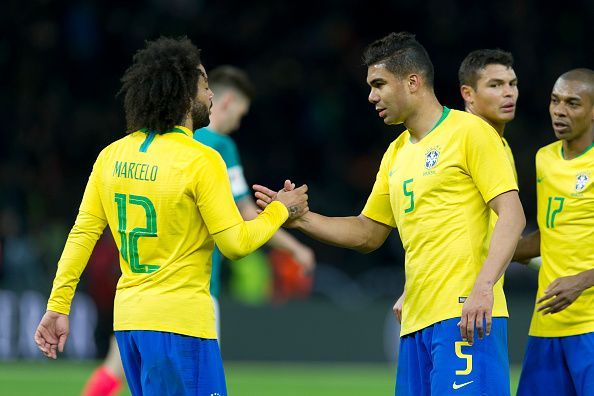 Joachim Low's German side started the match with a clear-cut agenda – to play from the back. However, little did he know that Tite's Brazil were perfectly suited to foil it. The Brazilians pressed high up the pitch in a bid to constantly win the ball early, and Germany could do little about it.
Despite maintaining nearly 58% possession of the ball, the order to Germany's play was incessantly disturbed by the men in yellow, who refused to allow Die Mannschaft to get into the required rhythm.
Astonishingly, Germany even created more chances than their opponents, with a total of 13 shots, as compared to Brazil's 10. Which brings us to…
#2 Germany will rue missed chances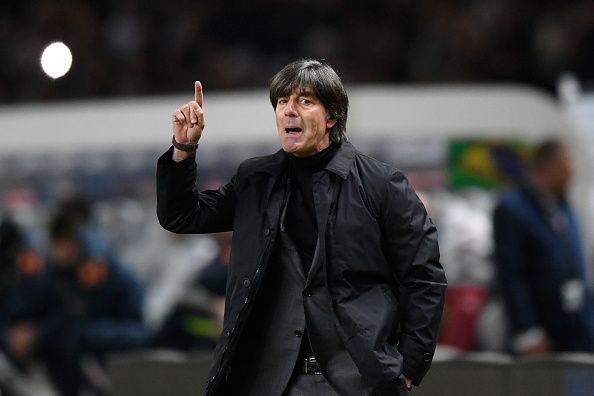 Bereft of the services of Mesut Ozil and Thomas Muller, Germany were unquestionably weakened in the attacking department. However, the true problem lay not in creating chances, but in finishing them.
As mentioned in the previous slide, Die Mannschaft created chances aplenty and mustered an impressive total of 13 shots. The cause for concern, though, is that not one found the back of the net.
Of the 13 shots, an abysmal grand total of 1 was on target – and that's undeniably a problem when your attack constitutes the likes of Leroy Sane, Julian Draxler, Mario Gomez, Leon Goretzka, Sandro Wagner and Timo Werner, who featured with a cameo.
Joachim Low will definitely need to address the issue on hand before the next set of international friendlies in June, just a fortnight or so before the razzmatazz of the World Cup takes over.
#1 Do Brazil become clear World Cup favourites if you Add Neymar to the equation?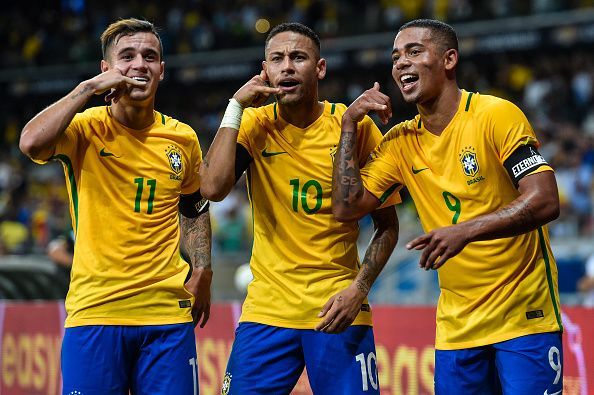 Yes, last night's game was just an international friendly. Yes, it was one that meant nothing in the grand scheme of things. Yes, it doesn't necessarily reflect either side's chances at the World Cup.
Regardless, it involved Brazil and Germany – Two of the most widely supported footballing sides in the world, two superpowers, two World Cup favourites, and it was always going to be exciting to see how they were shaping up for world football's greatest event.
The final scoreline may not paint the brightest picture, but Brazil were certainly the better side, especially in the second half, as the Selecao dazzled the Germans with some top-notch football.
Which makes you wonder – They just beat Germany, and they looked comfortable doing it. Now, if they can do that in the absence of Neymar, their best player – You know you'd be lying if you said he isn't – the mere thought of the kind of carnage that we can expect to see once the world's most expensive footballer returns, sends shivers down spines.
Add Neymar to the mix, and who could possibly stop them? Are the Selecao destined to lift the most coveted trophy in world football, come July?