Breaking News: China could be excluded from peace talks after Donald Trump-Kim Jong-un summit, analysts say
Beijing's policy on North Korea could see it left out of negotiations, according to observers
Beijing should be involved in talks for a peace treaty to officially end the Korean war, according to Chinese analysts, who say there is a chance it could be left out of the negotiations following a summit between US President Donald Trump and North Korean leader Kim Jong-un.
Trump on Saturday said his meeting with Kim could happen "over the next three or four weeks". Pyongyang meanwhile offered its first major concession on Sunday, saying it would close down its Punggye-ri nuclear test site in May, and invite experts and journalists to witness it, according to the South Korean president's office.
North Korea also plans to change its time zone so that it is the same as the South's – there is a half-hour difference at the moment.
Kim also disputed a claim by Chinese scientists that he offered to shut down the test site only because it was no longer functioning after the last nuclear test in September triggered a series of aftershocks that are believed to have caused part of the mountain to collapse, according to a spokesman for South Korean President Moon Jae-in.
"Some said we will dismantle unusable facilities, but there are two larger tunnels [in addition to] the original one and these are in very good condition as you will [see]," Kim was quoted as saying by the spokesman, Yoon Young-chan.
North Korea's Kim willing to talk to Japan 'any time', says Seoul
Chinese scientists said earlier that North Korea's mountain nuclear test site had collapsed and was beyond repair, with some concluding that this could be the reason Kim was willing to shut down the site.
Kim's comments supported an earlier report by North Korea analysis site 38 North, run by the US-Korea Institute at Johns Hopkins University, which said the Punggye-ri site was still "fully operational" as "there remain two portal areas located in more pristine competent rock that can be used for future tests if Pyongyang were to give the order".
"There is no basis to conclude that the Punggye-ri nuclear test site is no longer viable for future nuclear testing," according to 38 North.
But Chinese analysts remain sceptical that Kim is genuine about working towards denuclearisation, even though he has said the test site will be closed.
"Judging from the Panmunjom Declaration, North Korea's emphasis on 'denuclearisation' was not specifically about Pyongyang. It did not say it would completely get rid of its nuclear weapons," said Sun Xingjie, a Korean affairs expert with Jilin University. "South Korea may have over-interpreted North Korea's definition of denuclearisation."
Why Kim Jong-un may not want to meet Donald Trump in Singapore
On Friday, Kim and Moon agreed to work for "complete denuclearisation" of the Korean peninsula during the first inter-Korean summit in more than a decade, but the declaration did not include concrete steps to achieve that goal.
There was also a pledge for the two sides to work together to officially end the Korean war this year through trilateral talks with the US, or quadrilateral talks that also involved China.
China was one of the three parties that signed the armistice in 1953, along with the US and North Korea. South Korea was not a signatory.
But Zhang Liangui, a Korea specialist at the Central Party School, which trains Communist Party officials, said Beijing's policy on North Korea in recent years could see it excluded from the peace process.
"The stance of China's foreign ministry has been that [the North Korean nuclear crisis] is none of its business and that North Korea and the US should be communicating directly," Zhang said. "So now things are out of China's control and it is no surprise that it is being excluded from the discussions."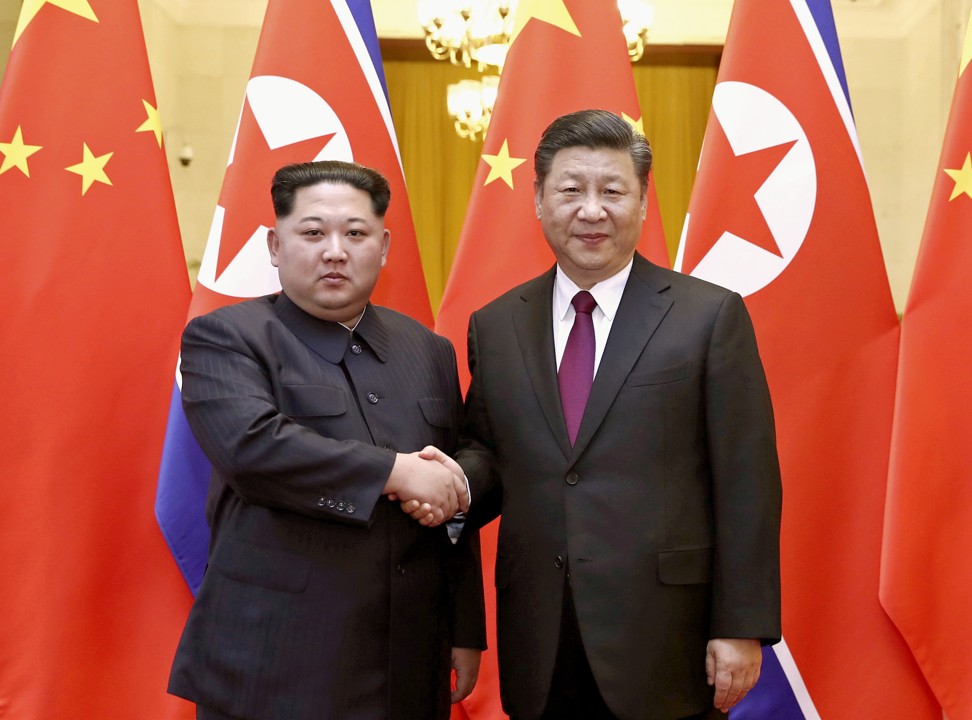 A senior diplomat in Seoul told the South China Morning Post earlier that both Koreas wanted to dilute Beijing's influence over the peninsula.
Prominent historian Shen Zhihua also warned that China's influence could be waning on Korean issues. He said in an interview with Voice of America that Beijing should not be too optimistic about the development, and that the upcoming Trump-Kim summit could see a deal struck where Washington recognises North Korea as a nuclear state in exchange for Pyongyang abandoning its medium- and long-range missiles that pose the biggest threat to the US.
South Korea preparing for summit with North Korea and US, diplomat says
Zhang, from the party school, also said there was a possibility that the US could retreat from its position of calling for complete denuclearisation.
"Now it all depends on the US' attitude," he said. "There's a chance for real denuclearisation if the US remains determined and does not consider only its own interests."
The Trump administration has demanded a "complete, verifiable, and irreversible" dismantlement of the North's nuclear programme. Trump's new national security adviser John Bolton, who is known for his hardline approach on North Korea, is pushing for the country's nuclear weapons programme to be eliminated and has rejected any incremental approach, saying it was tried by previous administrations and had not worked.
As for the peace talks, Lu Chao, director of the Border Study Institute at the Liaoning Academy of Social Sciences, said China should be included in negotiations given it was a signatory to the armistice.
"From a legal perspective, if an armistice is to turn into a peace treaty, all signatories should take part in the process – meaning China should also get a seat at the table," he said.