Chelsea lose grip in the top four race and we take a look at the talking points from the game.
Chelsea were held to a 1-1 draw by Huddersfield Town at home in the penultimate game of the 2017-18 Premier League season. A goalless first half was overturned immediately five minutes into the second half as Laurent Depoitre gave Huddersfield a shock and unlikely lead.
But it did not take Chelsea long to hit back as a fortunate deflection off Marcos Alonso's face gave the Blues their equalizer. However, a Chelsea surge following the goal until the final whistle wasn't enough as they were unable to find the second goal that resulted in them having to share the points with their opponents.
Chelsea will feel empty handed with the result as they move up to 70 points but remain stuck in fifth place whereas the draw lifts Huddersfield above Southampton on 37 points to ensure their league status for next campaign.
On that note, here is a look at the key talking points from the game:
#5 Conte's squad rotation hurts Chelsea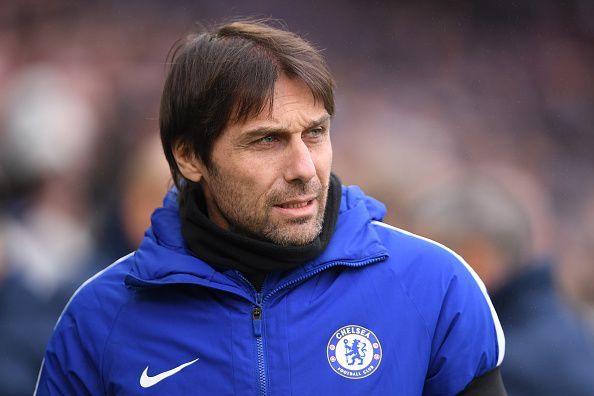 Antonio Conte decided to make six changes to his starting lineup from the 1-0 win against Liverpool on Sunday. This involved a forced changed as Willy Caballero took the place of the injured Thibaut Courtois but the rest of them involved questionable selections as Eden Hazard, Olivier Giroud, and Victor Moses were dropped to the bench.
This, in turn, had an effect on the team as Chelsea's dominance in the first half was capped off by the lack of end product. It was unnecessary for Conte to take this sort of a risk by not starting his big guns in such a huge game as it ultimately had an outcome on the result.
If Hazard and Giroud had been on the pitch from the beginning, the aftermath would have been different as goals early on would have helped the Blues to ease into the rest of the game instead of panicking and rushing towards the latter stages.
#4 Huddersfield's defense frustrates the Chelsea attack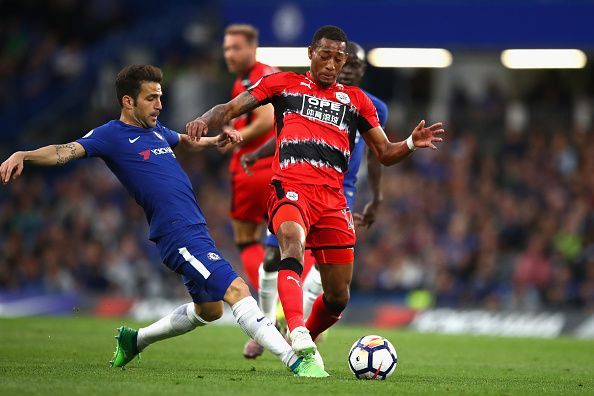 Huddersfield Town were in good spirits following a draw against Manchester City at the Etihad Stadium on Sunday. Manager David Wagner had once again set up his side with five at the back and it paid dividends.
Not only did Chelsea find it hard to break down Huddersfield's tight and narrow defensive structure, their defenders were up for the challenge they were going to face, committing very few errors in the box except the goal they conceded that found a lucky deflection from a Chelsea player.
It was a collective team performance where even the attacking players got back to help out in the final quarter of the game. The Terriers were excellent in clearing the ball out of their box and from threatening positions as they combined for an immaculate total of 62 clearances in the game with 15 of them coming from on-loan Dutch defender Terrence Kongolo.
It was a very tiring night for the entire team since each and every one of them was contributing at the back, with challenges, tackles and blocked shots flying all around. The recovery of the ball by Christopher Schindler in midfield proved to be a turning point as it let Huddersfield through on goal which was capitalized on by Laurent Depoitre.
The backline was aware, alert and focused for the entire 90 minutes, breaking up several Chelsea build-ups and attacks, accumulating for 20 interceptions that helped in restricting the home side to just a solitary goal.
#3 Chelsea prove to be woeful in front of goal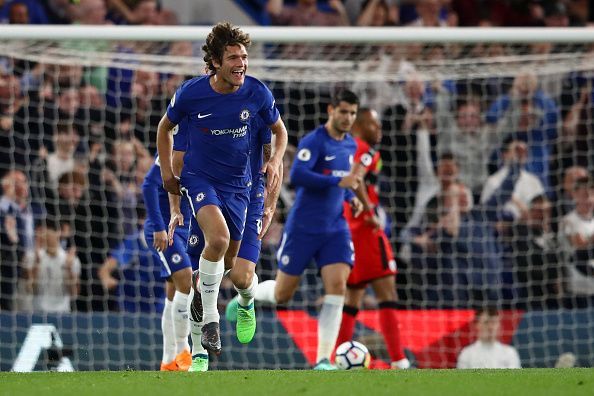 Chelsea had a total of 22 shots in the entire game but only five were on target. With that, they dominated the game with 78% ball possession but failed to make any of it count as they were dispossessed 20 times along the way.
The selection of Alvaro Morata over Olivier Giroud is definitely a questionable one and in fact, does not make any sense as the Frenchman had scored the winning goal in the weekend and was on a much better run of form than the Spaniard.
Eden Hazard also getting relegated to the bench also played a huge factor as Chelsea failed to capitalize on their momentum in the first half and it was only after the introduction of Giroud and Hazard that led to Chelsea finding some impulse en route to the equalizer.
Putting aside the team selection, the Blues had some glorious chances to go in front in the first half, especially when Antonio Rudiger squander his opportunity from two yards out as his sliding effort put the ball wide. Morata did create some decent goalscoring chances but once again his poor quality and lack of end product cost the team.
The West London club were frankly fortunate they found an equalizer as an attempted clearance from Zanka bounced off the face of Marcos Alonso and into the back of the net.
Marcos Alonso has scored 8 goals for Chelsea this season, the most of any defender in Europe's top 5 leagues in 2017-18 (all comps)
#2 Huddersfield capitalize on their opportunity and beat the drop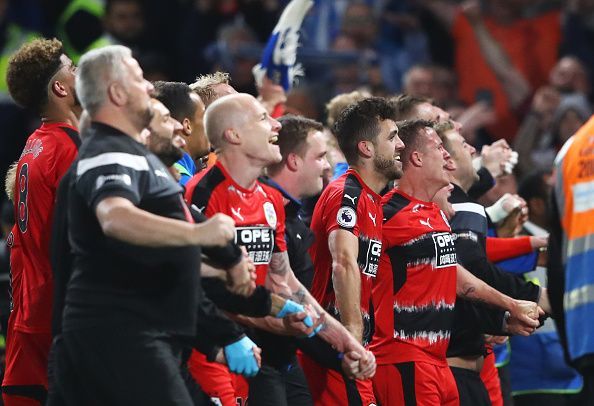 Two draws in back to back games has assured Huddersfield Town of Premier League football for next season. The point against Chelsea at Stamford Bridge has moved them above Southampton on to 37 points and they are now four clear of third-bottom side Swansea City.
It has been a very topsy-turvy season for the Terriers, which has taken shape of a declining graph. They had started the season brightly but come the new year their form had dipped as they had become vulnerable.
They started losing at home as well since teams had understood their set up, ultimately making them predictable. However, going into the penultimate round of the season, Huddersfield had the toughest task of any the teams languishing at the bottom since they were up against champions Manchester City and last season's winners Chelsea.
But, for the major part of their season, their defense has always been reliant and they once against came to the rescue, becoming the first away team to grab a clean sheet at the Etihad and securing a point in London.
Goalscoring has been an issue for David Wagner's men all season long as they have failed to score in 20 of their 37 Premier League games but a Laurent Depoitre goal against Chelsea couldn't have come at a better time.
Christopher Schindler won the ball in midfield, chipping it forward to the Belgian and Depoitre made no mistake on his second attempt after the ball bounced off Willy Caballero to tuck away his opportunity to put the Yorkshire club in front, as it proved to be enough in the Premier League newcomers avoiding relegation.
Huddersfield score in their 6th away game out of 19 this season. In the previous 5, they have earned at least a point
#1 Chelsea's top-four hopes hang in the balance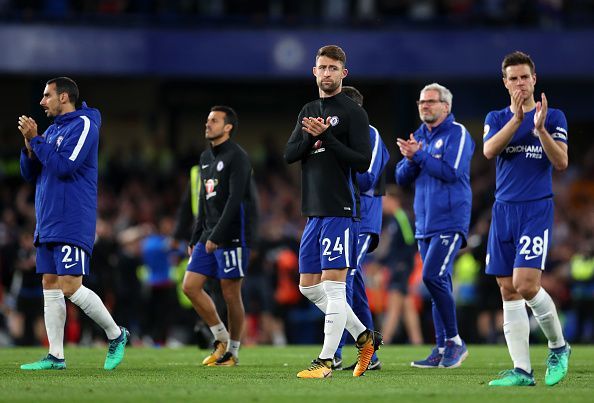 Prior to kickoff, Chelsea were on 69 points and a win would ensure them levelling Liverpool on 72 points. However, a 1-1 draw at home against a struggling and poor away side doesn't them any good as they fall back two points behind Liverpool with only one game left in the season.
The Blues have only themselves to blame as this was an ideal opportunity to claim the three points and tighten their grip on top four qualification which would help them in going head to head with the Reds on the final day of the season.
Tottenham's victory over Newcastle United as ensured them Champions League qualification and with Liverpool facing Brighton at Anfield on Sunday, things certainly seem to be against the former Premier League champions since a tough task lies ahead of them with an away trip to Newcastle against former boss Rafa Benitez.
Only a Liverpool loss and a Chelsea win on the last day of the season can salvage passage to Europe for the Blues since Jurgen Klopp's men happen to have a considerably superior goal difference. Antonio Conte's job is also on the line and it will once again come under scrutiny if he fails to deliver Champions League football for next season.