Chelsea proved to be the better team at home against the exciting Liverpool side and there's plenty to talk about.
Chelsea kept their Champions League qualification hopes alive by just about getting the better of Liverpool at Stamford Bridge. In a game that struggled to live up to its billing, Olivier Giroud's header from a Victor Moses cross proved to be the difference between the teams.
Chelsea defended deep and kept the Liverpool Fab 3 from wreaking havoc like they're so used to doing. Liverpool couldn't control the game in the midfield and often relinquished possession through their sloppiness.
At the end of the day, Chelsea were the better team and it was only fair that they came away with all 3 points. The race for the top 4 spots has become intense now as Liverpool, who have played a game extra, have 72 points and are just 3 points ahead of Chelsea. And between them are Tottenham Hotspur who have 71 points.
Without further ado, let's get to the 5 talking points from the game.
#5 Chelsea saved by their quality in the final third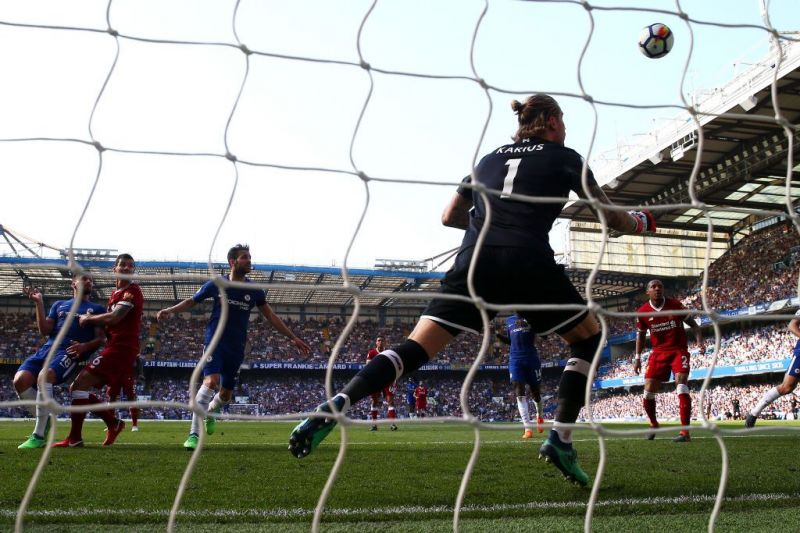 The Liverpool defence seldom shines through and through and if you can take the game to them, there's always a chance that you're gonna hit the pot. And that's really not what Chelsea looked like they were going to do in the first quarter of an hour or so.
They sat back, and at times, it was annoyingly reminiscent of their shambolic performance against the Cityzens. Liverpool had 66% possession in the first half and played 375 passes as opposed to Chelsea's 167!
Liverpool were the better team but Victor Moses was having a ball on the right flank and if you ping it into the box that invitingly, Olivier Giroud usually obliges. Even after the goal, Chelsea kept knocking at the door and though the final product was lacking, they really did push Liverpool on to the backfoot.
#4 Liverpool's glaring midfield problems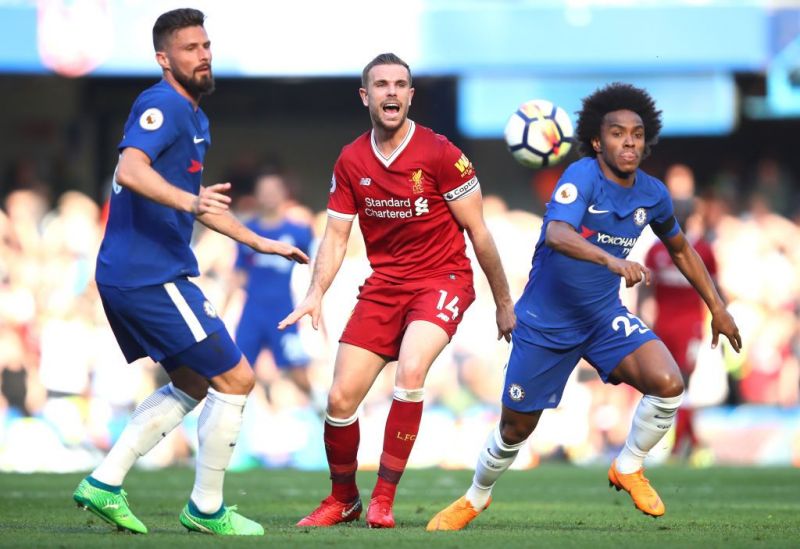 When Liverpool did get their attacks going, it was either Firmino or Mane carrying the ball out from deep inside their defensive half. Liverpool's midfield desperately misses Alex Oxlade-Chamberlain and the absence of Adam Lallana is not helping.
As a result, the Merseysiders are finding it difficult to connect defence and attack in an amicable manner and as a result of Mo Salah, in particular, was gravely starved of good service in the first half.
Liverpool had 5 shots in the first half, 4 of which were on target in the first half and almost all of them came from individual drives as opposed to scintillating build-up play.
In the second half, two of their best chances fell to Dominic Solanke whose headers were off the mark by quite some distance.
James Milner, Wijnaldum and Trent Alexander-Arnold were struggling against the likes of N'Golo Kante, Cesc Fabregas and, even, Tiemoue Bakayoko and that is saying something.
Adam Lallana is back in training but his match fitness is still suspect. One thing is for certain and that is that if Liverpool are going to bring the same game to Kiev, Modric, Kroos and Casemiro will tear them a new one.
#3 N'Golo Kante runs and runs and runs…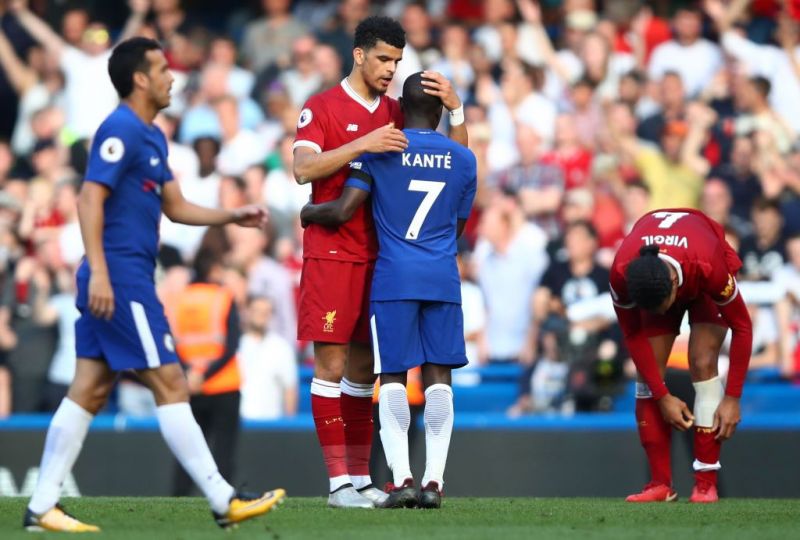 71 percent of the Earth is covered with water…and the rest is covered by N'Golo Kante. This joke fits today. N'Golo Kante put in quite a shift and his excellent reading of the game and ability to make some exceptional interceptions saw Chelsea come away with the second ball more than half a dozen times.
He was contributing in attack and tracking back just as effectively. Kante was dispossessed merely once during the length of the game.
Kante's presence in midfield stifled Liverpool's movement down the centre and the Merseysiders struggled to connect their defence and attack.
Kante pulled off a whopping 8 interceptions on the day. He made 2 successful tackles and even won the only aerial duel he took part in and was also successful with all his dribbles. This is the N'Golo Kante Chelsea will need when they take on Manchester United in the FA Cup final.
#2 Staying tight to Salah might be the only way to stop him
Chelsea defended narrowly and were happy to sit back and soak up the pressure for the greater part of the game. What they managed to do through sitting back was affording Salah little space to run into.
With the midfield underperforming, Salah was starved of quality service and even when he got on the ball, he couldn't come up with anything special as the Chelsea defenders stuck to him closely and did not let him get up to his usual tricks.
Salah has been ineffective on very few occasions this season and those have happened when a defender has been hot on his heels and giving him very little room to work with (remember Ashley Young and the pocket joke?).
However, that may not be as positive a piece of information as far as Real Madrid are concerned because we all know who plays at left back for Zizou's men. Marcelo loves to attack and that could very well mean that Salah will be given more time and space on the ball at Kiev.
But if their centre-backs can step up to the task like Cahill, Rudiger and Azpilicueta did today, they could still stop the Egyptian King.
#1 Eden Hazard waving the magic wand once again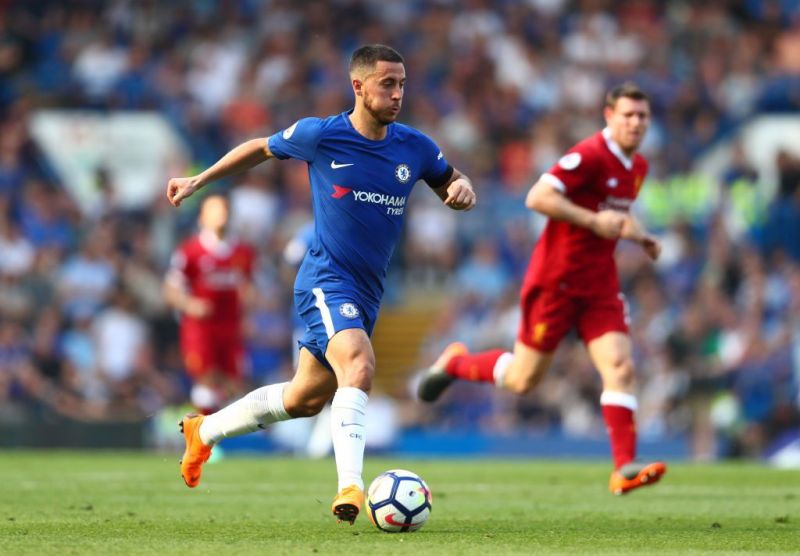 Eden Hazard walked off in the 85th minute to thunderous applause and earned it by being a menacing presence up front for Antonio Conte's men.
Hazard was immense going forward and at times, it looked like getting the ball off of him was an impossible task. At one point, he swivelled past 3 Liverpool players and leathered one towards goal and Karius just about enough to keep it out.
Hazard completed all his dribbles today. He completed 87% of his attempted passes. He created 3 chances, unleashed 2 shots and even won 2 tackles. It was a vintage Eden Hazard performance at Stamford Bridge in an all-important game.
If Hazard can replicate this against Manchester United in the FA Cup final, United's defenders are going to have quite a hard time and that may be all that Chelsea needs to tip the scales in their favour.