How 10-man Barcelona kept their unbeaten run in La Liga intact
A feisty Clasico at the Camp Nou ended 2-2 as 10-man Barcelona held on against Real Madrid to ensure their unbeaten run in La Liga remained intact. Goals from Luis Suarez and Lionel Messi gave Barcelona hope but Cristiano Ronaldo and Gareth Bale scored equalisers to ensure both teams shared the spoils.
If fans thought this was going to be a dead rubber considering the fact that Barcelona had already sealed the league title, they were in for 94 minutes of end-to-end action with some brilliant football, a lot of hostility, and nine bookings. It was El Clasico after all.
Starting Lineups
Zinedine Zidane knew Real needed a win not only because they had lost the Clasico at the Bernabeu earlier in the season but also so he could break Barca's unbeaten run. As a result, the famed trio of BBC (Bale-Benzema-Cristiano), which has not started games regularly this season, was thrown on to the pitch to get a result.
Ernesto Valverde, on the other hand, started Philippe Coutinho out on the right. Although it seemed like a 4-3-3 at first, it was more of a 4-4-2 with the Brazilian hugging the touchline for most of the game.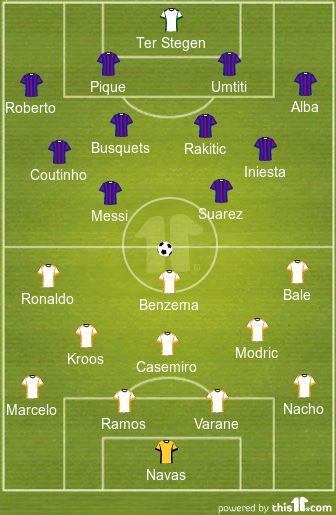 Barcelona (4-4-2): Marc Andre ter Stegen; Jordi Alba, Gerard Piqué, Samuel Umtiti, Sergi Roberto; Sergio Busquets, Ivan Rakitic, Andres Iniesta, Philippe Coutinho; Luis Suárez, Lionel Messi.
Real Madrid (4-3-3): Keylor Navas; Marcelo, Sergio Ramos, Raphael Varane, Nacho Fernandez; Casemiro, Toni Kroos, Luka Modric; Gareth Bale, Cristiano Ronaldo, Karim Benzema.
Barcelona's press causes Real problems early on
Right from kickoff, Barcelona had just one strategy – press Real Madrid when they had possession. Relentlessly.
This is a new Barcelona side that does not thrive on possession. They thrive on transitions and winning the ball back is how they kickstart their attacks in the opponent's half.
Real simply could not string passes together as Barcelona made it difficult by blocking passing lanes, effectively directing Real to pass the ball where Barca wanted to so they could win it back.
Barca full-backs peg back Real
Both full-backs Jordi Alba and Sergi Roberto played so far up the pitch that Real simply did not have wide men to switch play or stretch Barcelona. Roberto, especially, was able to move with the ball upfield and even completed the most dribbles in the game (3) despite only playing 45 minutes.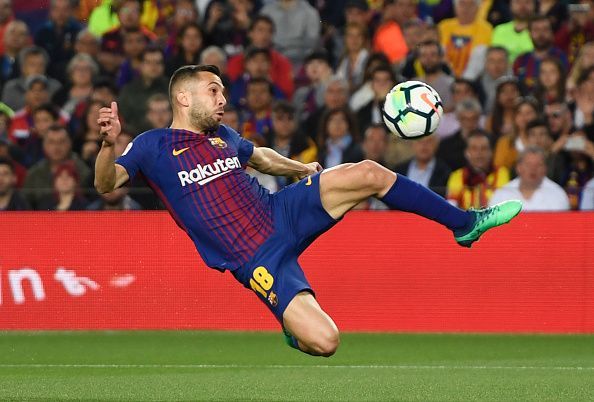 Nacho, who replaced Dani Carvajal in the starting lineup, is mainly a central defender and not a regular right-back while Marcelo was pegged back by Roberto's runs. Nacho also had to tread carefully after going into the book in just the 12th minute.
Apart from his yellow card, Nacho's lack of attacking impetus was also one of the reasons why he was later substituted for Lucas Vazquez who was able to offer Real a wide outlet in attack.
Roberto's run into space left behind by Marcelo was what created the first goal as he swung in his cross to the far post where Suarez demanded it and the Uruguayan only had to time his side-footed volley right to open the scoring.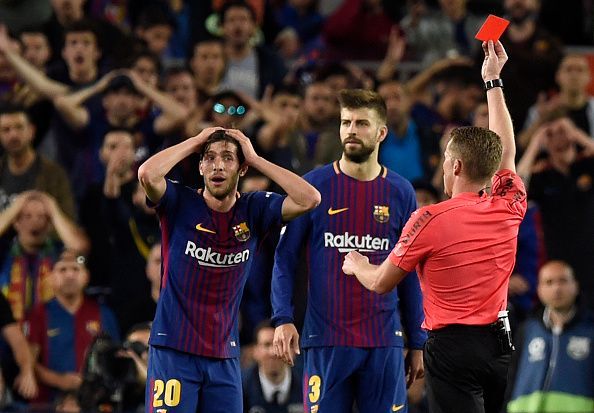 Barcelona's strategy could have worked wonders had Valverde had the chance to stick to his plan. Unfortunately, Roberto was not wise enough to avoid Marcelo instigating a response and saw a straight red card for his angry reaction to the Brazilian barging into him off the ball.
Bale and Coutinho in unorthodox roles
This was Philippe Coutinho's first Clasico since his January move to Barcelona and sadly he was unable to make much of an impact in the 45 minutes he was on the pitch. Apart from initiating the counter-attack that saw Luis Suarez score the opening goal, Coutinho saw little of the ball in attack.
In fact, he was tasked with closing down his compatriot Marcelo out on the flank. The Brazilian midfielder only completed 20 passes as a result.
There was just one good pass he made to Messi in the box but it was telegraphed and Keylor Navas came off his line well to snuff out that chance. He eventually had to be sacrificed so Valverde could bring on right-back Nelson Semedo to replace Roberto.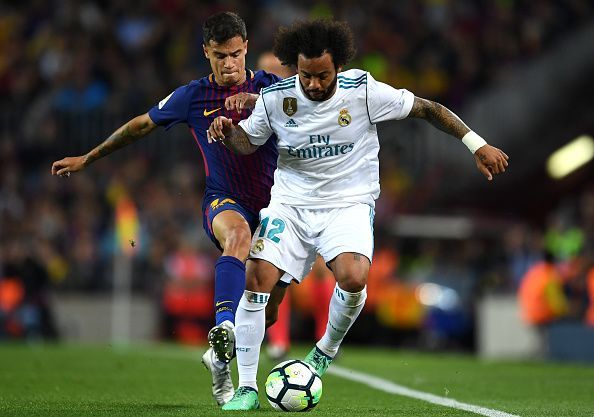 On the other flank, Gareth Bale was also asked to track back more than he would have liked and got stuck in doing the defensive work. In fact, the Welshman initially saw more of the ball on defence than he did in attack with Nacho restricted to his own half compared to the adventurous Marcelo.
It wasn't until Cristiano Ronaldo's injury and Vazquez's introduction that Bale was allowed a little more freedom to drift inward and it paid off when he scored a superb equaliser to make it 2-2.
Ronaldo and Messi make good use of space
If Suarez's goal saw the Camp Nou roar in the 10th minute, they were quickly silenced by Ronaldo's goal just five minutes later. This goal came courtesy of a fantastic move whose architect was Kroos.
His diagonal run in behind Ronaldo had allowed the Portuguese forward to backheel it to the midfielder whose cross found Benzema at the far post. Unnoticed by both Pique and Rakitic, Ronaldo quietly made his way into the six-yard box – unmarked – where Benzema's header back across goal was tapped in to make it 1-1.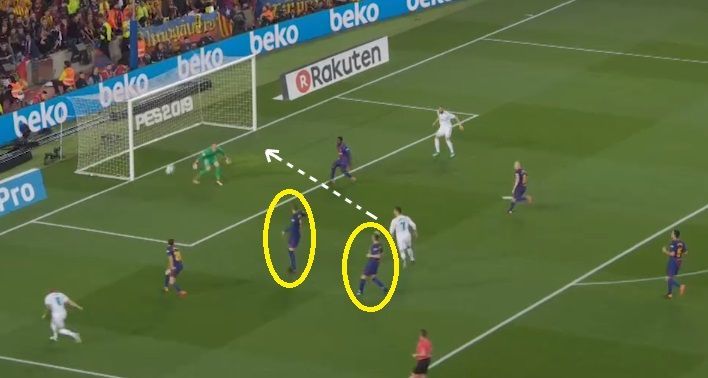 It was an important equaliser but it also came at a price as Ronaldo turned his ankle following Pique's late challenge and he had to be replaced at half-time.
Ronaldo would watch on forlornly from the bench as Messi then gave 10-man Barcelona the lead with a sublime goal. Suarez seemed to have fouled Varane in the buildup but the referee allowed play to go on and the striker soon found Messi at the edge of the box with Ramos and Casemiro in front of him.
Shrugging off a challenge from Casemiro, Messi was able to take his shot without even looking up at the target, curling the ball between the post and Navas' outstretched hand to find the back of the net.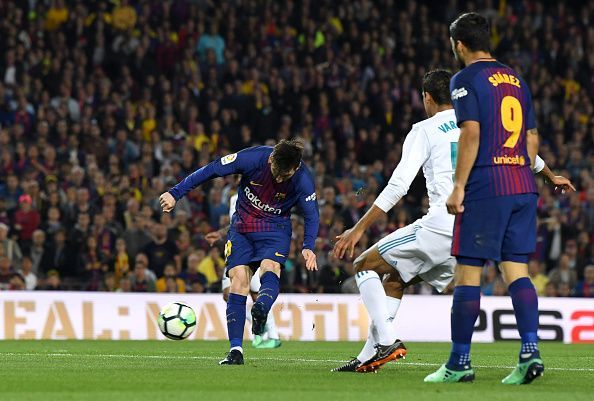 In the entire game, Messi was camped between the two lines of Real Madrid's defence and midfield (a 4-5-1 when they did not have the ball) and it was this space that allowed him to be influential in many of Barca's build-ups.
Paulinho introduced to relieve pressure
With Real on the ascendancy in the second half, Valverde was quick to substitute Iniesta (who received a standing ovation in his 38th and final Clasico) and introduce Paulinho.
The Brazilian was given instructions to carry the ball forward for a visibly tiring Barcelona side and he did manage to pull it off on a few occasions. Busquets even looked for him when they had the ball while Messi hung back, conserving his energy for runs only if Paulinho was able to break through Real's midfield trio.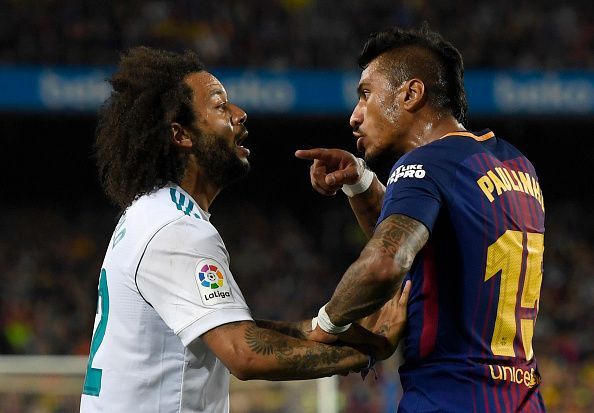 Had he received more support (Rakitic was also on his last legs towards the end of the game), he might have helped them nick another goal.
Referee blunders cost both sides
Real may feel a little hard done by referee Hernández Hernández after Alba had clearly fouled Marcelo in the box. The full-back was upended by a stray foot but the referee had allowed play to go on in the 77th minute. At 2-2, it was a game-changing decision.
However, he had also failed to book Bale for a deliberate stamp on Umtiti when chasing the ball. The French centre-back had the ball covered but Bale had been rash in his challenge, eventually stepping on Umtiti's calf – a straight red card in any other game.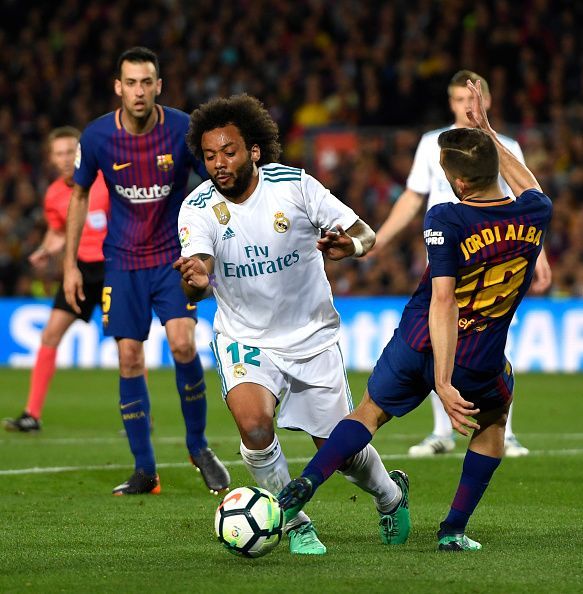 The fact that it was right in front of the linesman and did not even warrant a booking was shocking and the Welshman was eventually booked later for a foul that was not as bad as the stamp.
Nevertheless, this was an occasion for Barcelona to celebrate their league title in front of 97,939 fans (a season-high) and that is exactly what they did after the full-time whistle.