•

 Italian believes Spurs 'are ahead of us in terms of development' 
•

 Thibaut Courtois is a fitness doubt for Sunday's London derby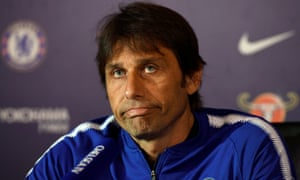 Antonio Conte believes Tottenham Hotspur are ahead of Chelsea in their development even though the Stamford Bridge club denied their London rivals in the race for last season's title.
The champions go into Sunday's derby five points behind Tottenham with both clubs left targeting a top-four finish and the FA Cup from the run-in to a draining campaign. Conte has suggested in the past that Spurs have benefited in recent years without the same levels of expectation heaped upon managers at Stamford Bridge, though he acknowledged they have made considerable progress under Mauricio Pochettino.
"I think they have started before us," he said of Spurs' development. "I am talking about my period, my era, at Chelsea. We are talking about a team who, in the last few years now, have been competing to win the title. Don't forget that, two years ago, they were very close to winning the title when Leicester won it. Last season they tried to compete with us. Don't forget that our run-in to the season was incredible. We won eight of our last 10 games, otherwise Tottenham were ready to win it.
"So for sure, now, they are ahead of us in terms of that development. But, despite this, last season we were still able to win the title and reach the final of the FA Cup. This season, we want to try to go one better in that competition."
For all Spurs' excellence under Pochettino, they are still to win a trophy under the Argentinian. "Every manager wants to win a trophy," added Conte, who has welcomed Andreas Christensen back to training after a groin complaint and will assess Thibaut Courtois's hamstring problem on Sunday. "But, if you just want to win trophies, maybe for important managers it's easier to go to another country.
"In England, if you stay here, never, never will it be easy to win trophies. To be a coach in this league is a great achievement for a manager, because the tournament is so difficult. But the club judges the work of its manager."