The Manchester Derby was full of statistics. Some were broken and others remain intact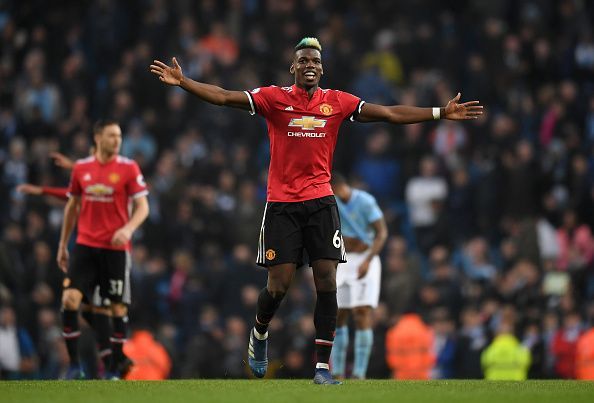 What a derby it was. Drama, excitement, brawls and comeback, this game had everything in it.
Manchester City would have loved to win the title in front of their home fans and that too against their rivals, Manchester United, but it was just not meant to be.
Jose was outplayed by Pep in every department in the first 45 minutes of the game. Being 2-0 down and with that utter performance, nobody would have predicted a win from the boys in Red.
Vincent Kompany opened the scoring for his side followed by Gundogan as City were already 2-0 up by the 30th-minute mark.
Pogba then scored for his side twice in less than 2 minutes to level the score and Chris Smalling scored the winner as United made an incredible comeback and spoiled City's plan of celebrating the title after the game.
Let us look at some of the statistics from the game.
#8 Pogba scores 2
Ever since the supposed fallout between Mourinho and Pogba, things have not gone well for the Frenchman. He has either been left out of the side or subbed off and this seemimgly affected his confidence.
However Pogba managed to find his way back into the team, and boy are United fans pleased that he did. With not the best of first half performances, the Reds needed a turnaround in the 2nd half.
Who else but Pogba to step up and deliver when it mattered most. The French international became the 1st United player, after Wayne Rooney, to score a brace against rivals City in a Premier League game since 2012.
#7 Mourinho beats Pep away from home
Jose and Pep have been rivals long before they joined the Premier League. The former managed Real Madrid meanwhile the latter managed bitter rivals Barcelona.
In a total of 21 clashes between the two, this is just the 2nd time that Mourinho has managed to beat Pep in an away game. The first dates back to 2012 where Mourinho defeated Barcelona at home for the first time in 55 games.
With this defeat, it also means that City would not go unbeaten at home in the league this season.
#6 Sanchez assists
Since his move from Arsenal to the Theater of Dreams, Sanchez has not really lived up to the expectations.
He has had some bad runs and being slated off by the English media didn't help his cause. But today was different. Just for the 2nd time in his career in the Premier League, the Chile international provided 2 assists in a single game.
Sanchez could not have asked for anything more and the timing also couldn't have been better. United fans would be hoping that this is just the beginning and there's still plenty more of it coming in the last few weeks of the season.
#5 Guardiola concedes 3+ goals in two games
The Manchester Derby being Pep's 514th game in-charge as a manager, this is just the 1st time in his career, that his side lost back-to-back games with a margin of 3+ goals (the first being earlier this week against Liverpool in the Champions League Quarter-Finals 1st leg).
While Pep would have wanted to seal the deal against rivals United, Jose had other plans. According to Chris Smalling, this is what Mourinho said in the halftime: "He said that we didn't want to be the clowns standing there watching them get their title."
It is safe to say that the halftime talk surely did the trick.
#4 City lost a 2 goal lead
There have not been many teams who have made a comeback after being 2-0 down at halftime against City.
The last team to achieve this feat was Liverpool 10 years ago. And now, it is United. Football is a game of 2 halves they say, rightly said. If you watched the derby, you would know what this means. And for those who didn't, what were you doing?
In the 1st half, City were running rampant and could have also been 3-0 or even 4-0 up. Come 2nd half, the Reds came all out and made one of the best comebacks.
From being outclassed by Pep in the beginning, to outclassing him in the final 45 minutes, Jose truely showed that football is a game of 2 halves.
#3 Pogba and Smalling never lose when they score
Pogba last scored a league goal back against Newcastle in November and then he scored twice in a space of 91 seconds. Smalling's last goal was just a month ago against Crystal Palace, where United once again made a comeback after being 2-0 down.
Just 3 more games to score and they will set a new record.
It is interesting to note that ever since joining City, Jesus had never lost a league game in which he played until today.
#2 Mourinho doesn't lose twice
Mourinho has managed Chelsea and United for a combined total of 7 years. And in those years, he has faced numerous managers. But what no one has been able to do is beat him twice in the league in the same season.
Pep looked like he would be the 1st manager to do so at halftime but Mourinho just didn't want to let that happen yet.
Will this record be broken next season?
#1 Dave saves
And all thanks to a broken fax machine!
For those who didn't watch the game (seriously what was so important) and for those who want to see that save again: