Antonio Conte has made some grave errors this season
Chelsea started this season as the defending Premier League champions. But that was only on paper. What transpired was something entirely different. After a few initial setbacks, Chelsea seemed to find their way back and even overtook Manchester United to the 2nd spot in the Premier League for a while.
But after that, they went on a downward spiral and the 'good feeling' has been severely lacking at Stamford Bridge this season.
Several times this season, it has looked like Antonio Conte and his players are equally at fault for their struggles. Even Champions League qualification is more or less out of their hands now and hinges on Liverpool messing up on the last matchday of the Premier League.
With rumours of Antonio Conte's departure growing stronger by the day, let's take a look at 5 of his worst mistakes from this season.
#5 Falling out with the board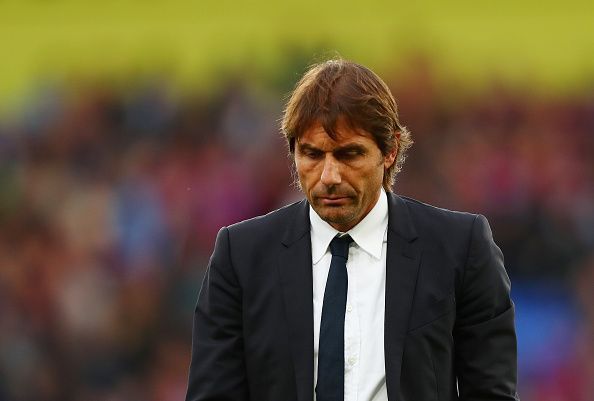 Antonio Conte could perhaps have done himself good by not being so vocal about his dissatisfaction with the board's decisions. It started last summer when he expressed dissatisfaction over the board's transfer policy.
It was a shambolic transfer window for Chelsea and especially on the last day, they had to deal with Ross Barkley, Alex Oxlade-Chamberlain and Conte's former pupil Fernando Llorente turning them down.
Even earlier, Chelsea were tipped to sign Romelu Lukaku before Manchester United hijacked that deal. However, instead of holding back and avoiding further run-ins with the board, Conte missed a trick and went on to say that the recruitment policy entirely rests with the club's executivesincluding director Marina Granovskaia.
Conte had said, "I think the club decide our transfer market. As I said before, my task is to try to improve the transfer market, from the summer, the club decides every player."
#4 Poor transfer window decisions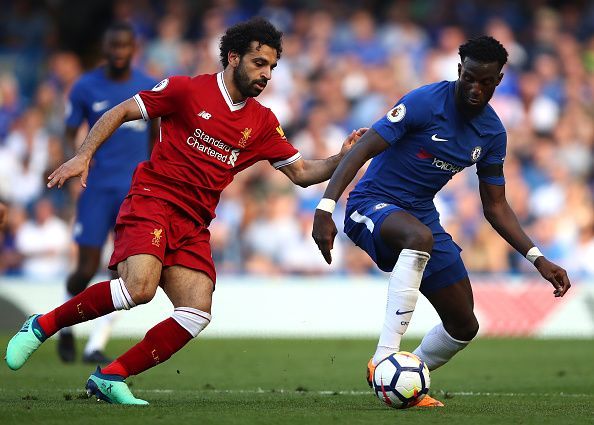 Some of Chelsea's transfer business have been baffling. Their midfield thrived last season when Matic and Kante were on sweeping duties in midfield. The duo formed a formidable partnership and contributed immensely towards Chelsea's Premier League triumph.
But in the summer transfer window of 2017, Chelsea okayed Matic's sale to Manchester United. Not only were they sending away one of the most pivotal players in the team, they were also making Manchester United, a title rival, stronger.
They bought Danny Drinkwater, Tiemoue Bakayoko and Ross Barkley to fill that void and none of them has impressed this season. Missing out on Romelu Lukaku meant that Chelsea have had to do with Alvaro Morata.
Though Morata started strongly, his form has dwindled since while Lukaku has been going from strength to strength at Old Trafford.
#3 Letting Jose Mourinho get in his head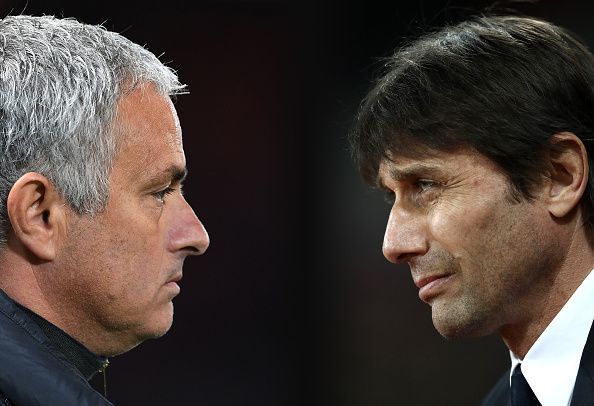 When things started getting heated between Jose Mourinho and Antonio Conte, someone should have asked the Italian to not engage the Portuguese. Jose Mourinho is the master of mind games and Conte came out of it visibly distraught.
It all started when right before the season started, Conte said he wants to avoid a 'Mourinho season' to which the Manchester United manager responded by asking Conte to take a look at himself.
After that Mourinho was ready to give it to Conte. He said he doesn't have to act like a clown at the touchline to prove his passion- this was clearly a swipe at Jose Mourinho. Conte said Mourinho has forgotten his past and also went on to call him 'demenzia senile.'
Mourinho responded in kind by saying that whatever he does, he will never be suspended for match-fixing. This pretty much proved to be the last nail in the coffin.
If that wasn't enough, Manchester United defeated Chelsea at Old Trafford in February to rub it in Conte's face. Around this time, Chelsea's fortunes took a huge hit and found themselves languishing in the 5th place on the table by the end of it. Mourinho has been able to keep his cocky, confident demeanour up but Conte has since looked flustered and devoid of conviction.
#2 Dubious team selection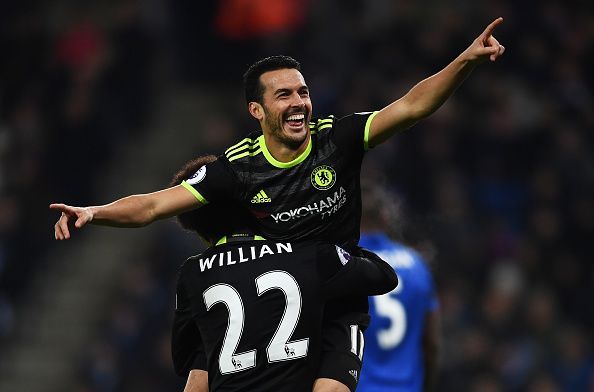 While Conte persisting with a severely underperforming Tiemoue Bakayoko received a lot of flak from the fans, that was only one of the many mistakes he committed when it comes to team selection. Gary Cahill, despite being in poor form for the greater part of the season, was used until Conte could no longer defend him.
In a team that had both Danny Drinkwater and N'Golo Kante; a pair that formed a spectacular partnership in midfield, just 2 seasons ago at Leicester in their epic title-winning campaign, was not given a proper chance at Chelsea.
There is also the Pedro-Willian situation. Pedro and Willian are both pacy players who can be devastating on the counter. Pedro can also play on both wings.
But Conte decided to choose to play only one of them on most occasions though both of them were putting in good shifts when it was asked of them. Also, Conte's decision to go with 3-5-2 for the greater part of the season after winning the Premier League with 3-4-3 is just as perplexing.
#1 Poor man management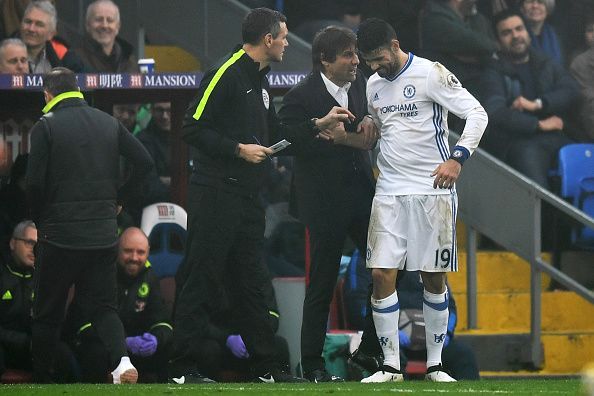 You get the feeling that Chelsea would have been at a much better place right now if they hadn't got rid of Diego Costa. Or to put it more fairly, Chelsea would have been at a much better place if Conte had not fallen out with the bullish striker. Diego Costa is not an easy customer to deal with.
But he was very influential in Chelsea's title-winning campaigns of late. Chelsea have gravely missed his prowess in front of goal this season with Alvaro Morata finding it hard to put his foot down in his first season in the Premier League.
Conte's treatment of David Luiz has also left a lot to be desired. Even Eden Hazard, after their embarrassment of a performance against Manchester City, expressed his displeasure with Chelsea,
"When you leave the pitch you have the impression that you've ran, but that you haven't played a game of football. That's a pity. We could have played on for three hours, and I wouldn't touch a ball. Only at the end it went better: in the last 10-15 minutes, we had more possession. But we should have tried to do that all game."
Hazard, when he was taken off, did not spare Conte a look. It looks like Conte could very well lose the dressing room soon if he hasn't already.