Cristiano Ronaldo is one of the world's best players, but he's also displayed some despicable behaviour in his career.
It's no secret that Cristiano Ronaldo is probably one of the best footballers on the planet right now. He continues to bag goals for Real Madrid, continues to break records, and continues to lead his teams – Real Madrid and Portugal – to plenty of victories. It's also no secret that he's a great philanthropist, donating swathes of his money to charity and doing a lot to help people in need.
So why is he still so dislikeable?
Well, there are the constant accusations of him being a selfish player, more concerned with his own glory than that of his team; the accusations of him being a flat track bully, only really effective against much lesser sides; and then the fact that he preens, poses, and generally comes off as a prima donna.
While the above criticisms may not be spot on, there's no denying that Ronaldo has done some questionable things during his career and has caused plenty of controversy along the way, making him largely disliked.
Here are five of the most cowardly things that Ronaldo has done in his career.
#1 The wink heard around the world
Going into World Cup 2006 the eyes of the world were largely on two young players; Wayne Rooney of England and Cristiano Ronaldo of Portugal. In this pre-Messi era, the two were considered the best young prospects in world football, and coincidentally both men played for the same club – Manchester United.
When England and Portugal were drawn against each other in the quarter-finals, most of the focus was on the fact that the teams had played in a classic at Euro 2004, not any sort of rivalry between the clubmates. Things got shady right away though when Ronaldo approached Rooney prior to the start of the game and pushed his forehead into the back of Rooney's head, clearly trying to get under his skin.
He wasn't content there. Midway through the second half, Rooney was involved in a tussle with Ricardo Carvalho, but it didn't appear to be anything more than the players getting tangled up. Portugal's players – mainly Ronaldo – managed to convince the referee otherwise though, and Rooney was sent off for a supposed stamp to Carvalho's groin, a controversial call to say the least.
As Rooney left the pitch, Ronaldo aimed a wink towards his team's bench, as if he'd orchestrated the entire thing. England battled on with 10 men but ended up losing in a penalty shoot-out – largely victims of Ronaldo's behaviour.
#2 Criticising his teammates
Accusations of selfish behaviour have always dogged Ronaldo and some of his on-pitch antics have contributed to this. However, he's also landed himself in hot water with both teammates and ex-teammates by using his sharp tongue.
In a 2016 interview, Ronaldo was asked whether he had a good relationship with his fellow Real players Karim Benzema and Gareth Bale. His response? A great relationship wasn't needed, as he'd succeeded at Manchester United despite never talking to Rio Ferdinand, Ryan Giggs or Paul Scholes. Quite why he felt the need to say this I'm unsure, especially as he apparently used to live next door to Ferdinand who claimed they were close friends.
His Real teammates haven't been impervious to his criticisms either. After a 2016 loss to Atletico Madrid – a game which Bale, Pepe and Marcelo missed due to injury – Ronaldo hit out at his teammates, saying that "if they were all at my level, maybe we'd be leaders" – a reference to his own impressive fitness, and a clear knock at the fitness of his teammates.
Perhaps Ronaldo had a point, but throwing his teammates under the bus in interviews can't do much good for team morale, and it's a cowardly thing to do.
#3 The time he felt 'sad' at Real Madrid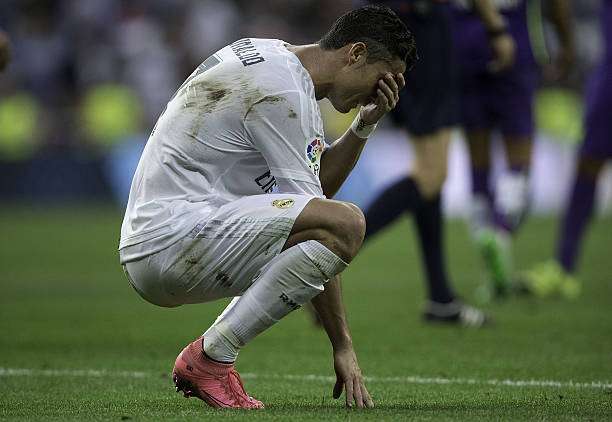 Ronaldo has been at Real Madrid since 2009 now and while there has been the odd rumour about him heading back to Man United, the idea of him leaving the Bernabeu seems crazy. He recently signed a new deal, in fact, that should keep him there until 2021.
Back in 2012 though, a weird spat with the club saw the Portuguese refuse to celebrate goals, claim that he was feeling "sad", and stated that he was "upset with people inside the club". This came after a 3-0 win over Granada that saw Ronaldo score twice. So why did this happen?
At the time, Ronaldo claimed that it wasn't about money, but the incident came shortly after a list of the highest paid players in the world was published, showing Ronaldo in 10th place behind the likes of Zlatan Ibrahimovic, Samuel Eto'o and Didier Drogba. In particular – so the rumour went – Ronaldo was furious that he was only earning the same money at Real as Kaka.
In the end, though, the issue was settled – about a year later Ronaldo inked a new contract making him the highest paid player in the world at the time. Worth the money? Probably, but the questionable way of forcing Real's hand was definitely a cowardly move.
#4 Changing Portugal's penalty order at Euro 2012
After falling to defeat at the hands of Spain in the second round of World Cup 2010, Portugal were again faced with their neighbours in the semi-finals of Euro 2012 and this was Ronaldo's big chance for revenge.
Despite Portugal largely bossing the game though, both normal time and extra time ended at 0-0, meaning a penalty shoot-out would be needed to separate the sides. Spain started off badly when Xabi Alonso missed the first spot-kick, but the rest of his teammates scored, while Portugal's Joao Moutinho and Bruno Alves both missed. It meant Spain won the shootout 4-2 and Ronaldo – Portugal's fifth penalty taker – wasn't even needed.
So what went wrong? Essentially, Portugal's penalty order went badly awry. After Moutinho missed and Pepe scored for Portugal, Alves stepped up to take the third penalty. Suddenly though Nani sprinted down the pitch and after some discussion, sent Alves back, taking the third penalty himself. Nani scored but Alves was clearly unnerved and ended up missing the decisive kick.
The word was that Ronaldo had changed the planned order to make sure he'd take the fifth – and what he thought was likely to be the decisive kick, looking to claim the glory. If this was the case then it's perhaps his most cowardly moment ever, although he did somewhat make up for it with his Euro 2016 performances.
#5 His rant against Iceland
When Portugal were drawn in a group with minnows Iceland, Hungary and Austria at Euro 2016, it looked like easy pickings for Ronaldo and his boys, who had far more tournament experience and far more world-class players than any of their opponents.
Iceland, making their tournament debut, were supposed to be the whipping boys of the group. It all looked like it was going to plan early on when Nani scored for Portugal early on, but Iceland proved to be a tougher nut to crack than was expected, and when Birkir Bjarnason headed in an equaliser, Portugal and Ronaldo were unable to break them down.
The game finished 1-1, but unsurprisingly, Iceland's players celebrated like they'd won, which didn't sit right with an angry Ronaldo, who refused to shake hands with the Icelanders post-game and stormed off to the dressing room. In a post-match interview he criticised the Scandinavians for having a "small mentality", claimed they didn't try to win the game and that they would go on to no success in the tournament.
While he had a point about Iceland's defensive gameplan, Ronaldo came across as bitter and petty with his rant, earning himself no new fans. It was hard to see one of the world's best players behave so childishly, but then judging by his previous it should've been expected.