Here are 5 aspects in which Leo Messi outshines Cristiano Ronaldo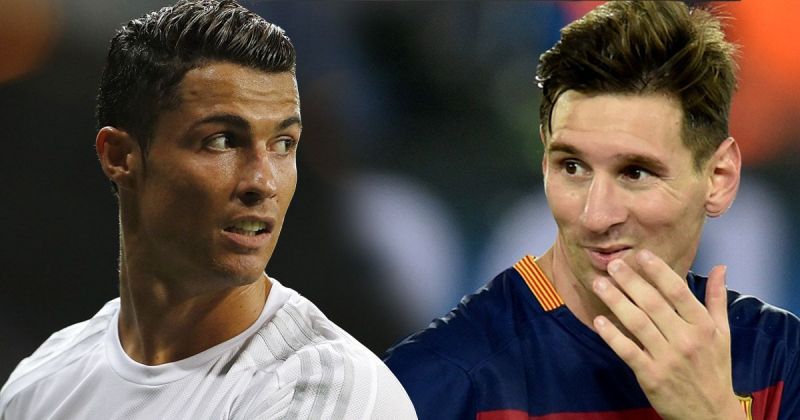 Its the nature of men to compare the best against each other. There can never be two kings allowed to rule a land. And therefore, Lionel Messi and Cristiano Ronaldo will always find themselves pitted against each other, in spite of sharing a neutral relationship off the pitch.
They might acknowledge respect for each other, but when it comes to the pitch, the battle will always be there, whether the duo like it or not.
It's almost as if comparing Lionel Messi and Cristiano Ronaldo has become a daily routine for football fans around the globe. And, since Ronaldo put an end to Messi's domination at the top by winning the Ballon d'Or in 2013, the debates have heated up to another level.
For the last two years, Ronaldo has undisputedly bettered his Argentine counterpart. Yet, there are some striking points in Lionel Messi that are pretty much hard to ignore. While measuring them, it is clearly visible how Lionel Messi ousts Cristiano Ronaldo in certain areas of the game.
Let's jot down five such spheres where the Argentine emerges out as the better of the two most often than not:
#5 Tactical flexibility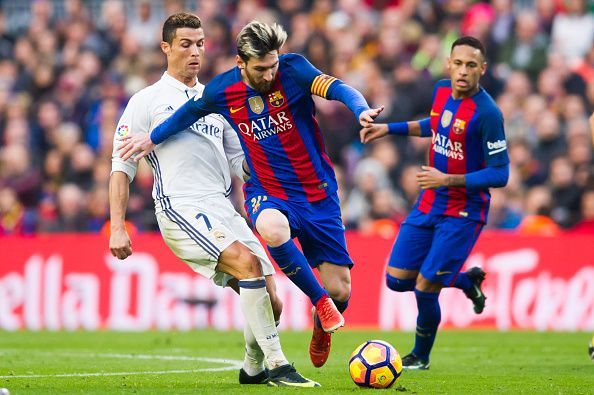 This is an important point to bring under the spotlight. These days, the football world has gone berserk over Cristiano Ronaldo's sudden loss of form. The mighty number 7 has netted only once in 48 attempts and has a conversion rate of 2.08%.
A lot of experts have deemed his positional change as the reason for his failure. Usually deployed on the left, Ronaldo is used to arriving in the penalty box and scoring goals.
However, a lack of good striking options has compelled Zidane to use the Portuguese marksman as the main spearhead in the front three, after benching Karim Benzema. Needless to say, the Frenchman's decision has backfired horribly.
Let's take an example from history. Sir Alex Ferguson used Ronaldo in the middle of a front three when United faced Barcelona in the UEFA Champions League 2009 finals in Rome. The Portuguese international found it pretty hard to fulfil the expectations as he missed some good scoring chances in the 2-0 loss.
Now, let's turn to Lionel Messi. Barcelona signed Luis Suarez in 2014 and he was asked to play as the middleman in a front three consisting of himself, Neymar and Messi. While Messi shifted out wide, the positional change brought no harm to his goalscoring rate.
In the three years of the MSN era, the Barca forward was rampant as usual, netting a whopping 153 goals and grabbing 67 assists in the process.
So, considering the stats, it is crystal clear that Lionel Messi's tactical flexibility is much more beneficial compared to that of Cristiano Ronaldo, because of which, Messi seemingly fits into any position like a glove, while the same can't be said about Ronaldo.
#4 Winning collective trophies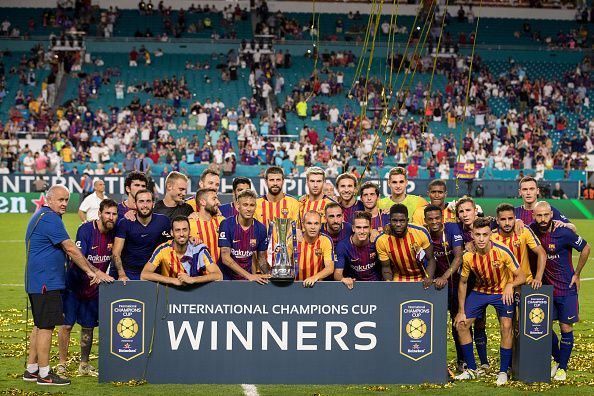 Currently, Cristiano Ronaldo is leading the individual trophy charts ahead of Lionel Messi. However, when we compare their exploits and contributions regarding team honours, Messi outshines his archrival.
Since the start of his illustrious career, the Barcelona marksman has won 30 trophies with Barcelona, in contrast to Cristiano Ronaldo's 26 with all clubs.
Teamplay is the main factor that contributes to Messi's exploits in this region. Even though he has a mammoth goal tally under his belt, the Argentine has never shown a tinge of selfishness during games. He always looks out for options that are crucial for the betterment of the team.
Notably, Messi has won the treble twice in his career, in 2009 and 2015 respectively, which is something Ronaldo has never done.
Much unlike him, Cristiano Ronaldo has always been criticized for a selfish attitude, with his teammates themselves amongst his critics. The Portuguese sensation could really learn by taking a leaf out of Messi's book on how to be a better team player.
#3 Assists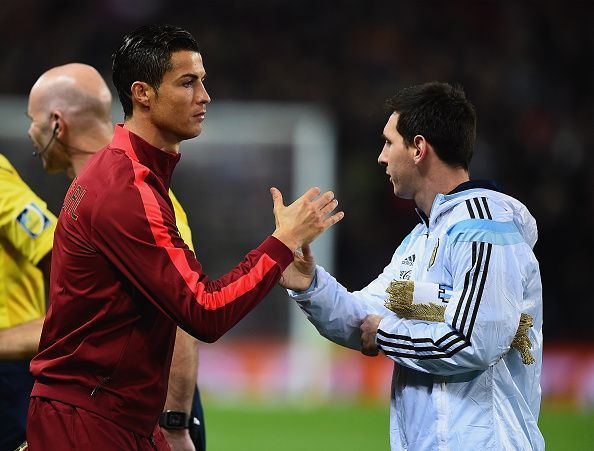 As much as he scores goals, the diminutive number 10 is equally prolific when it comes to creating chances for his teammates to score. Messi holds the record for highest number of assists in the La Liga (116), shadowing Cristiano Ronaldo's tally of 82 assists.
Even when the two are pitted against each other in terms of the overall assists tallies of their careers, Messi again emerges on top as the better of the two. The Argentinian has amassed a total of 237 assists in comparison to Ronaldo's 207.
A large credit of these incredible numbers goes to Messi's immaculate ability in finding his teammates. Whenever the Argentine drops deeper to play a false nine role, he becomes prone to a number of opportunities of assisting his teammates. This might be a plus point in his gameplay.
Ronaldo, on the other hand, is expected to grab more assists than Messi, owing to the position he plays in. Operating out wide on the left, the Real Madrid talisman cuts inside and gets converted as a second striker who finds the back of the net more often than usual.
However, that technique has certainly cost Ronaldo a number of assists, as he prefers going into the penalty box, rather than making crosses from his position.
Hence it is clear that Leo Messi is much more prolific in contrast to Cristiano Ronaldo, when it comes to assisting.
#2 Dribbling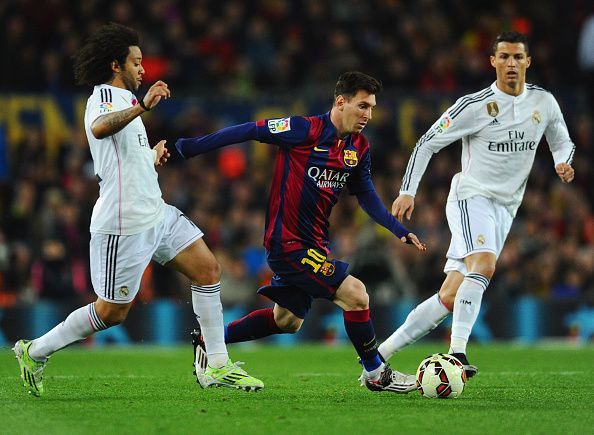 Hands down, even Ronaldo fans would agree to this. There's no player who can match the Argentine demigod's escapades when it comes to his ability to bulldoze past the tightest of defences with just pace and immaculate touches on the ball.
It's Messi's dribbling skills that inspires awe in anyone that watches him. Also, you can note a stark difference in their styles of play. In the time Ronaldo beats one defender with his step-overs and various other skills, Messi will already move past three or four of them with just his pace and ball control to rely on.
Since the 2009-10 season, Messi has made an average of 7.6 dribbles per game, 4.5 of which have been successful. The Real Madrid talisman falls miles behind him in this area. He has racked an average of 3.6 dribbles per game, with only 1.8 coming to fruition.
Also, Lionel Messi has a plethora of solo goals under his belt in comparison to the Real Madrid talisman. All that is down to his simple, yet magical dribbling.
#1 Goalscoring rate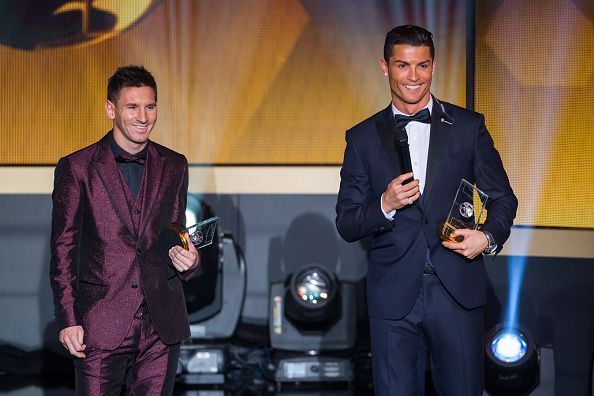 Football is all about scoring goals and the Barca forward has been born to do just that. Of course, Cristiano Ronaldo has scored a lot more goals as compared to Leo Messi, but the Argentine has a better goalscoring rate than his arch-rival.
Albeit Messi started his professional career a year after Cristiano Ronaldo did, he has maintained a goalscoring rate of 0.81 goals per game as compared to Ronaldo's 0.70.
When the statistics of their best seasons are pitted against each other, Leo Messi once again trumps the 32-year-old, proving why he is a shade more skilful as a goalscorer.
Ronaldo's best season came in 2014-15, in which he netted a total of 61 goals in 54 appearances. Messi, on the other hand, grabbed 73 goals in 60 matches in the 2011-12 season. The Argentine achieved an average of 1.19 goals per game ahead of Ronaldo's 1.10.
Shouldn't these numbers clear the air on who the more efficient goal-scorer is?