The tactical tweaks Pep Guardiola has made to pretty much redefine football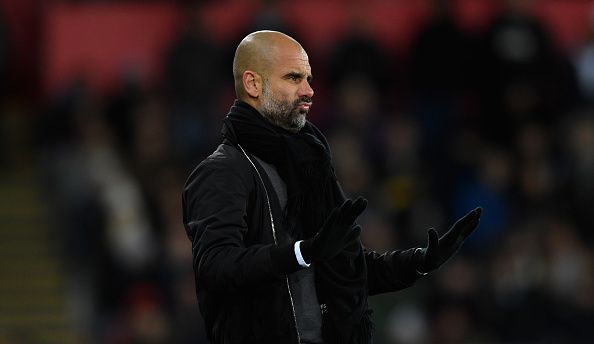 Pep Guardiola has enthralled quite a few with his tactics since 2008 when he first started with Barcelona. After winning absolutely everything with his hometown club, Guardiola wanted to test himself outside his comfort zone, he wanted to see whether his ideas could work outside Spain or not.
The second club came knocking, a German giant in the name of Bayern Munich. For Pep, coaching his style of play in a tough and resilient country such as Germany is a once in a lifetime opportunity. Under his tutelage, Bayern broke records for a hobby and dazzled the world with their attacking display and intricate passing.
After Germany, Pep had a debt to repay to his old friends, City's directors Txiki Begiristain and Ferran Soriano, for giving him the chance to coach Barcelona back in 2008. What followed caused waves of excitement in Manchester. Guardiola was announced as Manchester City's new head coach in what was considered as the strongest statement of intent from the club's owners.
The Spaniard's reign with each club saw a tactical change. He always wanted to surprise opponents with a tactical tweak that not only would bring a couple of wins, but that can bring a couple of titles.
We take a look at 5 tactical tweaks that he used during his coaching career that led him to footballing glory:
#5 Lane-oriented press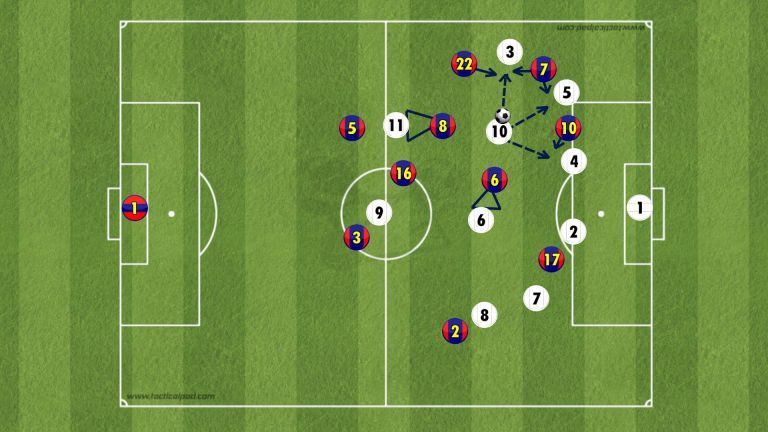 With Barcelona, Guardiola immediately raised the intensity of training sessions, demanding the absolute maximum from all players; from stars to youngsters. He demanded that the team chase the ball like a pack of wolves whenever they lost it. The reasoning behind that is the weak defensive abilities that Barcelona has compared to its footballing philosophy that is based on retaining the ball.
Pressing comes different forms, whether it is man-oriented, space-oriented, or passing-lane-oriented press. Guardiola opted for the third, but how is it applied?
As seen in the image, the ball-carrier was rarely pressed. Instead, his options became extremely limited to one or two due to the aggressive press that the Catalans embarked on. Pep's players aim to close down passing lanes with their cover shadow and consequently close down the ball-carrier. This leads to a long ball being played that would be easily recouped by Barcelona's back-line.
#4 The false nine role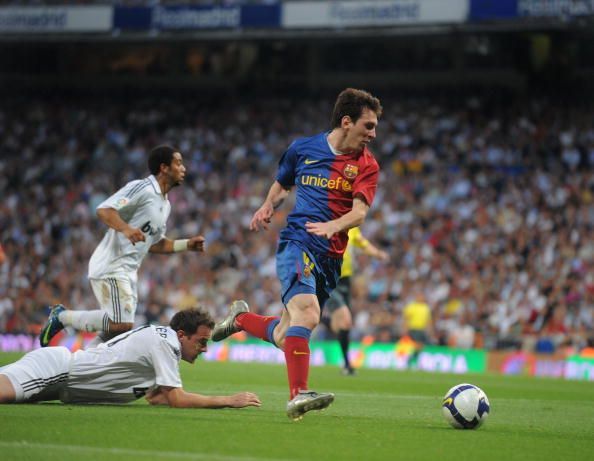 The most famous of them all. Pep has the ability to get the best out of his players in terms of specific positions and roles on the pitch. In other words, he provides the most suitable platform for each player to shine and thrive.
Prior to the Clasico in 2009 at Bernabeu, Pep saw a major weakness in Real Madrid's positional organisation. The midfield line pushes up with the attack to press, but the defence line stays back in their own box, the result? A huge gap between the lines waiting to be exploited. And who exploits it better then Lionel Messi? That's what Pep was thinking, and that's what he implemented. Barcelona went on to win every trophy (6 titles) possible in a calendar year.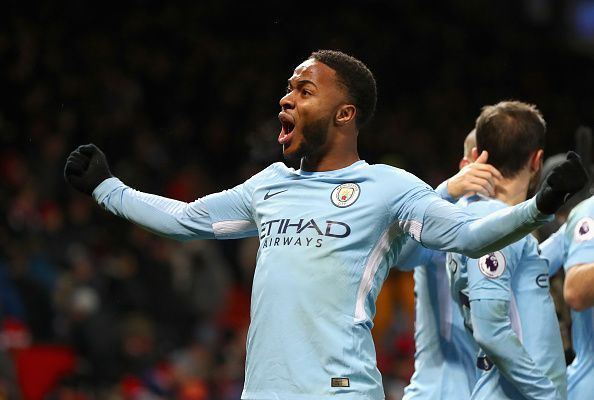 What's even more interesting is the fact that we are witnessing a similar tweak with Manchester City this season, especially after the Manchester Derby. Sterling was used by Pep as the False Nine for his agility, pace, dribbling quality, and the previous experience playing at the tip of the diamond, back when he was at Liverpool under Brendan Rodgers, has helped.
The first half of the season is coming to an end but Sterling's learning curve is expected to increase exponentially and with it, Manchester City will be the sole benefactor. Thanks to a genius on the touchline.
#3 False full-backs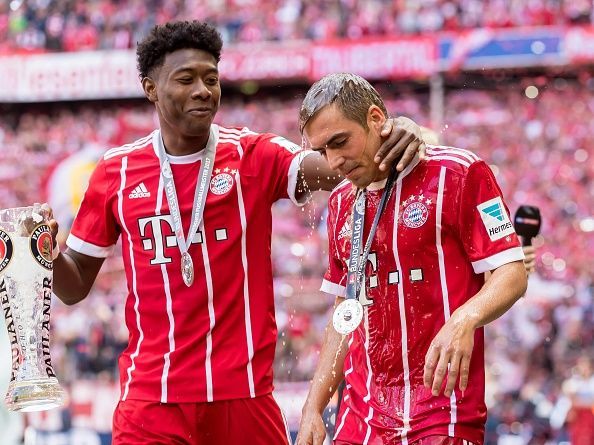 Seen sparingly with Barcelona but more commonly with Bayern Munich and Manchester City, the false full-back tactic is used by Pep for two reasons:
Better ball retention
"Safe-net" to guard against counter-attacks
At Bayern, Guardiola had Lahm and Alaba; two extremely intelligent and technically adept players who could play in the middle and pick out passes like top-notch playmakers. Consequently, he urged them to make runs into the half-spaces in coherence with Arjen Robben and Franck Ribery or Douglas Costa staying out wide to occupy the opposition full-backs. This lead to an extra passing-lane being created for both full-backs, leading to better ball possession.
The second reason is Guardiola's greatest concern; how to stop the opposition from performing counter-attacks. Especially in the German Bundesliga where most, if not all, teams depend on closing down space at the back and attacking on the break. When both full-backs tuck inside, close to the pivot, the central channels become better occupied and the chances of passes being played there are reduced. This was proved by Bayern's brilliant record of conceding only 58 goals in the Bundesliga in the span of 3 years.
With City this season, Delph is being used as the false-fullback after Benjamin Mendy was injured. Nothing seems out of shape as the Sky Blues have cruised to their 15th straight win against Swansea City on Wednesday.
#2 Grouping midfielders on one side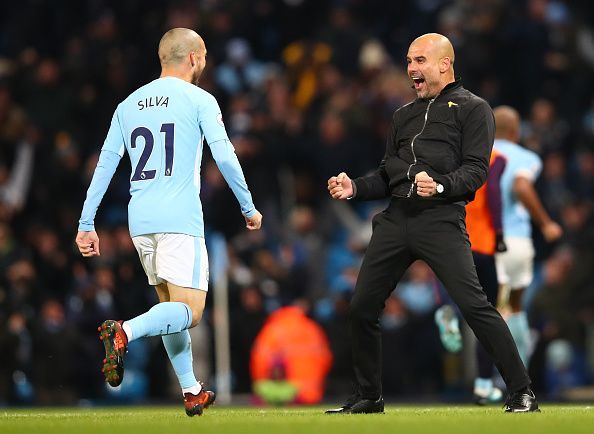 Guardiola once said that he wishes his team was made up of midfielders. That's how much he thinks of retaining the ball and being the dominant side who can to dictate play. Whenever the opposition play deep, different attacking movements are needed to take place if the team wants to win.
One of them being grouping the talented central midfielders on one side of the pitch, specifically the half-space, in order to free up the centre. To dig deeper, let's look back at an instance from the recent Manchester Derby.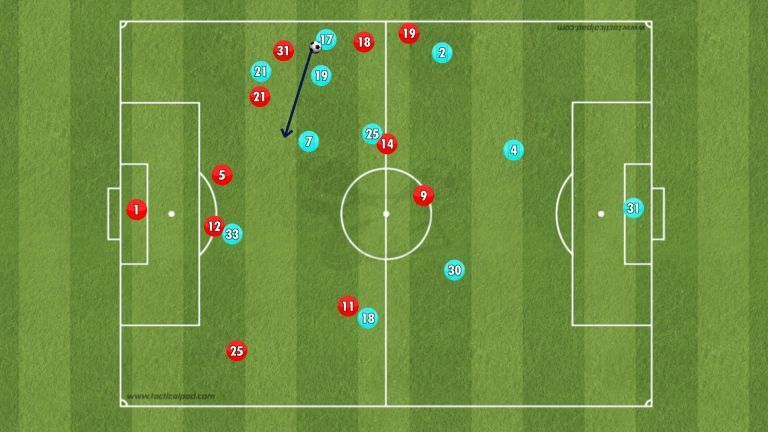 As seen above, De Bruyne and Silva are located on the right side of the pitch initiating an attack. Due to the man-marking duties of Matic and Herrera, they followed City's midfielders to the right side. This lead to central space being vacated and Sterling occupied it immediately yet without optimising it by scoring a goal.
This is an example of a tactic Guardiola used when he was with Barcelona. Iniesta and Xavi had a telepathic connection and knew how to manipulate the opposition.
#1 Sweeper keeper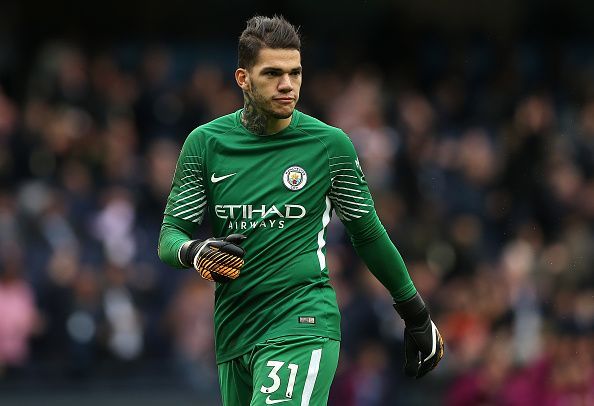 To build a team around the philosophy of positional play, all 11 players must be adept with the ball, including the goalkeeper. Before Guardiola, few managers paid attention to the importance of including the goalkeeper into possession plays, directly writing that position off as "high-risk". Few had the courage to think how their goalkeeper can act as a third centre-back and relieve the team from pressure, leading to an easier path towards the opposition's goal.
Moreover, the duties of the goalkeeper is to sweep the loose balls, hence the name 'Sweeper Keeper.' To sweep means to rush out of goal whenever a long ball beats the defence line. The goalkeeper acts as a cushion to further frustrate the opposition and provide a sense of defensive solidarity at the back even with the team playing a high defensive line, up to 40 meters away from goal. Valdes, Neuer, and Ederson are considered a perfect fit for the Sweeper Keeper profile, and that's the reason Pep believed in them so much.
Conclusion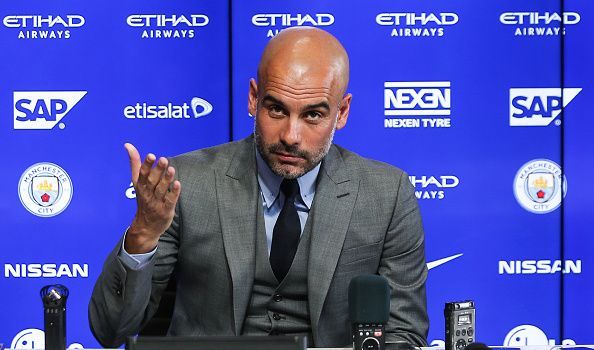 Currently, Manchester City sit atop the Premier League with 11 points difference ahead of arch-rivals Manchester United. The performance they are putting in each weekend is unbelievable, having recently achieved their 15th straight win in the toughest league of all times. Some said that Guardiola's way wouldn't work in England, where are the critics now? Some even turned into admirers.
The argument that Guardiola takes over "ready" teams are extremely false and any individual with a toddler-level football knowledge knows that. Pep changes the way a team plays when he takes over. He gives them an identity, solidarity, knowledge, and an exquisitely pleasing style of play. Just as Xabi Alonso said, "With Pep, it felt like having an MBA in Football."