Arsene Wenger no longer seems to be the man who can lead Arsenal. Here are five reasons why he has to leave after this season.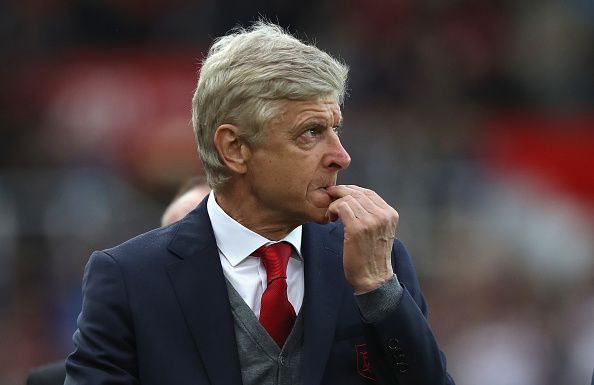 There have long been calls for Arsene Wenger to be sacked or resign from the London club after managing for over 20 years. Trophy droughts and devastating performances have become pertinent in the last couple of seasons since Arsenal last held the Premier League title in 2004.
Many other clubs such as Burnley, Tottenham Hotspur and Leicester City have caught up with the standards of Arsenal, the club now seems extremely vulnerable to defeats against teams from both ends of the table.
Despite that, the situation does not look like it is going to get any better in the near future as the players have to regain confidence in their games played at home and away from home.
Wenger should no longer be the manager who brings Arsenal to great heights. He ought to be credited for his hard work over the last two decades, but it is time for the English club to have a change and inject some novelty. Here are five reasons why Wenger has to leave after this season.
#5 Arsenal are gradually deteriorating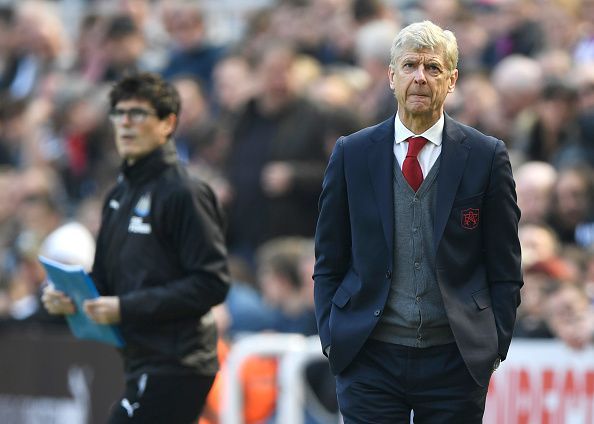 Arsenal's current season is beyond any hope or repair. The club is now in 6th place and 13 points behind North London rivals, Tottenham Hotspur, who are in 4th.
The worst case scenario an Arsenal fan would have to witness is seeing Burnley replace Arsenal and qualify for the Europa League while Arsenal would have no European action next season. Burnley have been performing consistently well under Sean Dyche and are only two points behind the Gunners.
Regardless of the where Arsenal stand at the end of the season, it is certainly Wenger's worst finishing in his managerial career in England. Last season, he failed to bring the Gunners to a top-four finish and his team was thrown out of Champions League action. This season, the hopes of qualifying for Champions League via Premier League seem even more far-fetched.
Other teams such as Tottenham Hotspur and Manchester United have made remarkable progress along the way. Overall, Arsenal seem to drop further and further behind the pack.
One reason why this has happened could be because of Arsene Wenger. The Gunners need a new, innovative and daring manager. Although the Frenchman did bring glory for the club in his early days, that glory and spark have now vanished. Wenger has to pack his bags and leave before it's too late.
#4 Arsene Wenger has lost his charm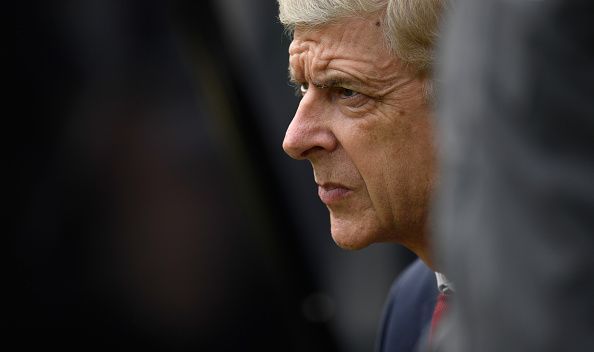 Back were the days when Wenger's men were feared throughout Premier League. They fought for every game and never went down easily without the challenge. Although Wenger remains admired by many, he is losing attractiveness around the football world.
It has always been Wenger's wish to leave Arsenal on a high note. Each season, he tries his very best to bring Arsenal to a high-flying position, but his efforts have been futile. The longer he stays, the greater the damage to his reputation.
Managers such as Pep Guardiola, Thomas Tuchel, Mauricio Pochettino and Massimiliano Allegri are some of the names that other clubs truly fear and are wary of. Rafael Benitez pulled off a tactical masterclass against Wenger, Chris Hughton brought shame to Arsenal after Brighton beat the Gunners in Premier league and many more.
If Wenger still wants to be thought of as an idol in the eyes of Arsenal fans, the French manager should resign after this season.
#3 Fans are getting impatient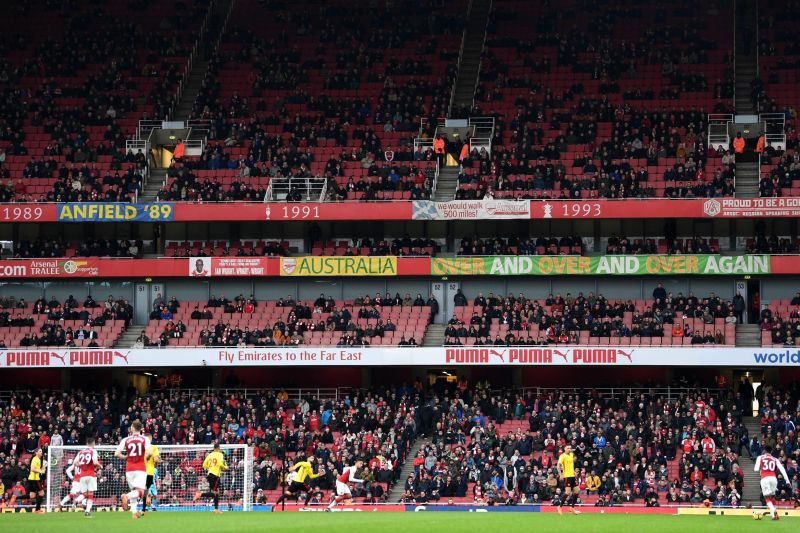 Pockets of empty seats could be seen in the Emirates Stadium in almost every home match after the Gunners fell to four consecutive defeats in all competitions. Wenger mentioned that he was worried at the sight of empty seats and hoped that the fans could get behind the players.
Things will probably not improve in the near future after Arsenal suffered an embarrassing defeat away from home to relegation promoters, Newcastle United. Fans are getting impatient with the lack of trophies and poor performances from the players.
Last season, Arsenal fans were able to comfort themselves after the Gunners had won the FA Cup Trophy. This season, Wenger's men were thrown out of the domestic competition by Nottingham Forest in the third round which effectively ended any hopes of getting a trophy.
Arsenal are due to face Atletico Madrid in the Europea League semifinals in the coming days. The tough Spanish opponents are favourites to qualify for the finals in Lyon and this adds to the fans' anger and impatience.
The pressure on Wenger to perform is getting more and more unbearable. The last thing a manager would want is to be sacked by his club, hence Wenger has to seize the moment and leave before the next season.
#2 The club is in need of restructuring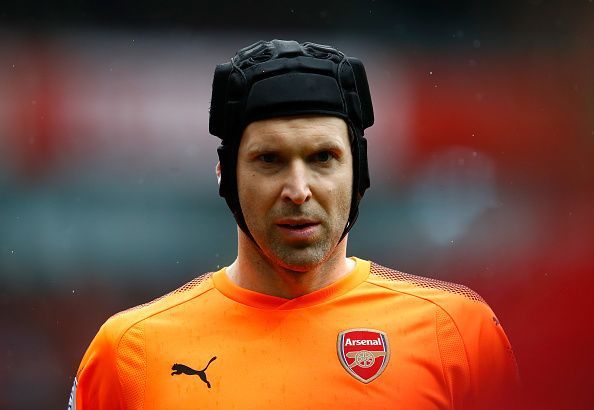 Petr Cech has massively underperformed in recent games but he is not the only one. Not too long ago, fans were criticising the purchase of Granit Xhaka, Shkodran Mustafi and Gabriel Paulista.
The first of the trio has gone on to improve his game as a midfielder while Gabriel left to join Valencia before the season began. If the plan was to not use Gabriel as a long-term replacement for Per Mertesacker or Laurent Koscielny, why did Wenger choose to buy him?
The French manager has often been criticised for being unwilling to spend too much money on players. He selects players only if he thinks their price tags suit them. Gabriel left Arsenal after a disappointing short stint and has now gone on to thrive under Valencia.
Mustafi, the other centre-back, who joined Arsenal remains one of the team's regular starter. The German's recent showings, like Cech, have been horrible and unacceptable. Their mistakes and irregular performances have cost the Gunners many points throughout the season. In this season alone, the keeper has made six errors which led to goals and conceded on 45 times, the most he has ever had.
Wenger has been unable to identify the right players that the team needs and seemed to be buying on an impulse at times. The club needs a new manager who is clear about who he wants and needs.
#1 Wenger is too nice and soft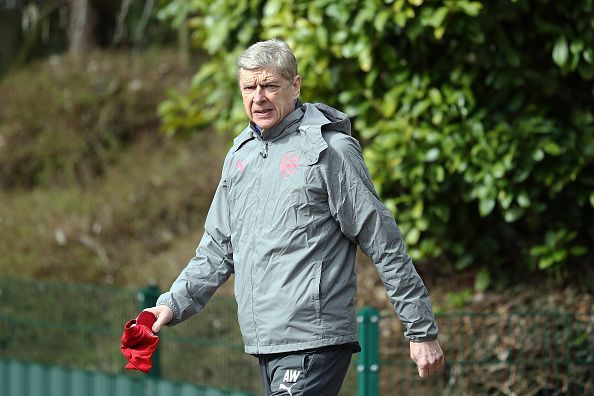 The experienced French manager is hardly a no-nonsense coach. He is often too nice and loyal to his first-team players and always has the belief that his team will not let even down, even if that has been the case for the majority of the season.
In this current era, Premier League clubs need stern managers. They can be forgiving but not overindulgent. Comparing Wenger to Antonio Conte and Diego Simeone, the former has been too kind and unwilling to single out players who have performed miserably in games.
The time is right to find a replacement for Wenger after this substandard season comes to an end.