Here's a look at what went wrong for Barcelona last night, as they were unceremoniously dumped out of the Champions League by A.S. Roma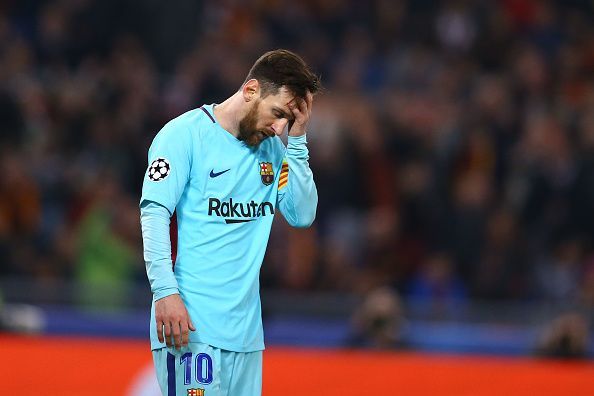 In a stunning unforeseen turn of events, tournament favourites FC Barcelona astonishingly bottled a home-leg lead of 4-1 last night, as they succumbed to a 3-0 defeat at the hands of A.S. Roma at Stadio Olimpico.
Lionel Messi and co. could do little to stop Roma's rampage, as Edin Dzeko opened the scoring as early as the 6th minute of the game, before Daniele De Rossi doubled the lead in the 58th minute with a well-taken penalty.
As Roma edged closer to accomplishing the impossible, the desperation among Barcelona ranks was rather palpable. A total of 9 shots from the Blaugrana failed to produce any fruit before Kostas Manolas expertly put away Under's cross in the 82nd minute to complete a historic comeback and beat Barcelona 4-4 on aggregate, with the away goal in the first leg proving to be the ultimate difference.
It isn't often that Barcelona get knocked out in the quarter-finals of the UEFA Champions League, and while Roma may have played out of their skins, Barcelona didn't have the best of games themselves.
On that note, here is a look at 3 things that went wrong for the Catalan giants against Roma last night:
#3 Barcelona's shooting boots didn't travel with them to Rome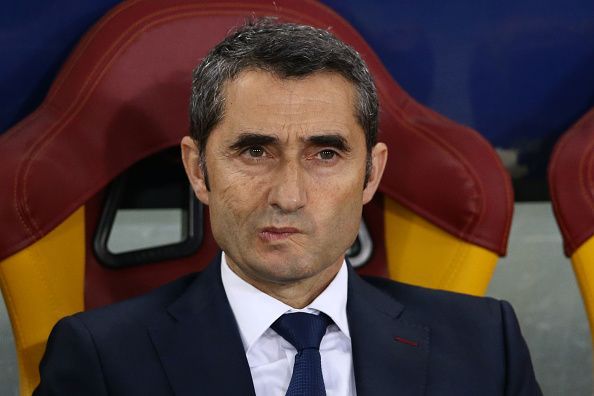 In a game that desperately demanded a crucial away goal, Ernesto Valverde's side huffed and puffed but blew little down. A solitary goal from the Blaugrana would've required Roma to respond with 4 of their own to take the game to extra time, and 5 to win – something that may have well been next to impossible for the Romans.
In short, even a single goal could've pushed Barcelona through. However, fate seemed to have other ideas, as the men in blue conceded 3 goals in 1 game for the first time this season, and also failed to find the back of the net on the other end.
Led by Lionel Messi, the Catalans registered a total of 9 shots, of which only a disappointing total of 3 were on target. It may have just been an off-day in the scoring department, but unfortunately, this was the one game in which they couldn't have afforded to look off-colour, and they sure did pay the price for it.
#2 Defence? What defence?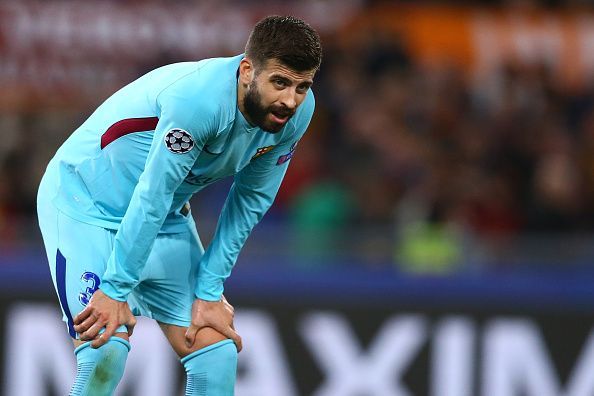 While it was of utmost importance for Barcelona to score at least one, conversely, another approach that they could've employed was to shut shop and prevent Roma from scoring – which in all honesty, shouldn't have been too hard.
All Barcelona had to do, was ensure that Roma scored fewer than 3 goals on the night, and considering that the Catalans had only conceded 3 goals in the entire competition leading up to last night, it wasn't that tall an order.
Alas, Barcelona's defence also seemed to pick the wrong day to unravel. A poor bit of defending allowed Dzeko enough space to break past the defence and give Roma their first. Gerard Pique then went on to bring Dzeko down inside the box, gifting the hosts a penalty which was duly converted by De Rossi.
Roma's 3rd goal came from a corner – one that saw an unmarked Manolas dash towards the front post to nod in a free header.
All in all, there's no denying that Roma were exquisite last night. However, there's also no denying that Barcelona certainly did contribute towards their own downfall.
#1 Not Lionel Messi's day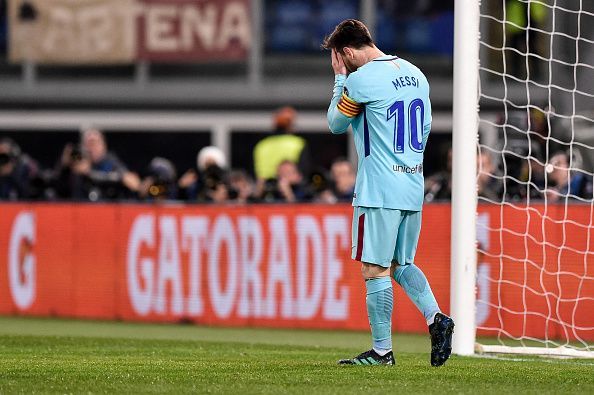 Lionel Messiah Messi has rescued the teams he has played for on countless occasions. Unfortunately for the diminutive Argentinian and his Barcelona teammates, yesterday's game wasn't one such occasion.
In fact, Messi is bound to be in a hurry to forget last night like it never happened. Accurately reflected by the rest of the side's performance, Messi too, had an abysmal outing, keeping in mind his usual sky-high standards.
Contrary to his usual exploits, Messi only managed 2 shots on target (out of a total of 5), including a free-kick that floated way above the crossbar. Further, he only made 3 successful dribbles and was stunningly dispossessed 4 times.
He wasn't at his creative best either as he only mustered 26 accurate passes, of which only 2 can be considered to be key passes.
While it is normal for everyone to have a bad day, it must certainly frustrate Messi to know that on the one day he didn't turn up, nobody else from Barcelona did either, and now, the entire side will be forced to watch the remainder of the UEFA Champions League on their idiot boxes in the comfort, or discomfort, of their own homes