Casualties as suicide bombers hit crowded Borno military market
The Borno state Police Command has confirmed the twin suicide attacks by suspected female terrorists onboard a tricycle (Keke Napep) on Wednesday in an attempt to infiltrate defunct 333 Artillery Mammy Military Market in Maiduguri, the state capital.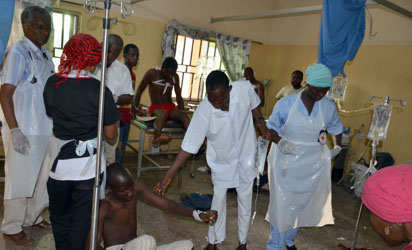 Medical staff help a man who is treated in a hospital after he was injured in a bomb blast carried out by young female suicide bomber detonated her explosives at a bus station in Maiduguri, northeast Nigeria, on June 22, 2015 in an attack likely to be blamed on Boko Haram. The blast happened near a fish market in the Baga Road area of the city, which has been repeatedly targeted in recent weeks by shelling, bombs and suicide attacks.
AFP PHOTO File This attack which took place at about 8:20pm is coming at a time when most of bear/alcohol dealers and commercial sex workers chased out of the city as a result of Committee for Demolition of Illegal Structures and Criminal Spots continued their onslaught and leding to massive influx of the victims  to 333 Artillery Mammy Military Market for business.
Sources said, the suicide bombers sneaked into a waiting queue of customers at the entrance gate for proper checking by military personnel, before detonating their Improvised Explosive Devices, IEDs, leading to several number of casualties. Although, the source could not mention specifically the number of casualties, investigation revealed that some civilians were affected in the blasts.
But in a Press statement signed by the Police Public Relations Officer, DSP Edet Okon said, "Yesterday being 20/06/18 at about 2020hrs, two female suicide bombers onboard a tricycle attempted to infiltrate the defunct 333 Artillery Mammy Market in Maiduguri, Borno State.
"The first bomber exploded as she was shot by soldiers while trying to buy ticket at the gate.
"The second bomber detonated her IED inside the tricycle as the rider fled the scene.
" As a result of the explosions, the two bombers died instantly while fifteen persons were injured and were rushed to the hospital for treatment.
"Meanwhile, the scene of incident has been sanitized by a team of EOD personnel and normalcy has been restored.
" The Commissioner of Police Borno State, CP Damian Chukwu assures members of the public of the commitment of the force to continue to protect lives and properties at all times.
"He also urges residents to be extra vigilant and to promptly report suspicious persons and activities to the Police or other security agencies for necessary actions." Okon stated.