Boss of All Bosses: Okon Lagos, Patience Ozokwo, star in new comedy
The comedy "Boss Of All Bosses" has been slated for release in cinemas from June 15th 2018. This phenomenal movie starring Akpororo, Nedu (Wazobia fm), Mama G (Patience Ozokwo), Okon Lagos (Bishop Ime), Senator (Bethel Njoku), Emeka Kachikwu, Adunni Ade, Sani Danja, Eniola Badmus and Babatunde Charles  has been making the rounds as 'the must watch movie' on various fronts.  It was directed by Ike Nnaebue with Emeka Kachikwu as the Executive producer/producer and Tobe Osuno as the Associate producer.
It unveils the story of Tony, a classy, ego tripping, self-centred, arrogant M.D at Hemcorps Oil & Gas. In the light of an absentee CEO whose identity remains hidden, he abuses his powers and becomes the perfect ladies man. His loyal PA at his beck and call acts as his informant unveiling sizzling news unfolding in the company. He is living life to the fullest and nicknamed The Boss of all bosses, until Samuel is brought on-board as a Rival M.D at the CEO's request. Special tasks are assigned to both as they compete for the exalted position deploying every trick in the scheming book to win or be fired.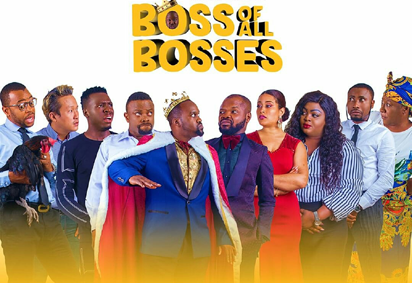 The employees are caught in the middle and camps are formed, alliances are made amidst the backdrop of comical scheming, romantic escapades and betrayal. Tony is fighting hard to win the affection of the slay Queen he's dying for while focusing on the tasks but a bad move he makes threatens his ambition and sets him on course for what he never bargained.
"Boss of All Bosses stands out from the plethora of comical movies that have graced the silver screen. The deployment of the corporate environment inter-wound with romantic scuffles, conspiracy theories, scheming, backstabbing in a bid to obtain or secure power is rife. I'm delighted that we have a good production with high end technical values synonymous with international standard." Emeka Kachikwu stated. According to Tobe Osuno "The story though told in a comical way is invariably a true reflection of what obtains in the corporate environment. It's a reminder of the corporate gymnastics, power tussle and the reward handed over to deserving employees for their hard work. It is a good movie and we urge folks to come out in mass to watch same" Boss of all bosses is powered by Mind Bursters film ventures and distributed by Silverbird Film distribution.