APC convention: Shape of unity list appears tomorrow as Tinubu's candidates face pressure
A clear idea of Unity List to be pushed at this weekend's national convention of All Progressives Congress, APC, will emerge tomorrow morning after a late night meeting of the party's governors, Vanguard has learnt.
Bola Tinubu and a former governor of Osun state, Bisi Akande, and APC Chieftain Asiwaju Bola Tinubu Ahead of the meeting, loyalists of a top South-West leader of the party in contention for national positions were under pressure with the emergence of strong contenders against some of them.
Newsmen gathered that APC governors are expected to convene in Abuja today after attending the flag-off of the party's campaign for Ekiti State governorship election. "
The party's governors will meet tomorrow and by Wednesday morning the unity list would have emerged and a clear picture of what is in stock will emerge," a high level source revealed, yesterday.
Ahead of the meeting, it emerged that loyalists of Asiwaju Bola Tinubu, particularly the deputy national chairman, Senator Lawali Shuaibu and his reported candidate for national secretary, Alhaji Kashim Imam, were facing unexpected last minute pressure from high quarters from within and outside the party.
There were indications that a North-West governor with interest in 2023 with strong connections with the president was marshalling the forces against Tinubu. Newsmen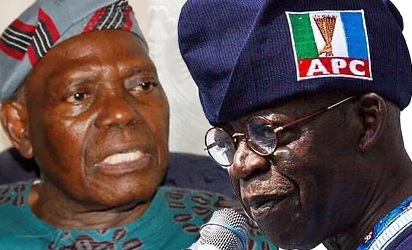 learned that former member of the House of Representatives, Aliyu Farouk Adamu, a long time political associate of President Muhammadu Buhari, was, yesterday, turning into a favoured candidate to replace Shuaibu.
Shuaibu is from the old Congress for Progressives Change, CPC, while Shuaibu is from All Nigeria Peoples Party, ANPP, bloc, though he has been severally recognised as an associate of Tinubu. Besides, expectations that the emergence of Imam, another associate of Tinubu, known as an egghead would emerge as a replacement for the national secretary, Mala Buni, could be dashed upon a resurgence of support for the incumbent. Newsmen gathered that high level networking from Abuja and among some North-East governors were working to sustain Buni in office.
setbacks the national leader could face in the national executive, Newsmen learned, yesterday, could be assuaged with the overturning of the earlier decision of the National Working Committee, NWC, to share the Oyo State executive between Governor Abiola Ajimobi and Minister of Communications, Adebayo Shittu.
Tinubu,Newsmen  learned, was said to have canvassed seriously against the decision to take a slice of the executive from Ajimobi who is his close ally.